You are here:
Home › Reviews › Book Review Wednesday Weeks And The Tower Of Shadows By Denis Knight And Cristy Burne
Book Review: Wednesday Weeks and the Tower of Shadows by Denis Knight and Cristy Burne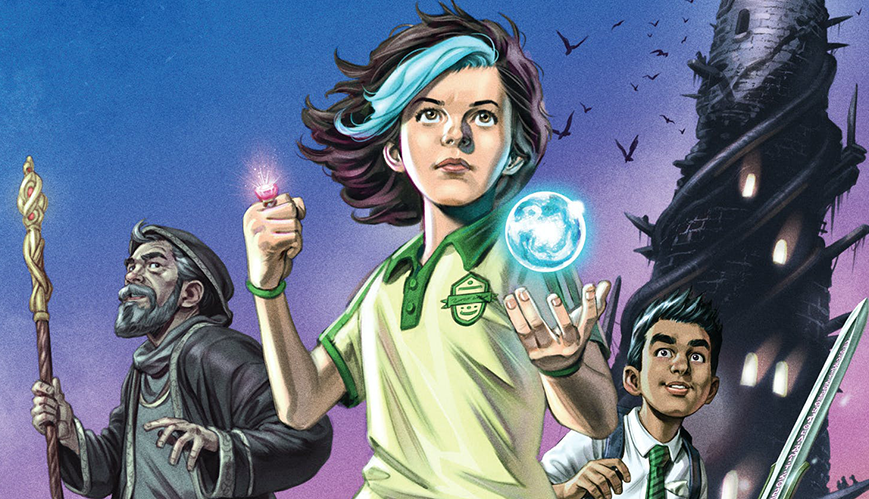 Book Review: Wednesday Weeks and the Tower of Shadows by Denis Knight and Cristy Burne
10 August 2021
Kids will have a 'molten' time reading about the adventures of sorcerer's apprentice Wednesday Weeks and her best friend Alfie. All the while, they learn about inner strength, individuality, and science.
Reviewed by Jessica Morris
From Jo March to Hermione Granger, there is no shortage of brave, fearless young women in children's fiction. And I am happy to say that Wednesday Weeks – the latest heroine from Aussie authors Denis Knight and Cristy Burne, is more than able to win over a new generation of girls.
The Tower of Shadows is the first in the Wednesday Weeks series and gives us a delightful insight into a world where fantasy is met by everyday life and magic is met with science.
Primary-school-aged Wednesday is a sorcerer's apprentice and must go on a high-stakes mission when her grandfather (the sorcerer, obviously) is taken away by an evil goblin king. She and her quirky friend Alfie have 12 hours to track him down – but it relies on her ability to use magic. And this is something she hasn't quite mastered yet (aka she's more likely to accidentally blow up a computer at school than create a portal to another world).
It's worth noting that the whole premise of the series is to introduce children to mathematical, scientific and technological ideas – something which the authors are legitimate experts in. And Knight and Burne do a clever job of embedding this into the plot – so rather than feeling forced, chemical compounds and fractions become a means to defeat the enemy. And every time Wednesday attempts magic, she must utilise coding to determine the final result.
But as someone driven less by numbers and more by creative storytelling, I found the strongest part of this book the imperfections of the characters. We are used to smart, fearless heroines – but Wednesday gives girls a more relatable model to aspire to. Her wrestle to manage her magic and not let it involuntarily inflame her everyday life is reminiscent of how children deal with trauma, ADHD or anxiety. And while her teacher thinks she is a trouble-maker, we learn that there is more to Wednesday than just disrupting class.
Children aged 8 and up (and a few grown-ups, like myself) will love Wednesday Weeks. Beyond wonderful storytelling, this book shows us that human imperfections are often our greatest strengths. We see God work through imperfect people all the time – and Wednesday Weeks will give kids permission to find their own unique strength as they make their mark on the world.
Wednesday Weeks and the Tower of Shadows is available at major bookstores.
JESSICA MORRIS IS A STAFF WRITER FOR OTHERS