Doctor Strange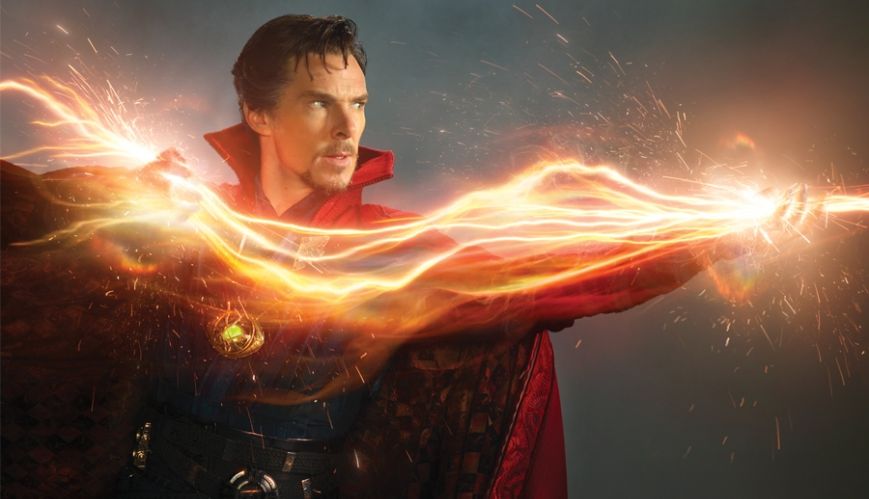 Doctor Strange
1 November 2016
RATING: M
RELEASE DATE: 27 October
Doctor Strange is the 14th film based on the Marvel Comics universe, and is directed by Scott Derrickson. Derrickson is best known for a slew of popular horror films and this new Marvel chapter certainly has its share of thrilling threats. To this, Derrickson has added a series of eye-bending effects that are strongly reminiscent of 2010's Inception.
Yet the story itself is softened by the reassuring presence of mainstream actors like Rachel McAdams (Strange's love-interest Christine Palmer), Tilda Swinton (the enigmatic Ancient One), and of course Benedict Cumberbatch as brilliant neurosurgeon Dr Stephen Strange himself.
Cumberbatch well captures the egotistical attitude of the original comic character created by artist Steve Ditko. Speeding along a winding road, making casual life-anddeath decisions about patients forwarded by his "agent", Strange is involved in a devastating accident. His crippling injuries take away his power to perform surgery and when conventional treatments fail to restore his hands, he takes a one-way trip to the mystical Tibetan kingdom of Kamar-Taj in the hope that the revered "Ancient One" can heal him.
However, he is totally unable to appreciate the venerable master's offer of a spiritual solution to his physical struggle. As Strange's vanity runs amok and he rages at the mystic's wisdom, Cumberbatch reflects a common Western view: there is no gain in an answer that doesn't offer complete restoration. Spiritual insights are nice, but the real world is a physical one.
"There is no spirit!" the surgeon yells. "I don't believe in fairytales about chakras or energy or the power of belief." In that moment Strange stands in for the Richard Dawkins' and Christopher Hitchens' of this age. What can't be quantified simply doesn't exist. However, popular stories tend to reflect the way the populace are really thinking. The twist in Marvel's latest tale looks to indicate a dissatisfaction with an overly scientific view of the world.
Strange's new teacher has no time for thinking that limits itself to three dimensions. "You're a man looking at the world through a keyhole. You've spent your life trying to widen it," she says. "What if I were to tell you that reality is one of many?" She then goes about providing undeniable proof, and Strange makes the only reasonable response at that point: "Teach me!" And strangely, there is more reality than fantasy about his story if we care to examine history.
When the world struggled under the weight of sin and suffered all kinds of physical pain, God offered undeniable proof of the spiritual dimension that undergirds our existence by sending his message in human form. Those who walked alongside Jesus had their eyes forcibly opened, like Strange, and their response was just as humble as Marvel's new hero. The Apostle John still tells the world: "The Word became flesh and made his dwelling among us. We have seen his glory, the glory of the one and only Son, who came from the Father, full of grace and truth."
And the mastery that Jesus displayed over physical and spiritual forces certainly doesn't fall short of what will feature on the big screen this month. But will audiences be prepared to learn?
Doctor Strange seems to indicate a swing back from the purely scientific, and a thirst for a new kind of superhero in movie-goers. Where the Avengers concern themselves with physical threats, Strange becomes the world's champion against magical and mystical ones. If audiences are already looking in this direction, there is at least an opportunity to show them that they don't have to look to fantasy for that reality.
Watch the official Doctor Strange trailer below.