Book review: We can't say we didn't know by Sophie McNeill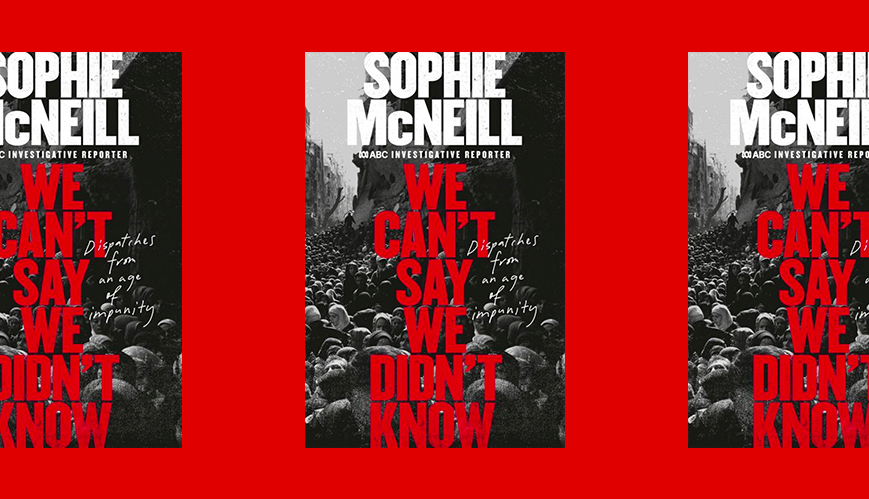 Book review: We can't say we didn't know by Sophie McNeill
11 January 2021
Reviewed by David Woodbury
Some books are intriguing, some are interesting and some are just plain boring. However, once in a while there comes along a book the grabs you by the throat; such is this book by ABC journalist Sophie McNeill.
ABC investigative reporter Sophie NcNeill spent three years covering news in the Middle East, and shares her experience in We Can't Say We Didn't Know.
McNeill, currently an investigative reporter for Four Corners, spent many years in the Middle East as a reporter for the ABC and SBS, winning a Walkley Award in 2010.
Stimulated in her early teens by reporters like John Pilger, she developed a burning interest in hotspots like East Timor. She eventually left her hometown in Perth and joined SBS in Sydney, and later the ABC, reporting on conflicts in the Middle East.
It is obvious that McNeill has been impacted by the suffering in the Middle East, reflected in her contact with a Syrian: "Please, we are sick filming it and taking pictures. You have seen it all. You know exactly what's happening to us. Just let us die in peace." McNeill was committed to letting the world know and her passions is that "you too will no longer look the other way", and she has painstakingly detailed the suffering that is, unfortunately, so much of life in the Middle East.
The book, which at times is painful and challenging, is a series of stand-alone stories, which makes for casual reading and covers most countries in that area. Her detailed documentation attests to committed and factual research with some 32 pages of endnotes. Available through ABC Books, it is a worthwhile addition to the library on anyone who cares about the suffering of their fellow human beings. Having read the book, we are incapable of saying "we didn't know".
We Can't Say We Didn't Know is available at major bookstores.
MAJOR DAVID WOODBURY IS A RETIRED OFFICER LIVING IN ARNCLIFFE (NSW)