Elvis Presley, the man who would be king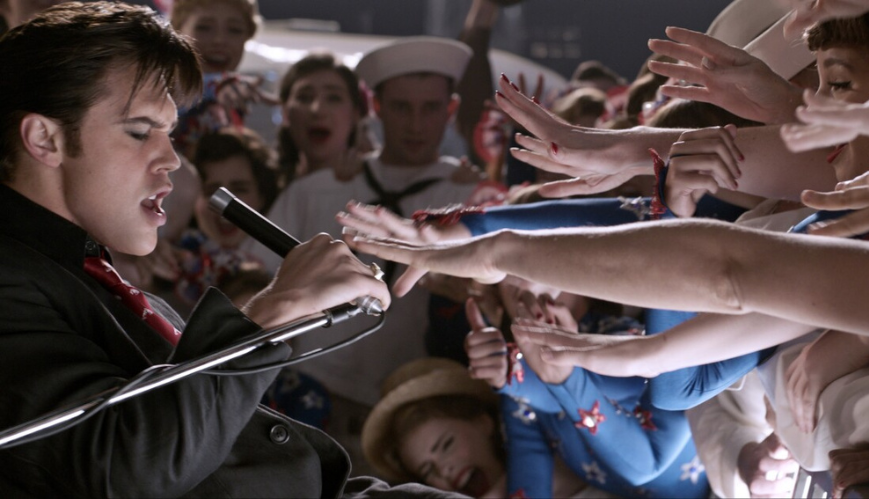 Elvis Presley, the man who would be king
6 September 2022
Austin Butler portrays the king of rock n' roll in the Baz Luhram biopic ELVIS, showcasing a vulnerable and fallible human who never experienced redemption. Photo: Warner Brothers.
By Anthony Castle
Austin Butler and Olivia Dejonge depict Elvis and Priscilla Presley, a young couple in love and later divorced but still close. Photo: Warner Brothers.
Baz Luhrmann's Elvis Presley biopic hits familiar beats in his signature style, humanising a figure both revered and mocked.
There is a moment near the climax of ELVIS when the reputed king of rock n' roll, played by Austin Butler, sits in a dark car on the tarmac of an airport. Elvis is an older man, ill with addiction, separated from his family and mocked by the media with the highlights of his career in the past.
His former wife Priscilla, played by Olivia Dejonge, sits with the fallen performer for a moment and reaches out her hand with an offer of help. While the trajectory of Elvis' life and death is hardly a spoiler in 2022, that simple offer makes an important point about a man who had been king but had become a joke.
Baz Luhrmann's biopic of Elvis Presley is a stylish retelling of the rock star's legend, hitting all the beats of the music biopic genre. We see Presley's humble beginnings, his rise to fame, his exploitation and struggles with addiction. Luhrmann's film features his trademark music video aesthetics and theatrical tone, and is narrated by Presley's corrupt manager Colonel Tom Parker, played almost as a caricature by Tom Hanks under piles of prosthetics.
We first meet Presley as a poor child, shaped by three uniquely American art forms; the fantasy aspiration of comic books, the yearning of the blues, and the spiritual elation of a tent revival meeting. After being discovered by Parker, Elvis grows into an American icon – at times a caped hero, at others a swaggering rebel, and ultimately a king in white singing with gospel choirs. The talented Presley wants to find his own voice, to do more with his music and with his acting, but repeatedly finds himself trapped by his manager's manipulation and money. Austin Butler's wide-eyed sincerity takes his performance beyond simply mimicry and builds a sympathetic portrait of a man who changes the world with his singing but still yearns to do more.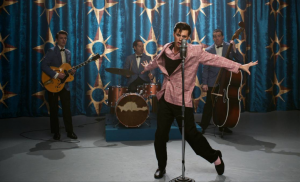 Baz Luhrmann's take on Elvis Presley is just as glamorous and glitzy as you expect in ELVIS. Photo: Warner Brothers.
The musician biopic genre operates on cliché, with films like Walk the Line, Bohemian Rhapsody and Rocketman relying on the same rise-fall-return structure. Similar to plot elements in those films, drugs and exploitative managers are the villains of this story. Where Elvis differs from the cliche is by offering no return to form for its lead. This film has no redemption arc, just as the man himself never found one. Luhrmann's film is pop art but also Brechtian tragedy, similar to his past films Romeo + Juliet, Moulin Rouge and The Great Gatsby. Elvis never accepts that offer of help. He never feels he can.
Elvis Presley is a figure often seen through a lens of hagiography or mockery. By treating Elvis' life as tragedy, the film escapes the easy categories the star often fell into; a king in white or a joke in an ill-fitting jumpsuit. Luhrmann and Butler's Presley is someone far more fallible, far more spiritual and ultimately more human; a man who changed the world with his singing but never found his own voice.
ELVIS is rated M for mature themes and coarse language; it includes mild impact drug use, violence and sex scenes. It is showing at select cinemas, streaming now on Amazon Prime.
ANTHONY CASTLE IS A STAFF WRITER FOR OTHERS.