Film review: A Beautiful Day in the Neighbourhood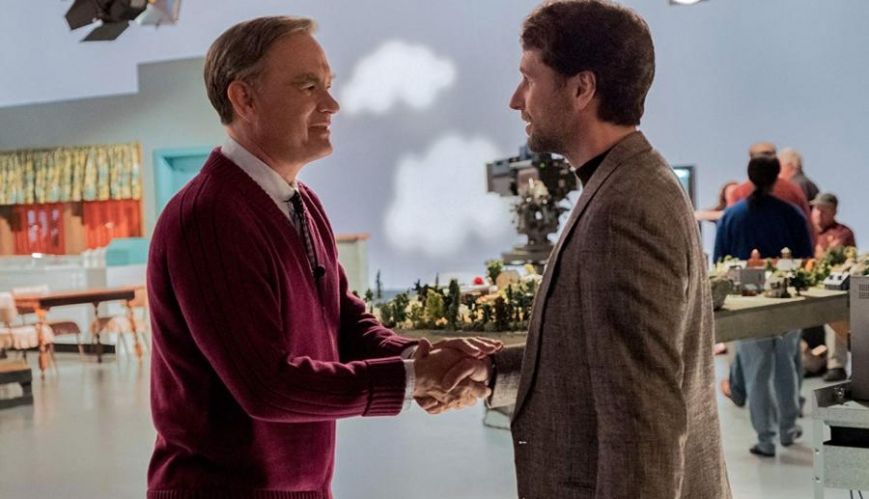 Film review: A Beautiful Day in the Neighbourhood
6 February 2020
Fred Rogers was a committed Christian who saw Jesus' call to "Love your neighbour as yourself" as more than just an aphorism.
By Mark Hadley
A Beautiful Day in the Neighborhood stars Tom Hanks as the legendary children's television presenter, Fred Rogers, who presented programs to America's youngest minds from 1954 to 2001. This particular story, however, is set in 1998, while he is hosting his benchmark show, Mister Rogers' Neighborhood.
Award-winning Esquire journalist Lloyd Vogel is given the job of writing a profile on Rogers. Vogel has been so successful revealing unflattering truths about people that no one wants to be interviewed by him any more. It doesn't take the audience long to realise, though, that this journalist's deep distrust of exteriors is an extension of his own early life. Vogel's father abandoned his family while his wife was dying of cancer, to run off with another woman. When the writer arrives in Pittsburgh to meet the real Mr Rogers, he is determined to find the man beneath the mask. Yet he is profoundly disturbed by the gentleman waiting to meet him.
Hanks portrays a television host who is unearthly and attractive at the same time. He is amazingly patient as he addresses his pre-school audience, clear in his affection for every little thing that makes them who they are, and profoundly helpful in the advice he offers: "Forgiveness. It's a decision we make to release a person from the feelings of anger we have at them."
It's this piece of wisdom that forms the moral backbone for the film. A Beautiful Day in the Neighborhood is the true story of how Rogers' patience with Vogel led the journalist on a journey to reconciling with his father. Yet this film contains much more to consider than just a single storyline. Mr Rogers provides us with a pattern for life that left me longing to be a better person.
Most importantly, Rogers loves people. We may live in a world that mouths the importance of every human being, but Rogers stops to listen – really listen – to children. He asks parents to remember what it was like to be their age. And he asks the film's angry antagonist to take one minute's silence to think of all the people who loved him into being. Then A Beautiful Day in the Neighborhood does it – in real time.
It's only as the storyline deepens that the audience realises A Beautiful Day in the Neighborhood is celebrating the life of a man who made it his goal to follow Jesus. Rogers was a committed Christian who saw Jesus' call to "Love your neighbour as yourself" as more than just an aphorism. He read the Bible every day and prayed for people by name each night. The more broken a person was, the more Rogers saw them as worthy of his prayer list.
The film stops short of a complete Gospel message, but it also avoids undercutting Gospel truths. What emerges is a picture of Christianity's most powerful argument in a sceptical world: the life of its Lord, shining through dedicated men and women, into a dark world.
Watch A Beautiful Day in the Neighborhood and you'll see the truth of Jesus' words, millennia before we ever turned on a TV set: "By this everyone will know that you are my disciples, if you love one another" (John 13:35).