Five new Christmas films to get you in the holiday spirit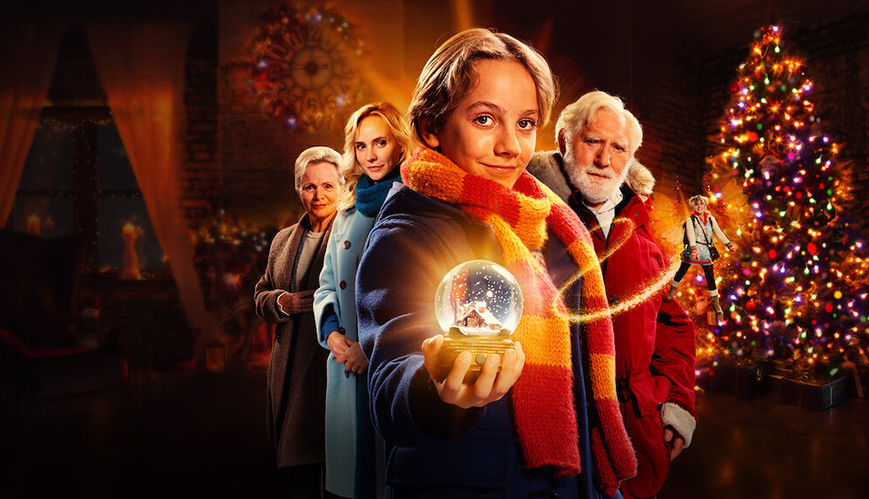 Five new Christmas films to get you in the holiday spirit
16 November 2021
Young actor Mo Bakker (front centre) stars as Jules Claus in the Dutch-Belgian film The Claus Family, taking us on a magical journey about grief and hope at Christmas.
By Jessica Morris
We've reached November, and it's almost acceptable to say I've watched Christmas movies year-round. Now, I'm aware not everyone has the capacity to hold that much commodified Christmas spirit (I'm like the triple shot espresso of the Christmas world). But thankfully, that's where my obsession/excellence watching Christmas films pays off. Because I've stumbled on some delightful new holiday films that will perfectly accompany your re-watch of Home Alone.
Christmas Town (NR) 

Actress Candace Cameron Bure is known for two things: her role on Full House, and her love for Jesus. In this Hallmark film, her family values and faith come together. Bure stars as a teacher who is moving across the country. On the way, her train stops in – you guessed it – Christmas Town. Here, she learns more about her late father, and meets a single dad and his foster son. The depth of this film surprised me, and the themes around faith, fostering and grief are timely. Don't be put off by the NR (Not Rated) rating - that's typical for Hallmark films. I'd classify this easily as PG for mature themes.

Available digitally on iTunes and YouTube.
Available on DVD at Koorong.
A Kiwi Christmas (PG) 

Fed up with the world's materialism, Santa throws in the towel and crashes his sleigh in New Zealand. Upon meeting an estranged family holidaying together, he starts to reclaim his Christmas spirit. Along the way, parents are reunified and a family heals. With some slapstick humour and a little magic, this is the perfect film for a late summer evening.

Available for free on 7plus.
Available on DVD.
The Claus Family (PG)

This family comedy drama is full of holiday magic. Set in Belgium, we meet a young family grappling with the death of their father last Christmas Eve. It means that son Jules hates Christmas. But things become complicated when his grandpa, who looks suspiciously like Santa, has a fall. Don't pass on this film because it is dubbed in English – it depicts grief with nuance and integrity, and you'll be captured by the whimsy of the story.

Available digitally on Netflix.
A Sunburnt Christmas (M)

There's nothing quite like an Australian Christmas – especially when it's portrayed with our trademark banter and wit. Suited to an older audience, this film tells the story of a convicted criminal on the run. Naturally, he wears a Santa costume. Hiding out at a family farm in remote South Australia, he convinces the kids he is Santa Claus. But things get complicated when the oldest daughter meets the protagonist and learns about his connection to her late father. I enjoyed this film's commitment to diversity, female empowerment and the tenacity of Aussie farmers. Keep this one from little eyes and ears though.

Available digitally on Stan.
The Christmas Chronicles: Part Two (PG)



Directed by Christopher Columbus (Home Alone), this sequel follows the magical story about the Pierce children hitchhiking a ride to the North Pole. This time, the kids are older and on family vacation with their mum's boyfriend and his son. With an engagement on the horizon as well as the onset of puberty, real-life themes mix nicely with fun and fantasy. A corresponding storyline about an elf gone rogue and the power of forgiveness is also a nice touch.

Available digitally on Netflix.