John Larsson Plays Beyond the Musicals
John Larsson Plays Beyond the Musicals
27 September 2016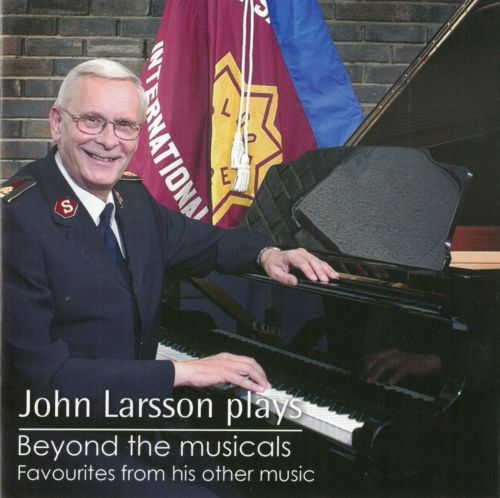 John Larsson Plays Beyond the Musicals is the fifth and final instalment of the John Larsson plays series. This 25-track nonmusical album immediately caught my interest. The album's simple cover straightaway reinforces that Larsson is playing music dedicated to God. And having a quick read of the inside cover made me curious.
While there are some songs that I don't know, because they have never been released, there are many of the favourites including Sing and Make Music, God's Moment, It's New, God's Soldier, and A Melody of Grace, just to name a few. While this is a nonmusical album, it certainly is easy to listen to.
The music certainly retains what I identify as the Larsson playing style that I have heard from a video I was shown, An Evening with Gowans and Larsson. The tracks are easy to listen being played on the piano, and reminds me how good it is to listen to a talented pianist play. Larsson doesn't disappoint with his ability to portray a range of moods through his style.
The highlights for me were The Lord is near with the lyrics, "Have no anxiety, Make your requests known to God in prayer." Followed by the contrasting Joy! Joy! Joy!. It's a reminder that in all things, God is there. No matter how you listen to this CD, there is a great selection of music that can touch the soul.
But for me, the real highlight was to sit and listen and to realise that all these tracks are songs with words behind them. It's relatively easy to pick up the tune and to fit the words if you choose. If you have time, I certainly recommend listening to this CD while having the words from the cover out.
It gives a background behind the song, but also the words. This CD can be listened to in a variety of settings, and this is a CD I will use to help with my God time, a time to meditate and focus on the story behind the music.
I totally agree with what Larsson says about this CD, "May both music and words be of inspiration!"
John Larsson Plays Beyond the Musicals can be purchased for $25 from Salvationist Supplies. Go to thetrade. salvos.org.au or phone (02) 9466 3257.
ADAM COLE IS THE QUEENSLAND STATE COORDINATOR FOR STRATEGIC EMERGENCY AND DISASTER MANAGEMENT.