Movie review: A Christmas Gift from Bob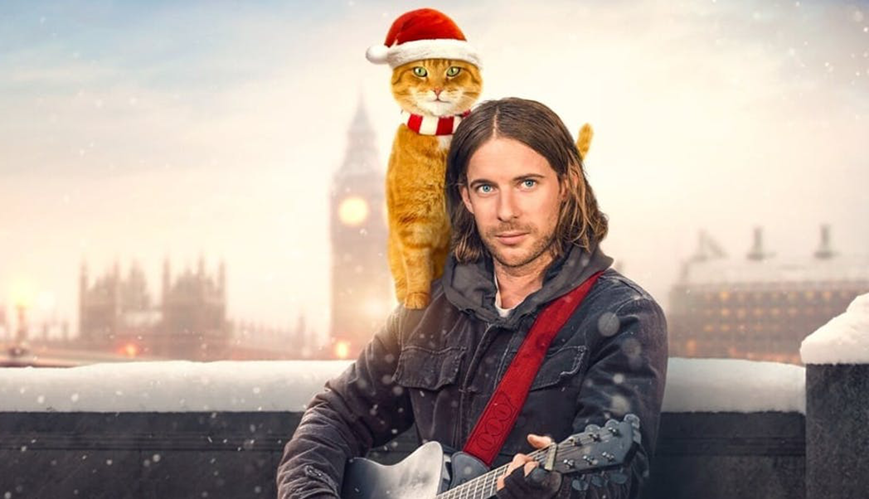 Movie review: A Christmas Gift from Bob
19 December 2020
A Christmas Gift from Bob provides us with a heartwarming, yet realistic, new chapter in the life of James Bowen and his stray cat Bob who made worldwide headlines with the release of a best-selling book.
Reviewed by Jessica Morris
When the world met Bob the street cat and his owner James Bowen in 2016, we quickly fell in love with the story of how they changed each other's lives.
The original book, based on how James met a then stray Bob on the streets of London as he overcame addiction, made its way to film in 2016. So, naturally, when they released a Christmas movie chronicling how Bob became a global success, I was excited to see watch the story progress.
Bob the cat shines in the sequel to his self-titled debut, 'A Street Cat Named Bob'
I am happy to report that A Christmas Gift from Bob offers us exactly what we want from a Christmas story with our feline hero: a heartwarming and honest take on what it means to find hope and community. Plus Bob dressed up in a Santa hat.
Before you enter the theatre to watch this tail (see what I did there?), it's essential you know that our dear Bob was 'promoted to glory' earlier this year. Nevertheless, the cat did star in this film adaption of his life prior to his ascent, and we are all the better for it.
Set after James (played by Luke Treadaway) has entered sobriety, he and Bob are working hard to make ends meet by selling The Big Issue and busking. It's a tough life, and we see James internally wrestle with the desire to provide, but still requiring extra help due to the stigma society places on him due to his past.
Add in the fact Animal Control is investigating whether Bob should be taken away and a subtle romance, and what could be a cliché movie actually results in a deeper, more profound story that challenges us to look past our prejudices and see the Imago Dei (Image of God) in each person.
There are no Christian references in this film, but we do see James and his mentor discuss spirituality and how different belief systems impact the way we live our lives. What we can garner from this exploration is that the spiritual is innately connected with our whole being. And as we see through the miraculous, love-filled ending – God is involved in every part of our stories whether we know it or not.
A beautiful, profound film and a Meowy Christmas indeed. Rest in peace Bob the cat.
A Christmas Gift from Bob is in cinemas from 3 December.