Movie Review: Battle of the Sexes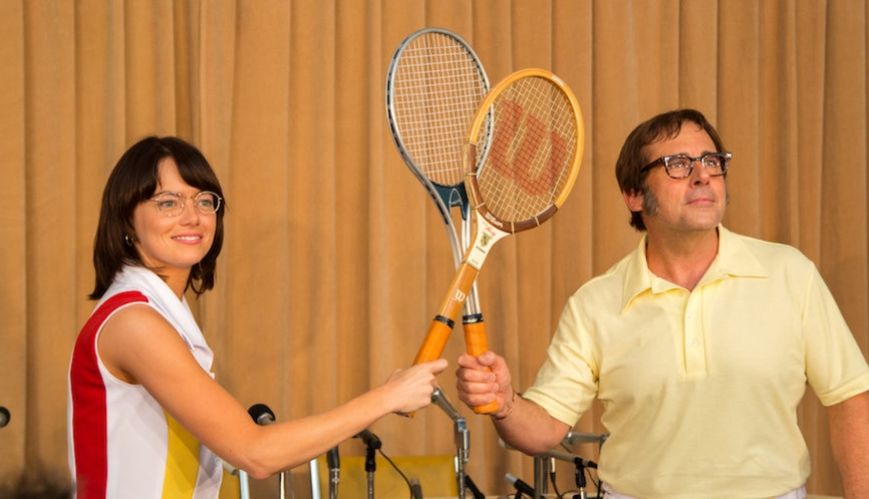 Movie Review: Battle of the Sexes
29 September 2017
Battle of the Sexes is based on the real-life tennis court confrontation between Billie Jean King and Bobby Riggs.
It's the early 1970s and King, the world's No.1 female tennis player, is battling to gain equal pay for professional women tennis players.
Enter Bobby Riggs. Riggs was one of the world's top tennis players in the 1940s.
At the age of 55, though, he finds himself mired in a corporate job and longing for the thrill of the professional circuit. A natural showman, Riggs adopts the role of "chauvinist pig", claiming that even as a middle-aged man he could still beat any of the world's top female players, and dares King to prove him wrong.
The resulting game is part-theatre, partgladiatorial combat, but it's the events leading up to the on-court battle that will leave audiences thinking.
The film's producers have focused the emotional heart of the Battle of the Sexes not on King and Riggs, but King's own struggle with her sexuality. Even as the fight for gender equality is gaining momentum, Billy Jean finds herself being seduced by her bisexual hairdresser.
The film portrays Marilyn Barnett as a free spirit who wants to help King discover her true self. This "battle for sexuality" soon becomes the film's true focus.
"One day we'll be free to love who we love, and be who we are," her fashion designer assures King. Off-court, the relationship with Barnett is portrayed as key to King's mental health and a motivation for her struggle on-court. But the producers can only say that with some very selective story-telling.
There is no way that the real "Battle of the Sexes" tournament can be read as a struggle for sexual freedom – the real Billy Jean King wouldn't allow it.
King says she took on Riggs for women's tennis and for the women's liberation movement as a whole, pure and simple.
Though she did begin a relationship with Barnett, she says she, "... couldn't find a closet deep enough," regarding her sexuality, and didn't admit to being a lesbian until years later.
Battle of the Sexes portrays Barnett and King's love as something irresistible and destined. The truth is, it was Barnett who forced King to publicly come out in 1981 when she sued her for "palimony".
Battle of the Sexes is an amusing, entertaining and informative film, but be wary of its attempt to transfer the support for one cause to another entirely.
Christians should be in the forefront of gender equality because the equality of our standing before God is as black and white as the words of Genesis: "So God created mankind in his own image, in the image of God he created them; male and female he created them" (Genesis 1:27).
But equality is not the same thing as interchangeability. Both sexes are equally cherished by God, but that doesn't mean he created them without a purpose or plan.
The producers of Battle of the Sexes have sought to engage our God-given desires to see all people treated with decency and respect, and transfer that support to an argument for freedom without restriction.
Yet real love doesn't operate that way.
Love always protects, always trusts, always hopes, always perseveres for the sake of all women and men – but it does so by speaking the truth about what is best for those we love.
We were designed to give our lives to our Creator, and only in doing so will we find our true freedom.
Battle of the Sexes, rated PG, is released tomorrow.
Mark Hadley is the culture writer for others and is one of Australia's leading Christian communicators.