Movie Review: I Still Believe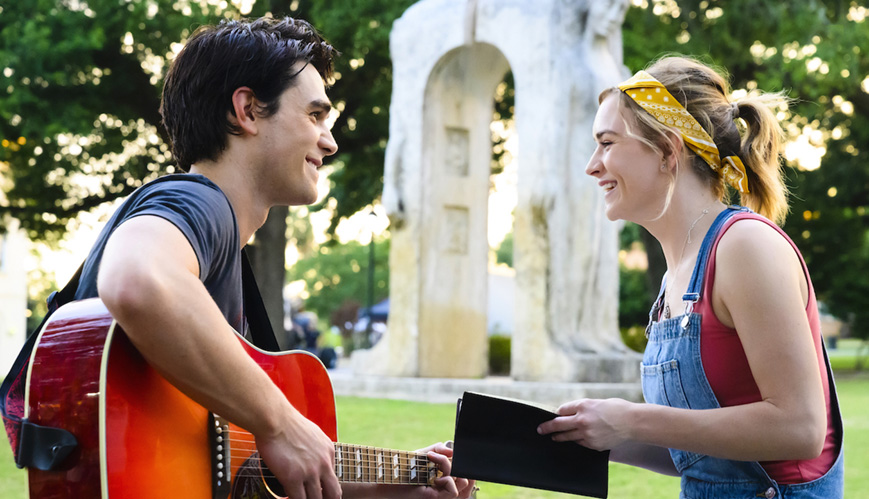 Movie Review: I Still Believe
12 March 2020
K.J. Apa and Britt Robertson give a heartwrenching performance as Jeremy and Melissa Camp in I Still Believe.
By Jessica Morris
Based on the life of Christian music megastar Jeremy Camp, I Still Believe is a raw and honest take on some of life's biggest questions.
Can God heal people? Why do people die? And is God good? These are all questions that come up in the new release that stars Riverdale's K.J. Apa as a then 20-year-old Camp. Joined by Britt Robertson (A Dog's Purpose) who plays his wife Melissa, the pair is a formidable duo that navigates a 2000's college romance that takes a turn when Melissa is diagnosed with cancer.
Music envelops this faith-filled story and Apa performs some of Camp's breakout hits as the story progresses, showing how the extraordinary circumstances shaped his career over the following two decades.
The supporting cast of Shania Twain and Gary Sinise is a grounding force for Apa through the story, but the true star of the film is Robertson. Just as Camp becomes enraptured with her faith and playful spirit, the audience falls in love with her too. And when she visibly and viscerally expresses the anger and pain of a terminal cancer diagnosis, you believe her.
The start of this film feels like a typical romantic drama that pulls out feel-good quotes about God and finding a purpose in life. But when tragedy strikes, it evolves into a deeper and much more profound story. We see the characters struggle to live out their faith in the face of death, and this is where their stories shine – something that Camp says reflects the reality of his story.
"You see the real aspect of what I went through – the grief and anger – all that. It happened. It wasn't like all of sudden I write a song 'I Still Believe' and I was fine. It was a journey that God brought me through," he says.
"I look back now, and when you think it's the bleakest and the darkest, and there's no light at the tunnel, I know that there is."
While it may end on an unexpected note, the fact this film was created 17 years after the events unfolded is proof of the promise found in Revelation 12:11, "They triumphed over him by the blood of the Lamb and by the word of their testimony; they did not love their lives so much as to shrink from death" (NIV).
By the time you finish this film, your tears will be tinged with hope – and that is what this film is all about.
"No matter what your belief system is, even though I'm pointing people to my relationship with Jesus, I think you will be encouraged to hope," says Camp.
I Still Believe opens in selected theatres on 12 March.
Jessica Morris is a staff writer for Others.