Movie review: Tully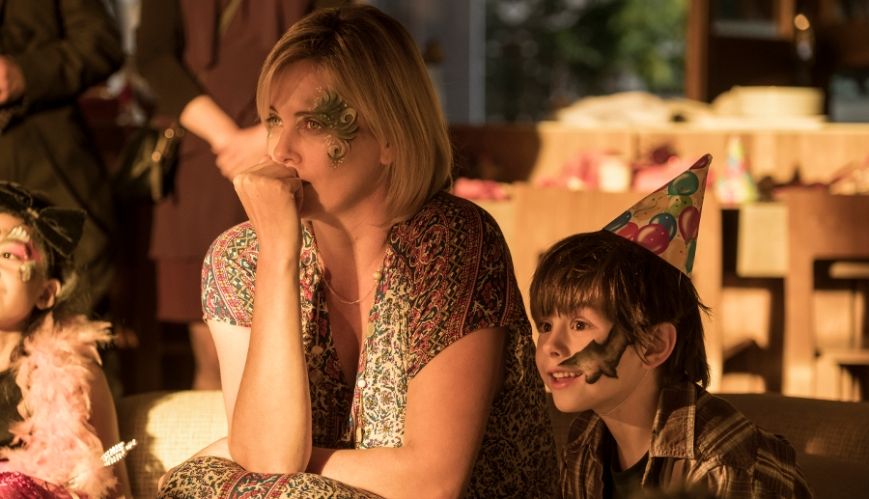 Movie review: Tully
18 June 2018
If you had a chance to talk to your younger self, what advice would you give?
It's one of the more enduring memes that regularly surfaces on the internet, so it's not surprising that Hollywood would run with the idea in the comedy-drama Tully. The twist in this tale, though, is that it is the younger woman who is reminding mum of truths she's forgotten. 
Charlize Theron delivers a break-out performance as Marlo, a mother in her late 30s who has two children under nine and is heavily pregnant with a third. Marlo's husband, Drew, is overwhelmed with work commitments, and so she manages most of their home chores alone. Her eight year-old daughter Sarah is unhelpfully precocious, and her six-year-old son Jonah struggles with special needs that test the limits of her patience. 
Marlo's struggles are exacerbated by the adults around her, but the biggest burdens of all are those she places on herself. Tully reminds us that modern motherhood has come to mean succeeding in more than just raising healthy, happy children. Marlo eventually accepts her brother's offer of a "Night Nanny" called Tully to help with her newborn baby.
Tully is just the tonic Marlo needs. Her night-time support and uncalled for kindnesses make a huge difference to this struggling mum's life. Through Tully, audiences will find themselves rediscovering the "village" atmosphere that our individual-focused, endlessly flexible, time-poor lives have done away with. 
However, it's the relationship between the two women that has the most profound effect. Marlo is able to warn Tully about the lessons ahead and, in turn, Tully helps Marlo remember the ones she's forgotten.
In particular, the younger woman reminds her that her efforts are worthwhile, even though they haven't given her children an exciting life. What today's world calls predictable is actually security: "They grew up with a boring home and a boring husband, and that sameness is your gift to them: raising them in a circle of safety."
Speaking of today's world, it might be popular to believe in nothing at all, but this supportive/challenging relationship between two women actually reflects the unpopular wisdom of the Bible.
Many people might think the Church has a universally poor record when it comes to women, but Jesus' teaching encouraged the development of Christian communities where older and younger women play comforting and encouraging roles in each other's lives: "Older women likewise are to be reverent in behaviour, not slanderers or slaves to much wine. They are to teach what is good, and so train the young women to love their husbands and children" (Titus 2:3-4, ESV).
The film also contains a subtle rebuke to men who think that, while those children are young, they are excused from family responsibilities. The Bible's idea of family begins with a man and a woman acting as one flesh, long before children arrive.
Practically speaking, a mother might have more to do in a baby's early years, but Drew realises he can still be caring for his family: "I got so overwhelmed with kids and work, that I forgot to take care of you."
Tully takes some strange turns before it finishes, and there is a jaw-dropping twist to hold on for, but the lesson remains clear throughout: it's not just the children who need to be cared for. Parenting is such a stressful task, that it requires levels of support and wisdom which far exceed the reserves of a single human being. We were never meant to do it alone. 
Tully is rated M and is now screening.