Music Review: Celebrate the Season by International Staff Band
Music Review: Celebrate the Season by International Staff Band
14 December 2016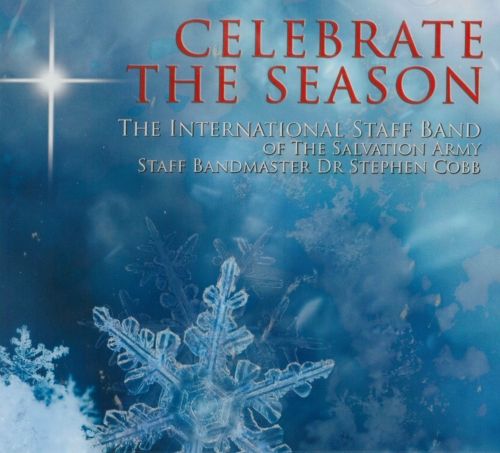 This latest album from The International Staff Band of The Salvation Army is a great addition to any Christmas brass collection, with the band bringing quality, strength and sensitivity to each piece.
Kevin Larsson is a name which many are becoming familiar with, most notably for his work in musicals, and exciting and challenging pieces, of which A Christmas Overture is no exception. Premiered at the 2013 Night of Wonder carol service for the Southern California Division, and used at this year's Australia Eastern Territory Commissioning, it is a piece which engages and inspires. Kevin's Kings of Swing is also featured on this album starting with a fun duet based on We Three Kings.
Warren Brooks' (Hurstville Corps) arrangement of Carol of the Bells continues the drive and energy – if you listen carefully at the beginning of the track, you can even hear the band breathe! Previously available through the WorshipArts Resource Catalogue, this piece will be available next year in the General Series and, just quietly, may be on another Staff Band album next Christmas.
Continuing with writers from the Australia Eastern Territory is Sam Creamer (Carindale Corps) with his Christmas march Distant Travellers, also featured at this year's Commissioning and now available in the Triumph Series.
Assistant Territorial Music Secretary (UK and Ireland) Paul Sharman has five pieces featured on this album, including his beautiful setting of Silent Night, a driving overture based around Who Is He entitled Christmas Presence, Star of Wonder as a well-constructed and engaging arrangement of The First Noel, Sweet Little Jesus Boy featuring flugel horn soloist Richard Woodrow, and On Christmas Night with a cameo of Derek Kane playing It Came Upon A Midnight Clear.
The band brings energy and splendour to the complicated rhythmic patterns in Kevin Norbury's Gaudete! which features the Coventry Carol, the French carol Gaudete and Unto Us A Boy Is Born. Andrew Blyth continues the medley series with a cheerful collection of well-known Christmas songs in the album's title track Celebrate The Season!
Philip Cobb, Principal Trumpet of the London Symphony Orchestra, is featured on both flugel horn and trumpet in a modern and heartfelt arrangement of O Holy Night, and principal cornet Carl Nielsen also brings beauty and expression to the traditional piece Mary Walked Amid The Thorn. Wrapping up the reflective pieces is Captain Martin Cordner's luscious arrangement of O Little Town of Bethlehem in Everlasting Light.
A copy of Celebrate The Season can be purchased on iTunes or through Salvationist Supplies. Go to thetrade.salvos.org.au or phone (02) 9466 3257.