Podcast Review: Fight for Good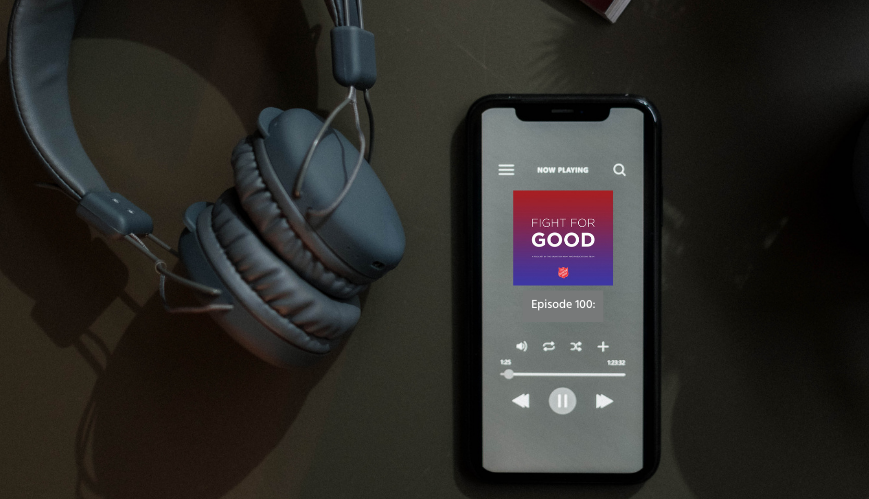 Podcast Review: Fight for Good
14 June 2022
The Salvation Army National Publications team in Northern America delivers the Fight For Good podcast.
By Jessica Morris
The Salvation Army in North America has a slew of excellent publications spanning its four divisions.
In the Fight for Good podcast, published by their National Publications team, we are given access to a range of largely uncut, unedited interviews. From high-ranking Salvation Army leaders to celebrities, influencers, volunteers and everyday soldiers, we are given a broad insight into how God is moving across the country.
Fans of Salvation Army history will thoroughly enjoy interviews conducted by Editorial Director Jeff McDonald, who often speaks with senior officers. Meanwhile, Director of Publications Major Jaime Satterlee hosts officers and spiritual leadership that give insight into how The Salvation Army exists in a COVID-19 world.
Production Coordinator Michele Katsarisis is also a regular host, bringing a journalistic bent to the program that spans denominations. Her specialisation in Christian celebrities, younger guests and influencers speaks to the younger generation of Salvationists. Cover stories in their War Cry and Peer magazine (their version of the Young Soldier) are generally covered by her and Major Satterlee.
While the Fight for Good podcast is a celebration of Salvation Army culture and activity in the United States, the most interesting facet of each interview comes towards the end when the host asks each guest about the future of the Army. The challenges we face socially, economically, and in how we practise diversity and inclusion to reflect better the Kingdom of God are all discussed by a range of people, giving potential for our movement to grow and adapt in the future.
The Fight for Good podcast is available for free on Spotify and Apple Podcasts.