Six films perfect for the summer holidays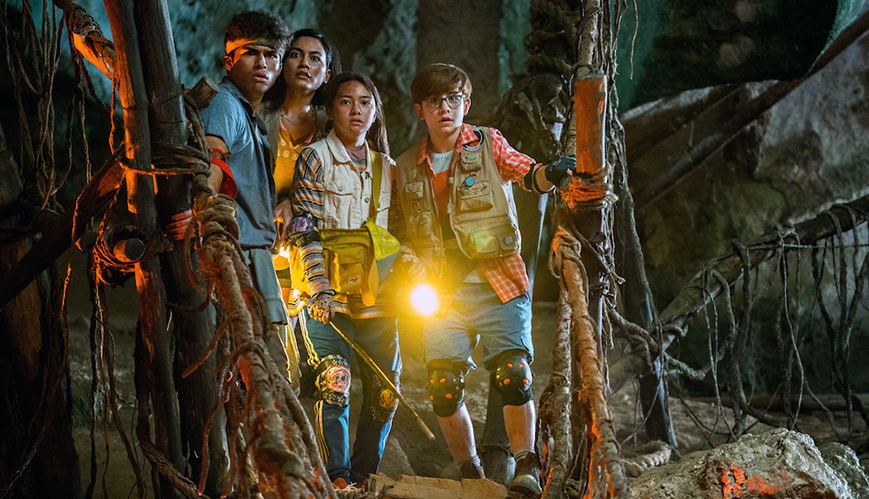 Six films perfect for the summer holidays
2 January 2022
Kids and adults will enjoy Finding 'Ohana – a family adventure film that celebrates Hawaiian culture.
By Jessica Morris
There is something special about summer in Australia – longer days means we have more time for socialising in the sunshine. But if you're a little fatigued from the events of 2021, you're due for a night at the movies. I've hand-picked six feel-good flicks that are perfect for the family or a social catch-up with friends. And yes, they are also ideal if you want to curl up in a ball alone and eat leftovers from Christmas.
Shang-Chi and the Legend of the Ten Rings
For more than a decade, Marvel has given us predominantly white male superheroes. At long last, we meet Shang-Chi – or Shaun (Simu Liu), as the 20-something valet driver calls himself. He grew up in China with a father who heads a secret militia (the Ten Rings), and at 14, he goes on the run to escape his dad's wrath. A decade later, his past catches up with him, and a new superhero emerges. The hilarious chemistry between Shang-Chi and Katy (Aquafina) is delightful, and this is one of Marvel's strongest films to date.
Shang-Chi and the Legend of the Ten Rings is rated M for themes and violence.
Available on Disney Plus.
---
Yes Day
This family comedy is full of heart, as parents Allison (Jenifer Garner) and Carlos (Édgar Ramírez) give their kids a 'yes day'. Used as a bargaining tool to enforce positive behaviour, the parents say yes to anything their kids want for 24 hours. It results in hilarious, endearing and relatable theatrics. Plus, there's a nice lesson about appreciating family and setting boundaries as well.

Yes Day is rated G for very mild violence and very mild crude humour.
Available on Netflix.
---
Jungle Cruise
Yes, Disney has made another movie about a theme park ride – but just like Pirates of the Caribbean, Jungle Cruise doesn't disappoint. Set in the colonial era, Emily Blunt stars as Lily, a determined scientist who pushes the status quo. Joined by Dwayne Johnson as skipper Frank, they go on a strange and mysterious cruise to find an ancient tree that could heal humanity. Through it, they cleverly debunk stigmas around gender, sexuality, colonisation, and race.
Jungle Cruise is rated M for fantasy themes and violence.
Available on Disney Plus
---
Fatherhood
A dramatic comedy, Fatherhood shows us what it's like to raise a child as a single dad. Based on a true story, Kevin Hart stars as Matt, a newly widowed father learning how to raise an infant and trying to work a full-time job. Delightfully, we get to see the highs and lows of fatherhood as his daughter grows, making way for character development in Matt too.
Fatherhood is rated PG for mild crude humour, mild themes, mild coarse language, and mild violence.
Available on Netflix
---
Finding 'Ohana
Released last year on Netflix, this family flick celebrates Hawaiian culture. It stars Kea Peahu as Pilli, a Brooklyn-based geo-hunter who follows clues online to find treasure in real life. During a family trip to O'ahu, her treasure hunt reaches new heights when she discovers a family relic detailing treasure hidden in a sacred mountain. Finding 'Ohana is full of action and will keep you guessing, but the real winner is how they address grief, culture, and relationship to the land.
Finding 'Ohana is rated PG for mild themes
Available on Netflix
---
Resort To Love
If you love a good chick flick, Resort to Love is a wholesome take on a holiday romance. Lead protagonist Erica (Christina Milian) is a singer and has it all – until her boyfriend breaks up with her. Lost in a daze of grief, she goes on a working holiday to a resort in Fiji where she meets a handsome stranger ... who is related to her ex. Resort to Love is fluffy, but it carries a depth that tackles morality, self-worth and boundaries. This is excellent for a night in.
Resort To Love is rated PG for mild coarse language and violence.
Available on Netflix
---