Streaming: Five binge-worthy TV shows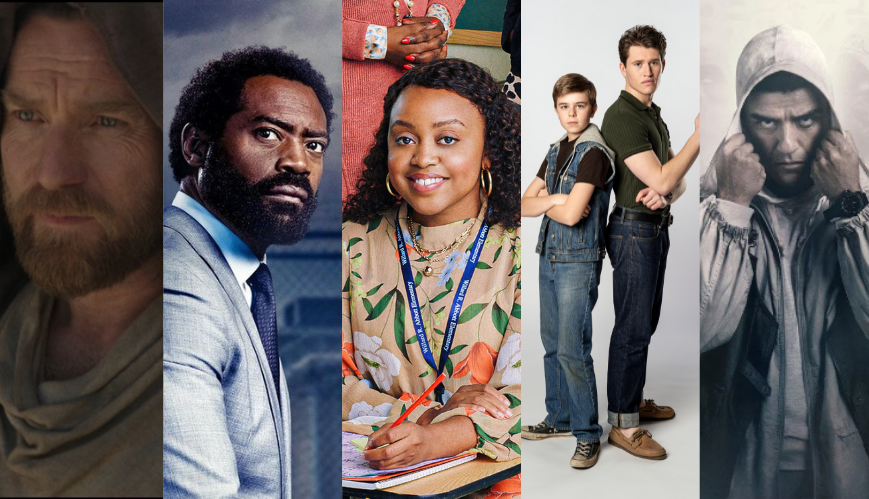 Streaming: Five binge-worthy TV shows
11 June 2022
Others writer Jessica Morris recommends five binge-worthy TV shows that are compelling and life-giving. (From left) Ewan McGregor returns in Obie-Wan Kenobi, Nicholas Pinnock stars as a prisoner come defence attorney in For Life, Comedian Quinta Brunson leads the comedy Abbott Elemetary, young stars Alexander Elliott and Rohan Campbell star as The Hardy Boys, Oscar Isaac plays superhero Moon Knight.
By Jessica Morris
Between network TV and streaming services, it seems we have a new TV series to watch every other week. After a while, the selection becomes so overwhelming that it's easy to go back to our tried-and-true favourites. But if you're ready to dip your toe into the highs and lows of some new characters, then these five series are both life-giving and will leave you wanting more.
---
Obi-Wan Kenobi
A new TV series from The Stars Wars universe will always be polarising, but I'm happy to report the latest edition on Disney Plus will please fans and newcomers alike. Ewan McGregor returns as Jedi Obi-wan Kenobi, who will eventually be responsible for training up Luke Skywalker to overcome the evil Empire.
However, this series shows us the years between when the Jedi are hunted, and the Empire rules with no hope of rebellion. It's a treat to see child actors Grant Feely and Vivien Lyra Blair portray 10-year-old Luke and Leia Organa, respectively, who slowly break down Obi-Wan's defences, so he believes in hope again.
Obi-Wan Kenobi is rated M for violence and themes. Streaming on Disney Plus.
---
For Life 
Based on the story of the former prisoner come defence attorney Isaac Wright Jr, this compelling and dark TV show highlights the injustices of the justice system and reminds us of the humanity of those behind bars. This stars Nicholas Pinnock as Aaron Wallace, who is seven years into his sentence and just received his law degree.
Pinnock is masterful as Wallace, who works tirelessly to prove his innocence and reclaim his family. All the while, he is challenged to represent his fellow inmates, walking the line between power plays, the greater good, and his freedom.
For Life is rated M for violence, drugs and mature themes. Streaming on Netflix.
---
Abbott Elementary
Fans of comedic sitcoms like Parks and Recreation, The Office and Brooklyn Nine-Nine will adore this new series pioneered by comedian Quinta Brunson. Filmed in documentary style, this fast-paced, whimsical story about the teaching staff at under-resourced public school Abbott Elementary in Philadelphia is a celebration of humanity.
Wider themes about economic and social inequality in the education system are highlighted, but laughter, humanity and relatability will make you feel right at home. This cast is simply delightful, and in my opinion, they can't film season two fast enough.
Abbott Elementary is rated PG for language and mild themes. Streaming on Disney Plus.
---
The Hardy Boys
Bringing the popular kid's book series to life, this recent iteration introduces us to 16-year-old Frank Hardy and his 12-year-old brother Joe, whose mother died in mysterious circumstances. Set in the late 1980s, nostalgia is rife without being pungent, and classic characters like Detective Fenton Hardy and Aunty Trudy enforce the genius and wit of the talented young cast.
Overarching themes about class, power and integrity pervade this series, but it's the mystery that will make this a family favourite.
The Hardy Boys is rated PG for violence and mature themes. Streaming on Disney Plus.
---
Moon Knight
I can hear you saying, "Do I really need another anonymous hooded crusader powered by a supernatural entity on my screen?" As a long-term fan of the Marvel Cinematic Universe, I can assure you that the latest TV series is one of their best.
Telling the story of a hero called Moon Knight, who gains his power from the Egyptian god Konshu, the crux of the story lies in his alter ego's life with a dissociative identity disorder. This makes for compelling viewing, not just giving us a nuanced look at mental health but addressing childhood trauma, identity and, of course, fighting the bad guys (who are not as clear cut as we always think).
Moon Knight is rated M for violence and themes. Streaming on Disney Plus.