Streaming Review: Blue Miracle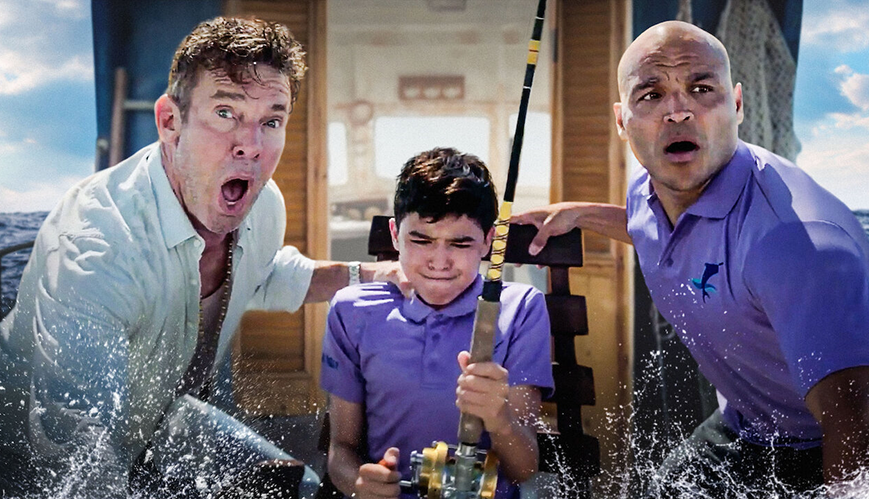 Streaming Review: Blue Miracle
3 July 2021
The new Netflix faith-based drama Blue Miracle tells the extraordinary true story of Omar Venegas and a group of boys from Casa Hogar Orphanage in Cabo San Lucas, Mexico, who saved their home by winning a fishing competition in 2014.
Reviewed by Jessica Morris
If you had told me that I would enjoy a movie about competitive fishing a week ago, I would have laughed in your face. But after seeing Blue Miracle, the new Netflix film based on the incredible true story of the Casa Hogar Orphanage in Mexico, I happily stand corrected.
Captain Wade (Dennis Quaid) is a disillusioned and egocentric fishing champion who has his heart softened when Omar (Jimmy Gonzales) and his boys spend three days on his boat in the hope of a miracle catch.
Blue Miracle is an apt title for this drama, considering a group of boys, all rookies at fishing, and their guardian Omar won the prestigious Bisbee's Black & Blue Fishing Tournament in 2014 after partnering with a successful fishing captain (named Wade Malloy in the film).
The boys donated the $US258,000 in prize money to the orphanage, saving the home that accommodated about 40 boys, and even enabled the construction of a wing for girls. 
Starring Jimmy Gonzales as Omar and Dennis Quaid as Captain Wade, the lineup is enough to turn your head. But the gold in this beautifully shot film lies in the complexity of each character. Not only do we witness the community at Casa Hogar survive Hurricane Odile (which actually happened in September 2014), but Omar revisits his own trauma through the movie, revealing how he became an orphan and why he is so afraid of the water. The storytelling is elevated when we witness him grappling with his troubled past, and he must choose whether to act illegally or have faith in God to ensure the orphanage and his family have somewhere to live.
Dennis Quaid is thoroughly unlikeable as Captain Wade, which seems fitting considering he is initially portrayed as the pinnacle of white privilege, using Omar and the boys – Gecko, Hollywood and Tweety – as his entry pass to another big win. Sadly, much of this character is fictionalised – but his character's win-at-all-costs attitude and choice to see the boys as mere 'orphans' amplify their agency and strength. We see this when Hollywood indignantly says, "We're orphans, not idiots," and Gecko stands up for himself, saying, "You said we were nameless orphans, but we have names." And indeed, after three days on a boat with the team from Casa Hogar, we see Wade's heart soften, his drinking habits ease, and his own broken relationship with his son start to repair.
Once you get past the big names, you realise the true stars of this film are the young cast. They are witty yet full of depth and are able to portray the deep trauma of their characters' lives without coming off as avatars of children who need saving. Rather, they are strong young men, who are survivors with unique skills sets and talents, and they are all in need of their Papa Omar (their name for Omar).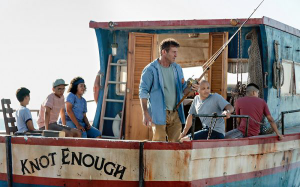 The real stars of this inspirational flick are the strong cast of boys and young men who act alongside Gonzales and Quaid.
Christ is an intrinsic part of this story – and if you don't spot it through the cross on Omar's back in scene one, then you will pick it up in the repeated conversations Omar has with the kids about talking to God. Somehow, though, it doesn't come off as corny or as a last-minute thought to make it appropriate for churches. Rather, by weaving symbolism and conversations about faith through the film, it feels real to life. And, suddenly, the fact that this is a true story about God moving in thoroughly unexpected ways strikes a chord, and you are right there with the characters, grasping on to hope when the odds are against them.
With nuance, cultural complexity and wit, Blue Miracle is a quality film for the whole family. But, ultimately, it is a reminder that our humanity, rather than our background, binds us together as one. Oh, and that God can do exceedingly, abundantly more than we could ever hope or imagine at any given time – we just need to trust him.
Blue Miracle is streaming now on Netflix.
JESSICA MORRIS IS A STAFF WRITER FOR OTHERS