Streaming Review: Encanto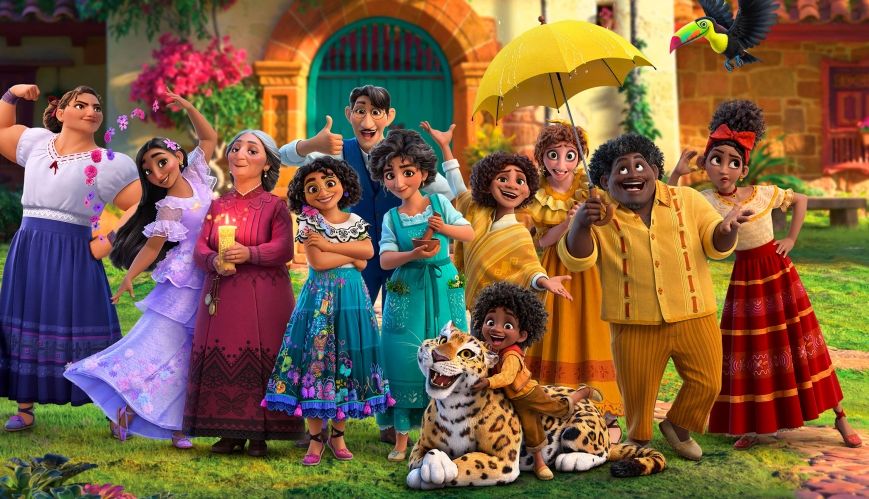 Streaming Review: Encanto
29 January 2022
In Disney's Encanto [released on Boxing Day 2021], we are reminded that every person has a vital role in the body of Christ – just like in the magical, mysterious Madrigal family.
Reviewed by Jessica Morris
The colourful songs and characters of Disney's Encanto have captured children's hearts across the world, and there is much to love in this delightful, thought-provoking, soon-to-be-classic animation.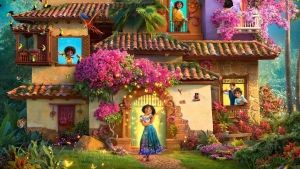 Mirabel Madrigal is the only member of her family without magic.
Over the years, Disney has learned to craft smart, articulate, and adventurous female leads. Gone are the days when a pretty girl would sacrifice her voice for a prince – Brave heralded in a new age of heroines, where their unique sense of style matched their ambition and loyalty. Encanto's lead character Mirabel Madrigal embodies this evolution perfectly.
An everyday girl in a magical world, she is the only member of her close-knit family born without magical ability. And by steeping this story in Colombian culture with a healthy dose of fantasy, you can't help but fall in love with the all-too-relatable dynamics of their relationships.
Living with three generations of her family in their Encanto – a magical house that is essentially the source of their power, the friction and love between characters push this story forward. We see Mirabel introduce her sister Luisa, marked by her magical super strength. The classic eldest child, the movie shows her unravelling her sense of responsibility as her magic wanes. Her other sibling Isabela is perfect – the seeming antithesis of Mirabel, and with a magical talent for creating new life wherever she goes, she is the epitome of beauty and grace. Except she hates her sister, and the feeling is mutual.
Throw in a younger cousin who can speak to animals, an aunt who creates weather systems, a handful of quirky peripheral characters, and the baseline normal in Encanto is bizarre at best. Mirabel is the odd one out in this family of misfits, so when she stumbles on a family prophecy suggesting she could be the reason they lose their magic, she is compelled to save their legacy.
Her quest is hilarious and moving – and notably, Disney keeps it in her family, showing that communication, repentance, and acceptance is the key to reconciliation and belonging. We see this most ardently in the character of Bruno. Voiced by Lin Manuel Miranda (who wrote the genius soundtrack that is undoubtedly driving parents and caregivers bananas), he was cast from the family for his prophetic gift and has been missing for years.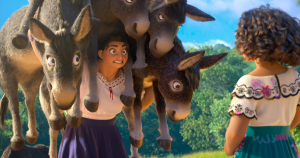 Encanto unravels sibling stereotypes by overtly showing qualities like strength or perfectionism as magic abilities in Mirabel's sisters like Luisa (pictured).
Hallmark songs like 'We Don't Talk About Bruno', and 'Waiting On A Miracle' are the magical glitter glue that holds this masterpiece together, and older kids will enjoy the fantastical yet relatable elements of this story. However, like many Disney films, some darker moments may frighten young children – so prescreen ahead of time.
Encanto beautifully encapsulates the apostle Peter's first letter to the Corinthians, where he says, "Just as a body, though one, has many parts, but all its many parts form one body, so it is with Christ" (Chapter 12, verse 12).
Like the family of God, every member of the Madrigal family has a unique set of gifts, talents, and idiosyncrasies. When we compare ourselves, we feel like Mirabel – insufficient, not good enough and maybe even jealous. Yet, when we commit to taking a journey of understanding and reconciliation, we soon realise no member is better than another. We are all equally necessary – vital members of a body that makes the house of God function when the Spirit brings us to life.
Full of truth, joy, and life, Encanto is a welcome addition to the Disney repertoire. Just mentally prepare yourself for the earworm of 'We Don't Talk About Bruno' because, like the Frozen soundtrack, this will stay around for a while.
Encanto is rated PG for a mild sense of peril. Streaming now on Disney Plus.