Streaming review: Unorthodox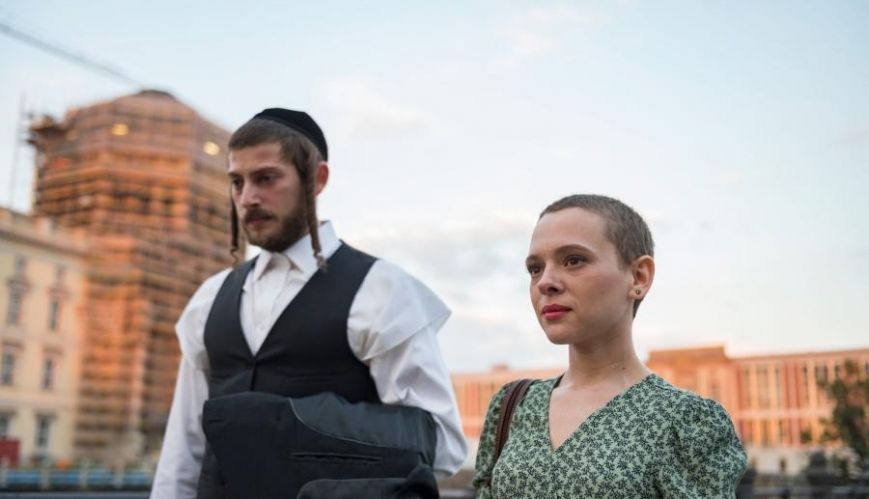 Streaming review: Unorthodox
29 June 2020
Unorthodox puts the lie to the idea that regulations and restrictions can produce the sort of righteousness that pleases God.
By Mark Hadley
Rating: M
Time slot: On-demand
Channel: Netflix
Unorthodox is loosely based on the New York Times bestseller by Deborah Feldman, subtitled, 'The Scandalous Rejection of My Hasidic Roots'. It picks up Feldman's true story and translates it into the tale of Esty, a young woman born into the religiously conservative, socially exclusive community that is Hasidic Judaism. Think black-suited men with curled sideburns and oversized fur hats, accompanied by silent women in headscarves.
Following her community's traditions, Esty enters an arranged marriage at 17, where her sole responsibility will be to provide her husband, Yanky, with children. When Esty finally falls pregnant, she determines to escape to Germany in the hope of finding her estranged mother. However, her old life isn't so easily shaken off. Her rabbi arranges for Yanky and his cousin to pursue her to Berlin for the sake of their faith. Unorthodox is an interesting enough escape story, but what will truly fascinate is its insight into life in a Hasidic community. Constant flashbacks show both the joys and oppression of a life lived in a never-ending struggle to please God. The oppression of man-made righteousness is everywhere. Strangely, though, it's this religious zealotry that provides the most positive contribution.
Unorthodox puts the lie to the idea that regulations and restrictions can produce the sort of righteousness that pleases God. Despite their devotion to their holy traditions, Esty's community is riddled with pride, selfishness and cruelty. The series breathes new life into the condemnation Jesus levelled against Esty's ancestors 2000 years earlier: "You hypocrites! Isaiah was right when he prophesied about you: 'These people honour me with their lips, but their hearts are far from me. They worship me in vain; their teachings are merely human rules'" (Matthew 15:7-8).
A right relationship with God never relies on our understanding of him, nor our ability to reflect his character. The Bible says that these are blessings that do arise from a relationship with our Creator, but they are useless as foundations. Our inherent sinfulness means we will never be able to build firmly or high enough to please a perfect God. Which is exactly what Esty discovers. When asked why she fled her community, she tells the students who've befriended her: "God expected too much of me. But now I need to find my own path."
Yet the fellowship we are unable to achieve for ourselves, God promises to gift us if we lean on his Son's efforts, rather than our own. And so, 2000 years ago, the same Jesus made an offer to those exhausted by trying to manufacture their own peace: "Come to me, all you who are weary and burdened, and I will give you rest. Take my yoke upon you and learn from me ... and you will find rest for your souls" (Matthew 11:28-29).
Unorthodox is a good diagnosis of the problems of religion but offers little in the way of a cure. Esty rejects her Hasidic faith, only to begin construction on a new faith in herself. Though the series ends on an expectant note, it also contains early indications that Esty will not have the resources to rise to her hopes. Sadly, her character never meets someone who might point her to Jesus' peace. But in our reality, his path continues to hold good for those who are prepared to place a foot on it.