TV series review: Bodyguard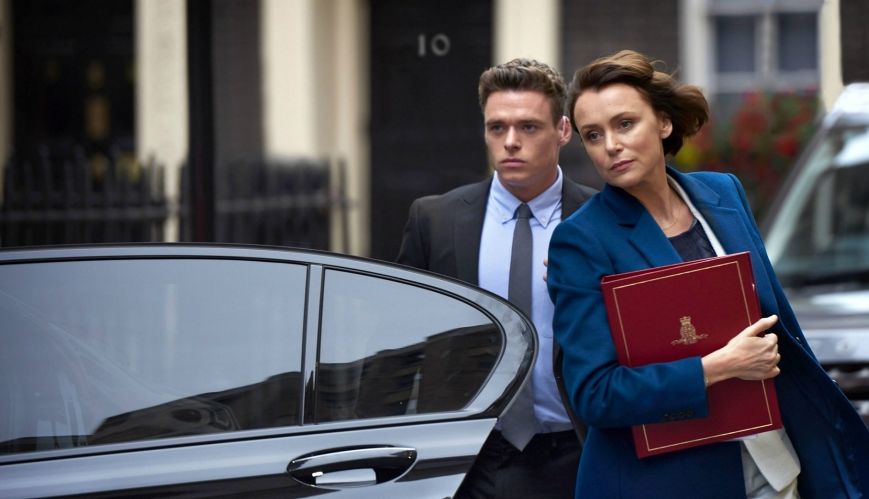 TV series review: Bodyguard
2 February 2019
Bodyguard is the perfect example of what the Brits do best in political thrillers – real, honest-to-goodness tension.
By Mark Hadley
This year's Golden Globe for Best Actor in a TV Drama went to Richard Madden, the lead in the surprise streaming TV sensation, Bodyguard.
When asked backstage why he thought the series had done so well, Madden replied that the show's moral ambiguity made it more identifiable to its audience. In that respect Bodyguard is a sign of the times we live in, where trust is something we no longer associate with those in charge.

Bodyguard is a six-part series about a soldier rebuilding his life after traumatic tours in Afghanistan. Madden stars as David Budd, the military-man-turned police officer. While on a trip with his children, Budd foils a terrorist train bombing.
His reward is an appointment as the specialist protection officer for the Home Secretary, the British version of the Foreign Minister. But the Right Honourable Julia Montague (played by Keeley Hawes) is a hard-bitten politician who also happens to have played a lead role in sending Budd's regiment to war.
Her political decisions exposed him to horrors, which led to him developing Post Traumatic Stress Disorder. Now Budd's life is a constant conflict of interest: responsible for safety of the woman who helped ruin his marriage. And that's just where the drama gets going.

Bodyguard is the perfect example of what the Brits do best in political thrillers – real, honest-to-goodness tension. More than 10 million people tuned in live for its last episode, making it the highest-rating program in the BBC's multichannel history.
However, the series also highlights a significant change in the way we are coming to view authority figures. As Madden put it, "The characters are all in this grey zone, of not being good or bad. That's what makes this show really interesting to watch because everyone's really human, and no-one's defined."

And so, the key question that emerges is, "Who can you trust?" Everyone who's supposed to be protecting the average citizen has an ulterior motive. The politicians are angling for power, the secret service is seeking influence, and the police are busy trying not to look bad. And the bodyguard? Well, Budd can't work out if he wants to protect the Home Secretary or kill her.

All this makes Bodyguard the series for our time. International studies show trust is on the decline. OECD figures reveal that the trust in its member governments has been generally deteriorating since 2006. The Pew Research Centre reports that trust in the American government is at historically low levels, and this is coupled with a long-running loss of interpersonal trust. European organisations report that police have managed to maintain their level of trust, which might go some way to explaining Budd's approval as a character. However, researchers from Oxford University say there is one group that seems to have kept their hold on trust: those with a strong religious commitment. The reported effects suggest that "being raised religiously raises the level of trust by two per cent. If a person regularly attends religious services, the level of trust increases by another 20 per cent."
 
The study's authors don't dig into what it is that makes religious people more trusting, but related statistics don't suggest they're any less aware of the sort of untrustworthy characters that populate Bodyguard's world. It seems more likely that they have put their trust in something else, and this affects they way they see others. The apostle Paul's encouragement to the Christians in Rome springs to mind: "May the God of hope fill you with all joy and peace as you trust in him, so that you may overflow with hope by the power of the Holy Spirit" (Romans 15:13).

Bodyguard suggests that our authorities are untrustworthy, because they can only be trusted to act on their own behalf. As brilliant a detective show as it is, its perspective misses the most famous piece of evidence to the contrary. For about 2000 years now, the Bible has been proclaiming that God so loved the world that died on a cross to save those who put their faith in him. That's right – a no-holds-barred self-sacrifice, from the highest authority for you and me. Clearly that's the sort of bodyguard you can put your trust in.


Bodyguard is currently streaming on Netflix and is rated M.