TV Series review: The Good Place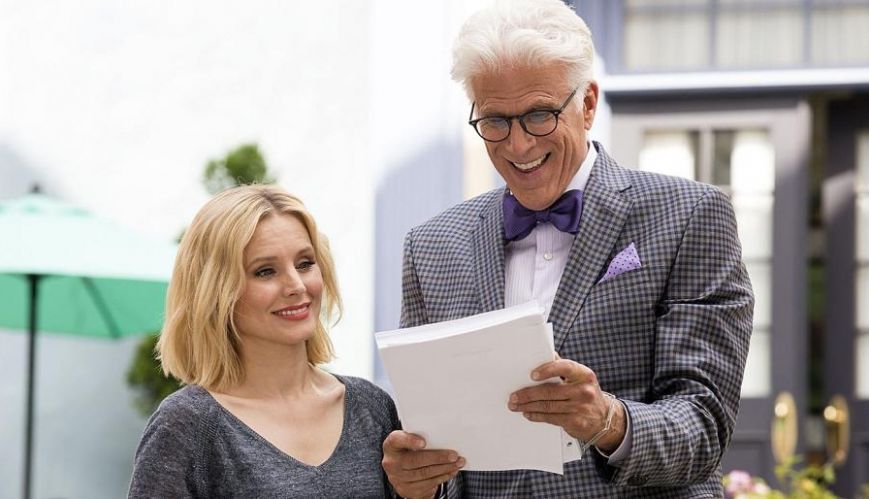 TV Series review: The Good Place
30 October 2017
The Good Place is brought to you by the same people who delivered the American hit, Parks And Recreation, and it's currently streaming on Netflix. 
The series centres on Eleanor Shellstrop, a telephone sales rep who wakes up at the beginning of the series in a comfortable waiting room, staring at a sign that says, "Welcome! Everything is fine." 
The reassuring Michael, played by Ted Danson, tells her there's nothing to worry about, she's just dead – and she's arrived in "The Good Place".
"The Good Place" is not entirely like the popular conception of Heaven.
That's because, according to the series, the majority of the world's religions each only got a tiny percentage about the afterlife correct.
One thing that's 100 per cent clear though, is that your behaviour on earth makes all the difference between you ending up in "the Good Place" or "the Bad Place".
The axis on which The Good Place's revolving door turns is moralism, which sounds about right to most people. But Netflix has some rude shocks in store as the series proceeds:
1. Not doing bad isn't good enough: Every time we neglect an opportunity to do the right thing, or a blessing we might have bestowed on others, we actually do something bad.
2. Motives count: One character raised $6 billion for charities, but did so to impress others and outdo her sibling, so it didn't count. The good we do can't be about gaining an advantage. 
3. So does consistency: The good place is only for people who've been very, very, VERY good – all of the time. There's no room for exceptions.
Though The Good Place is a secular comedy about the afterlife that doesn't reference Jesus once, these three points actually draw it much closer to the Bible's perspective than its creators might realise.
The apostle Paul could have been scripting for Michael when he wrote: "For we must all appear before the judgment seat of Christ, so that each of us may receive what is due us for the things done while in the body, whether good or bad," (2 Corinthians 5:10).
The comedy in The Good Place arises from Eleanor's realisation that she doesn't actually belong there. The truth is, she lived an entirely self-centred life and is now desperate to fake "goodness" so she can avoid being sent downstairs.
Like most people today, she finds all this talk about living up to a standard incredibly unfair.
Underlying her objection is the idea that the good and the bad we do balance each other out, and whoever is making a judgment should account for that.
However, the Bible teaches that good isn't a "positive", but neutral in value – it's what we've been expected to do all along.
So, what are we to do about the negative things that weighs us down? More to the point, who is going to do something for us, since we "Eleanors" are clearly not capable of saving ourselves?
The Good Place isn't a great model for working out how to get to Heaven. Jesus would say it's way off because he's the only way to get there, and he doesn't rate a mention.
But the Son of God wouldn't quibble with its standards. God is preparing a perfect Heaven, and there's no room for even a touch of evil to mess it up.
So, if we're going to get there, we have to work out who is going to do the hard work for us. Yep, it's a real pity The Good Place doesn't mention Jesus. 
The Good Place is currently streaming on Netflix. It is rated PG.