Swapping uniforms to answer God's call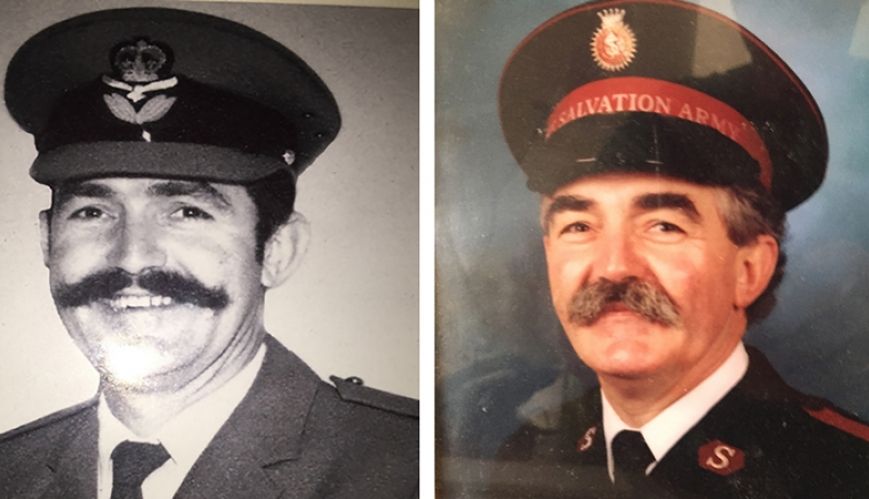 Swapping uniforms to answer God's call
The moustache may have stayed, but the uniforms changed when Dudley Mortimer answered God's call to Salvation Army officership.
By Dudley Mortimer*
In the midst of the COVID-19 restrictions, I sit isolated in my home. I pondered, on Anzac Day this year, my 25 years of service in the Royal Australian Air Force.
I joined the RAAF in 1961 and left my home town of Orange, in the Central West of New South Wales, to fulfil a long-held ambition to travel and see the world.
As expected, I experienced a great deal of travel and postings, including service in every state of Australia and six overseas countries. When I married and had a family of three children, they experienced much of these travel adventures with me.
Life was good, my salary and allowances were excellent and promotions came regularly but, in reality, all was not well and I was not contented, as I constantly ignored God's claim on my life for full-time ministry. This disobedience to God's call lasted 23 years.
My inner spiritual struggle came to a climax in 1985 when I was serving on the Air Attache Staff in the Australian Embassy in Washington DC, in the United States. At that time, my family and I were members of Arlington Corps in Virginia and decided to travel down to Atlanta in Georgia to attend a Salvation Army ordination and commissioning ceremony. During the altar call, my wife and I experienced yet again God's call to full-time ministry. This time, we finally responded and went forward for public prayer.
From that very moment, a burden was lifted from me and I experienced an inner peace that I had never known before.
In the following months, I resigned my RAAF officer's commission, returned to Australia with my wife and family and entered the Melbourne Training College for officers in 1986. My salary as an officer in The Salvation Army was minuscule compared to my RAAF allowances and the travel was much restricted, but God never left me short-changed.
The peace of heart and mind which I now experienced was amazing and the absolute joy of introducing someone to Jesus had no comparison.
In the many years as an officer in The Salvation Army, it has been an absolute delight to be a pastor, a preacher and teacher of God's word and to share intimately in people's personal lives and struggles as they seek God's guidance in their lives.
My only regret – and one for which I sought forgiveness long ago – is that of holding out on God's call on my life for so many years.
THE OLD MAN'S PRAYER

By Dudley Mortimer
Broken-hearted, the old man knelt before the cross,
Confessing to Jesus his shame and his loss
The thoughts of what could have been tore his emotions apart
But Jesus answered him so tenderly
Let's have a brand new start.
But I've only got a few years left, the old man replied,
And Jesus responded, "It's situations just like yours
For which I died."
So together they made a pact,
The old man and Jesus,
For a more holy way for him to act.
Jesus would show the way
And the old man agreed to obey
That was some years ago now,
And he now lives with Godly power.
Jesus kept his part too,
And stayed with him to see him through
This is the promise the old man lives by now,
And it's precisely from where he gets his power.
"Fear not for I am with you.
Do not be dismayed,
For I am your God.
I will strengthen you, I will help you,
I will uphold you with my victorious right hand."
(Isaiah 41:10)
* Major Dudley O. Mortimer is a retired Salvation Army officer now living in Port Macquarie, NSW