Mirror, mirror on the wall . . . ageing with grace matters to all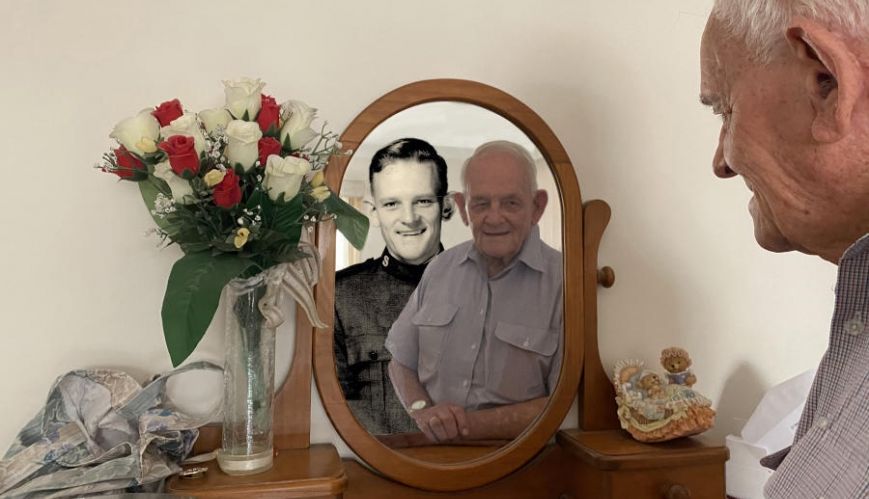 Mirror, mirror on the wall . . . ageing with grace matters to all
Then and now ... a young Ted Harmer in his early days as a Salvationist, and the aged and wizened retired officer who can reflect on a life of service and influence of many godly people. Artwork: Darryl Whitecross
By Major Ted Harmer
I was looking at my hands recently and noticed there were lines that had appeared – obviously the process of ageing.
I stretched them out in an effort to be rid of the evidence of ageing but to no effect – the lines kept returning.
I looked in a mirror and found my face had lost its youthful appearance too. I confess that, for a brief moment, there was the thought of undergoing a reconstruction, but I very quickly dismissed that idea. A reconstruction was impossible. Why? Couldn't there be a way whereby features could be changed for the better – if for no other reason to stay the ageing process?
I thought, with a deal of apprehension, that hopefully I could be given a new body that was not subject to change. That prospect is meant for some of us more than others.
People who know me will have noticed I am getting on a little. There is no way I can be born in the flesh again. Ageing is inevitable and it's better to age gracefully than to age miserably. This is an area that is of relevance to us all.
My age allows me to reflect on many elderly folks who have been a tower of strength for me as a youngster. Even today, there are those for whom I hold the greatest respect.
As people would imagine, having been born the son of a railwayman involved the family moving about a lot, which is not too dissimilar to that of an officer in The Salvation Army and his or her children.
The world is a far different place to what I experienced as a young lad, firstly from Inverell, in New South Wales, then Nambour and Gympie, in Queensland, and then as a young officer. Digital Technology is rife – mobile phones, computers, emails, tweeting and friending – all of which I find difficult to fathom but ...
My wife of 58 years, Dawn, has been a constant in all that change. She has aged alongside me and faces the same challenges as do I with those unenviable lines.
God has been with me through all these years – from my training college days, my first appointment at Broken Hill, through the painful experience of my first wife passing away, into my marriage to Dawn ... and then retirement, 21 years ago now after 48 years as an officer.
Like me, many of us have reason to be glad about the influence of the elderly. Those who have maintained, while getting older, their love and commitment to the Lord. I learnt early that the influence of the elderly was a significant factor in the growing process of the young in their faith and trust in the Lord – my faith and trust in the Lord.
Daddy Brogdan was part of the Gympie Corps when I was in my adolescence years – a fellow in his 90s who had never fluctuated in his love for the Lord; a fellow whose presence had a tremendous influence on me and those around me who were passing through the difficult stages of youth. His presence made a deep impression on me, not by his words but by his consistency and his attitude. He was a 'son of God' in reality. Such an individual within any corps is a gift and should be cherished.
I, like many people, have reason to be grateful to those who have shown a consistency in their love of Christ and who have weathered the storms of life without diverting from their love for the Lord. Consistency is a mark of commitment and, with it, is associated a love for Christ that never wavers.
By the grace of God and through the examples of my elders, such as Daddy Brogdan, I have the opportunity to love the One who loved me enough to die for me and bring me into a place of superlative beauty and joyfulness.
* Major Ted Harmer soldiers at The Salvation Army Stafford Corps on Brisbane's northside.