Spiritual battle on the Kokoda Track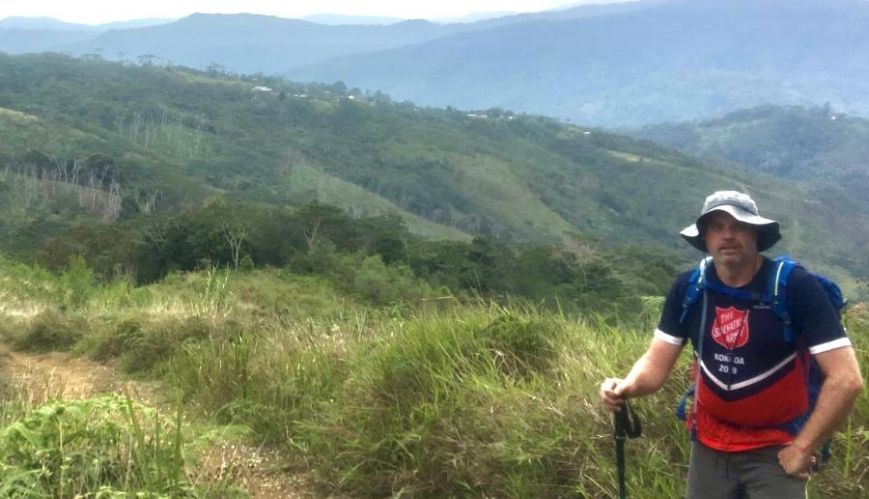 Spiritual battle on the Kokoda Track
Mark Carver heard the voice of God powerfully during The Salvation Army's Trek for Hope on the Kokoda Track in 2019.
In 2019, Mark Carver was one of 11 people who undertook The Salvation Army Trek for Hope, an adventure fundraising initiative walking the Kokoda Track in Papua New Guinea (PNG). Mark wanted the trek to be life-changing, but God worked in more powerful ways than he could ever have imagined. 
As told to Lauren Martin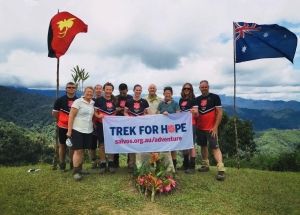 The 2019 Salvation Army Trek for Hope participants.
My wife has been a Christian for most of her life, but she'd been going to church on Sundays for the past seven or eight years on her own. I'd go at Christmas and Easter time, but I wasn't committed at all. When my wife joined a new church, we started attending a Bible study and I started asking lots of questions.
I was working for the Salvos at that time and one day I picked up a pamphlet advertising a fundraising trek on the Kokoda Track. Kokoda was something that I always wanted to do – a bit of a personal goal and a bit of a challenge, I guess. And I needed a challenge.
I started to tell a few people about it. Two people from the Salvos, at separate times, said to me: "Mark, there's something for you in PNG." But I didn't really know what to expect.
I began training for the trek, but even that was a challenge. At one point I cried out to God, "I cannot do this on my own … emotionally or physically. Please help me." And I got a word straight back saying, "Mark, you are not alone."
Journey begins
When we got to PNG, we met our guides and porters and got underway. I could walk with the lead group, or at the back, but I found I was most comfortable walking by myself in the middle.
The first challenge, however, was not with the track itself, but with my wallet. We got to the village of Naduri and went to a church service. When the offering plate came around, I took out five Kina [about $A2] and put it in. But then there was another offering for a special project – a house that the locals had built. I heard God clearly say, "You are to empty your wallet into that house." I'm thinking, "What?" – I didn't even want to look to see how much money was in my wallet. But the word 'empty' was clear. So, I bowed my head and prayed, and as soon as church finished, I got up and walked to the collection box, opened my wallet and put everything in.
Hill to climb
The next day we walked to Brigade Hill, where a famous battle between the Japanese and the Australia/American forces was fought.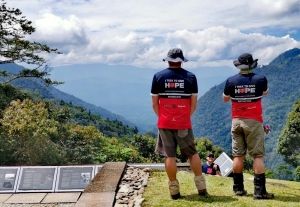 I was still walking mostly on my own at this stage, and during the climb God really spoke to me. The ceremony at the top, in remembrance of the ANZACs, was very emotional. As one of the trek guides played some music, I buried my head in my hands and started to cry. I sobbed for the next four hours.
During this time, we made our way back down the hill, had some lunch and continued on our way. I still kept mostly to myself, but I was an emotional mess and somewhere along the track I just stopped and said out loud to God: "I can't do this anymore. I can't walk this track like this. I can't go home like this. I can't do anything without you!" And God's gentle voice answered, "Mark, are you ready? Are you ready to give yourself completely to me?" God wasn't emptying my wallet this time, he was emptying me, so I replied, "Yes."
My next question to God was, "What do you want me to do? What have I got to do?" Very clearly, he said, "You need to be baptised." I'd never prayed out loud before but here I was, talking to God in the middle of the Kokoda Track. The porter near me must have thought I'd gone mad! But God's voice was clear again, "There is a creek at the bottom of this hill … I've set aside a place for you. Brad will baptise you." 
I spoke to Captain Brad McIver, the Salvos officer, about what I'd just experienced, and he was ready. The half-hour walk down the hill was a struggle – physically, emotionally and spiritually. Doubts started to come into my head: "You're not good enough … everyone's going to think you are an idiot … what are you doing?" The devil was doing his best to talk me out of it, but I said, "God, stop these thoughts". And they stopped.
Then I saw the creek. There is this little rickety bridge to cross and I made my way to a rock and looked across the water – it was exactly what God had shown me in my head. This was the place. Brad came up and said, "Are you okay? Are we doing this?", and I said, "Yep, I'm good."  
Standing together in the creek, Brad said all the things that he needed to say, and he dunked me under the water. I came back up and it was … just unbelievable. I never thought that such a simple act could make you feel so different. I felt new. All my angst was gone, and a smile came back on my face. 
I was emotionally and physically exhausted, but there was still a 45-minute walk to the next village. As soon as I put my pack on, Brad fell in step right in front of me and Miranda [a Salvation Army soldier] fell in step right behind me. I no longer felt like I was walking alone – it was like spiritual protection. The further that walk went on with those two people in front and behind, the better and stronger I started to feel. By the time I got to the village, I was a different person – full of the spirit of God.
Mark Carver worships with his wife Sophie at Wyong Baptist Church. He counts The Salvation Army Kokoda Track walk as the pivotal moment in his faith formation and will never forget his baptism there.