Commemorating Anzac Day - from home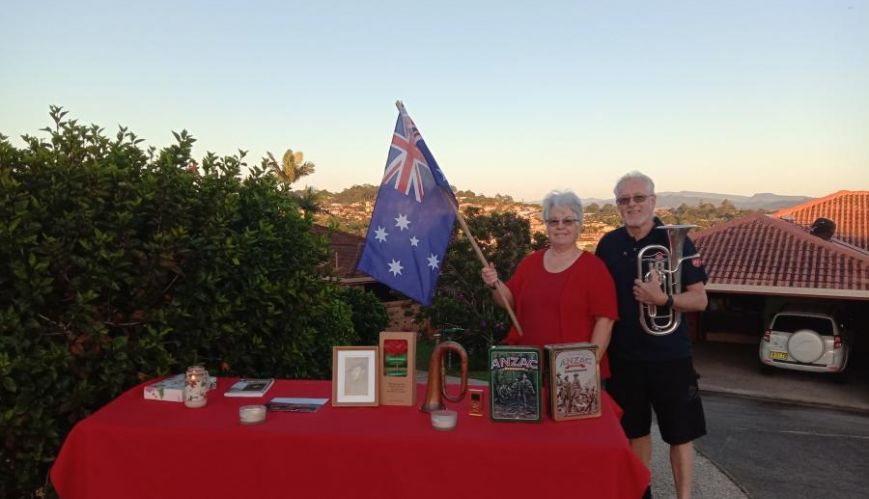 Commemorating Anzac Day - from home
Retired officers Major Allan and Fran Flemming, living on the Gold Coast, were active on Anzac Day. Allan played his tenor horn on the day, and Fran has been writing letters and poems and giving them to neighbours during the COVID-19 pandemic.
By Darryl Whitecross, Lauren Martin, Jessica Morris and Simone Worthing
"Anzac Day was so different this year – and yet it was the same," said a Salvationist from Queensland who, with her family, stood in their driveway as the sun rose, lit a candle, marked a minute's silence and listened to a neighbour play the 'Last Post'.
"It was different not being with hundreds of others at a dawn service, but the same as we again acknowledged and expressed our gratitude for the sacrifice of so many servicemen and women past and present," she said.
Salvationists and friends joined thousands of others around Australia who commemorated Anzac Day on their driveways, front yards and verandas. As dawn services were cancelled due to COVID-19 restrictions, the RSL national president, Major-General Greg Melick RSL (Returned Servicemen's League), had asked Australians to take a moment to pay their respects to our servicemen and women – from home – as part of an "intimate reflection" on a mass scale.
Australian jazz musician James Morrison had also encouraged the nation to join a similar 'Music for Mateship' campaign as part of Anzac Day 2020 commemorations by playing the 'Last Post' on their driveways.
From cornets, bugles, trumpets and tenor horns to baritones, euphoniums and violins, the ceremonial 'Last Post' was heard throughout neighbourhoods. In some places, 'Reveille' followed a minute of silent reflection, while still others played 'Abide with Me'and the national anthem. Many yards were adorned with red poppies, Australian flags, lit candles, and some even had small fires. Most of the gatherings took place at 6am, others were at 9.30am and some at 11am.
New South Wales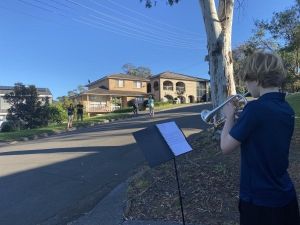 Jayden Simpson, of Wollongong Corps, played his cornet on Anzac Day morning.
Like many Salvos across the country, Jayden Simpson played the Last Post on his cornet on Anzac Day morning.
The 15-year-old plays in the Wollongong Corps band. "I have been playing the cornet for five years, mainly in the Wollongong YP band. My tutor is Connor Hutchinson [Territorial Youth Band member] and he helped me learn the 'Last Post'."
This year, being unable to play in a public setting with the band for Anzac Day, Jayden and his family let their neighbours know that he would be performing the 'Last Post' on his driveway. "I just wanted to honour the Australian soldiers past and present," he said.
"About a dozen neighbours came out and the response I got was quite positive. My dad read out 'The Ode', and after that I played the 'Last Post', then we had a minute's silence and then we all said 'Lest we forget'. And mum made Anzac biscuits for everyone. One older lady across the road said it was one of the best Anzac Day experiences she's ever had!"
Northern Territory
Darwin has a quite significant place in Australia's World War Two history. On 19 February 1942, Japanese air raids left the city in ruins. It continues to be a strategic location for modern-day defence of the country's shores, so it is fitting that The Salvation Army in the city marked Anzac Day, albeit in smaller settings.
Darwin Corps Officer Captain Peter Jones is in his second year at the corps and has been involved in two completely different commemorations of the day.
Last year, he sat with the dignitaries at the Darwin dawn service with all its pomp and ceremony, overlooking the Timor Sea as the sun rose from where Australian forces mounted their defences in World War Two. "It was probably the most moving Anzac Day services I've ever attended," Peter said.
This year, it was the opposite. The family joined hundreds of other families by standing out on their driveway with candles, poppies, flags and poems to show their respect. Peter said he read a prayer and his son read 'The Oath'.
Darwin Corps had dropped 100 candles and cone holders and other leaflets around the neighbourhood before Anzac Day, and Peter said he was pleased to see them being used on the day.
Captain Matt Ryan, from Palmerston Corps outside Darwin, said the Nyoonga (Indigenous) translation of 'The Ode' was posted on the corps' Facebook page.
Queensland
Catherine (left), David and Harrison Philpot played during Anzac Day.
Centenary Corps Officer Auxiliary-Lieutenant Catherine Philpot, her husband David and son Harrison honoured Anzac Day at their home in the outer west of Brisbane.
"It was meaningful," Catherine said. "My son Harry played the 'Last Post' and 'Rouse'. All of us played the national anthems of Australia and New Zealand and (the hymn) 'Abide with Me'.
"I letterbox-dropped the street the week before Anzac Day to let them know what was happening so we had maybe 30 people came out onto the street for the service. In the hilly area of inner Brisbane where we live, we could hear at least three other brass players in the distance all playing.
"It personalised Anzac Day and made it a community experience all at once. It was something we were each choosing to do, and we could hear that we were connected to others. In other years, I have headed out to Anzac ceremonies and seen few of my neighbours about. This year, I think there were more people personally challenged to get involved."
Along with commemorating the day in their driveway, the Philpot family later played in the grounds of The Salvation Army Cairns Aged Care so that residents could be part of the commemorations.
Bandsman David Nelson, from Stafford Corps, has been the bugler at the Anzac Day service at Windsor for about 40 years. This year, David played from a high veranda in his neighbourhood.
In Cairns, Majors Ben and Emma Johnson drove to eight different locations in Cairns and six in Innisfail. Emma read 'The Ode', and Ben played the 'Last Post' and 'Rouse'. "We are proud of the relationship The Salvation Army has had with the armed forces for many years and we are glad to honour that in our community," they said.
The Terracini family, with violinist Eleanor Devine, played on their street.
At Carindale, in Brisbane's south-eastern suburbs, Major David Terracini (Area Officer for Brisbane South, West and Gold Coast), his sons Luke and Matthew and violinist Eleanor Devine, played the 'Last Post', 'Rouse', 'Abide with Me' and the national anthem.
Major Michelle Terracini said about 40 people ventured out onto the street for the commemoration while some stayed on their verandas.
On the Gold Coast, retired officer Major Fran Flemming has been writing a letter and poem each week and putting them in the letterboxes of 11 of her closest neighbours. For Anzac Day, Fran said she extended that to all 29 houses in her cul-de-sac. "I met neighbours for the first time and they want to get a weekly letter and many commented on the poem. God is at work here and I want to be in tune with what he's doing," Fran said.
Fran, whose husband Allan played his tenor horn at the top of their driveway at 6am, said Anzac Day was special for several reasons: Her father served in World War Two and was a prisoner of war for four years in Europe; her great uncle died at Villers-Bretonneux in April 1918; and her mother passed away, aged 93, on Anzac Day 2012.
South Australia
Captain Aaron Stobie, Campbelltown Corps Officer in suburban Adelaide, said Anzac Day 2020 was "very different, so beautiful and very meaningful. I doubt I'll ever forget it."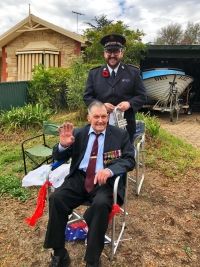 Captain Aaron Stobie (standing) with World War Two veteran Mervyn Ey.
"I was blessed with two opportunities to share with others in a really meaningful way," Aaron said. "Last year, at Christmas time, a few of us from the corps band played at a local street party organised by some residents of that street. It was really a celebration of community. The organisers of that gathering invited me to come and play the 'Last Post' for their 6am gathering.
"One of the residents read 'The Ode' and I played the 'Last Post', followed by a minute's silence. At the conclusion of the brief but very moving gathering, people sat in their own driveways and shared a cuppa. The celebrating of community continues."
Another highlight of the day for Aaron was spending part of the day with local legend and World War Two veteran, 98-year-old Mervyn Ey. Aaron said Campbelltown mayor Jill Whittaker had passed on to him an invitation from Mervyn's granddaughter to play at his home on Anzac Day. He said Mervyn's family had organised for family and friends to drive past his home at 11am with signs, cheers, salutes and blowing of car horns. He sat on the nature strip when they went past.
"It was honestly the most moving few moments," said Aaron. "It was absolutely beautiful. I felt extremely honoured to be asked to play the 'Last Post' and 'Rouse' for him. As I played the first few notes, I had to look away from Mervyn as I started to choke up because he unexpectedly stood to attention. The 'Last Post' echoed throughout the streets. Hauntingly beautiful."
The Campbelltown City Council also invited the corps to have someone play at its televised live-stream ceremony at the Magill RSL from 6am. Aaron said the corps' 15-year-old Molly Sweeney played.
Tasmania
Glenorchy Salvos included printed Anzac Day resources in their 'Church in a bag' last week.
"Let us therefore dedicate ourselves to taking up the burdens of the fallen and, with the same high courage and steadfastness with which they went into battle, set our hands to the tasks they left unfinished," one of the readings said.
The resource enabled older Salvationists to participate in Anzac Day from their house or driveway.
Victoria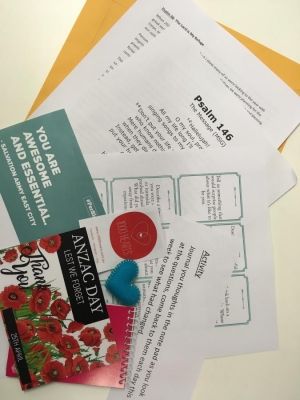 Some of the Anzac Day resources shared across Tasmania, Victoria and the rest of the nation.
Bellarine Peninsula Corps shared a custom-made video on their Facebook page called #ANZACathome – taking people through a five-minute pre-dawn service. The video was also emailed to those interested.
"Right now, our Anzac spirit is needed more than ever. It's seen the best of us through the worst of times," said Captain Peter Hobbs. "This year we may not stand shoulder to shoulder, but this morning we stand together."
Proving that Anzac Day is a sacred occasion for all ages, Ringwood Salvationist Ben Gittins pre-recorded the 'Last Post' and 'Reveille' on his trumpet for the local primary school in remembrance of his late grandmother who sadly passed away on Anzac Day last year.
At Wonthaggi, Corps Officer Captain Amy Jones created a special Anzac resource pack, encouraging other corps across the country to share it with Salvationists and friends. Recognising that not everyone can play a brass instrument, the resource took people through an order of service, including the national anthem and a dedication.
Western Australia
Perth Fortress Corps members lit candles and stood in their driveways across the city to commemorate Anzac Day, many wearing Salvation Army uniform and playing instruments.
Corps Officers Majors Alwyn and Deborah Robinson joined a handful of people in their street to listen to the Anzac Day dawn service on a neighbour's radio. They then walked the surrounding streets as the sun rose, chatting with and greeting people along the way.
"Having no Anzac Day commitments was very different, so Alwyn and I, we put on our uniforms and had our candles," Deborah said. "We stood there and you could just hear a pin drop right across the suburbs. It was a very moving experience and I would suggest even more moving for us than if we were doing our regular commitments. Walking the local streets afterwards with our dog and encountering a returned serviceman from Vietnam and having a chat with him ... it was quite significant."
Deborah said Anzac Day is very significant for Perth Fortress because a lot of the corps bandsmen served in World War Two. "Our bandmaster, Bluey, went to war and he never returned; he was killed in action," said Deborah. "So, the day is very significant for our corps."
With all Salvos having to rethink how they approached Anzac Day, she said it was really heartening to see photos shared on Facebook of so many Perth Fortress Salvationists of all ages, dressed in uniform and engaging in dawn services in their streets. "Lots of our corps folk were very intentional in their participation on Anzac Day."
Major Brett Gallagher, Chief Commissioner of The Salvation Army Red Shield Defence Services, led the country in prayer at the nationally televised Anzac Day commemorative service at the Australian War Memorial, Canberra, at 5.30am (AEST) on 25 April.