Twenty years of honouring drug-overdose victims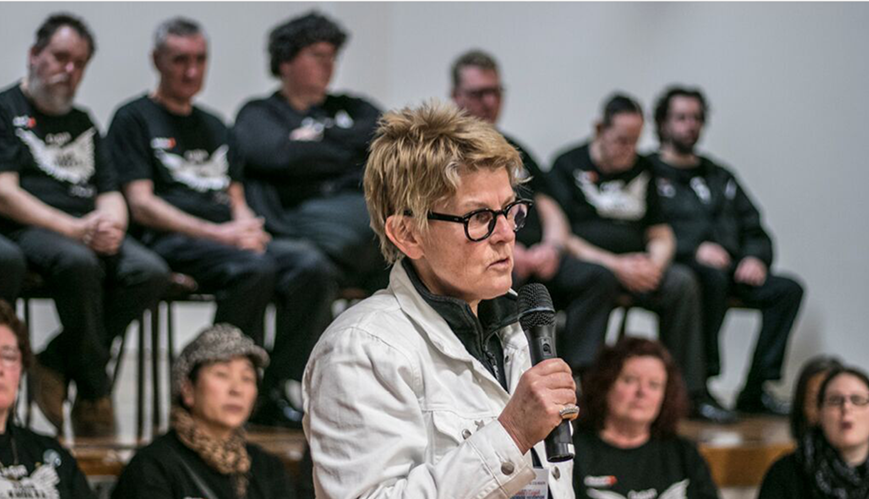 Twenty years of honouring drug-overdose victims
S.J. Finn still works at The Salvation Army St Kilda Crisis Services in the 24/7 Needle and Syringe Program, but her initiative to found International Overdose Awareness Day has resulted in speaking opportunities for audiences across the globe (Pictured here in front of Melbourne's Choir of Hard Knocks).
By Jessica Morris
Twenty years ago today, S.J. Finn created 6000 silver ribbons to commemorate the first International Overdose Awareness Day. Today, it is an international movement destigmatising and preventing death by accidental overdose.
It was a winter day in August 2000 when Finn, a family therapist, saw her vision for International Overdose Awareness Day (IOAD) come to life. A small group of guests joined her behind The Salvation Army St Kilda Crisis Services wearing silver ribbons, to remember the people they'd lost to a drug overdose.
"When I started IOAD, I met clients who had lost sometimes up to 17 friends from an overdose, and they really didn't feel they had any right to mourn for these people because of the way in which they had died," said Finn.
"I felt it was time to put a day aside on the calendar to mark the deaths of those we'd lost and those who had suffered permanent injury from an overdose. And also, to raise awareness about how these deaths could be prevented."
Finn's motivation for founding IOAD was a lifetime in the making – over the course of her career as a family therapist and then manager at The Salvation Army St Kilda Needle and Syringe Program (NSP), she had seen hundreds of people impacted by drug overdoses.
Twenty years later, IOAD has grown to become a worldwide movement, reaching 39 countries across Asia, Africa, the Americas, Europe and the South Pacific. Now run by the not-for-profit organisation, The Penington Institute, it has resulted in the development of laws and the increase of provisions that assist in the lowering of the fatalities and harms related to overdoses across the world.
Some things have changed about IOAD over the past two decades. But, at its heart, it celebrates the same thing, the right of people to mourn someone they loved with pride. And 20 years later, as the number of people lost to accidental death from a drug overdose grows, the day is more important than ever.
The latest figures from The Penington Institute indicate there were a total of 2162 drug-induced deaths in Australia in 2017, a 43 per cent increase from 15 years prior (1231 in 2002).
Finn still sees the consequences of this every day as a harm-reduction practitioner at the St Kilda 24/7 Needle and Syringe Program (NSP).
"This is about children who have lost parents, and parents who have lost children, and people who have lost partners and friends and siblings," said Finn. "This is about an accidental death – someone who died suddenly and without any intention to do so. This is about lowering the stigma attached to these deaths, so the joy that someone brought their loved ones is remembered."
Since day one, the epicentre of the initiative was at the St Kilda NSP, part of Crisis Services Network. The NSP and Access Health continue to implement strategies year-round to support people experiencing addiction and people who use drugs.
The staff have trained thousands of people to respond to opioid overdoses and provided opioid reversal medicine – naloxone – since 2013. Twenty per cent of the responders surveyed say this has been used in 'life-saving intervention'. And, during the past two years, since the NSP has been funded by The Department of Health and Human Services, they have completed over 2000 training sessions.

A lot has changed during the past 20 years – but there's still work to be done. This International Overdose Awareness Day is a time to remember – and a time to act.
National Alcohol and Other Drug Hotline 1800 250 015
Direct Line 1800 888 236
Family Drug Help 1300 660 068