A most treasured gift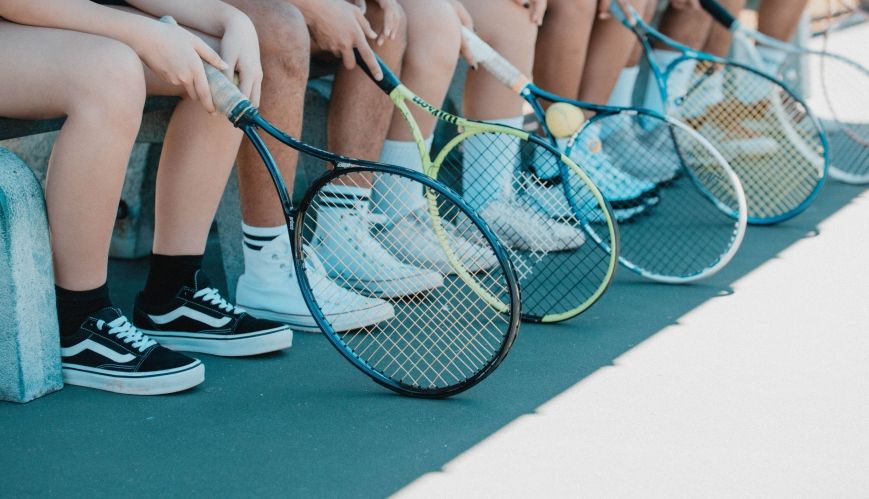 A most treasured gift
15 November 2021
Playing tennis for years without the fancy extras made an unexpected gift all the more special. Picture by Christian Tenguan on Unsplash.
By Daniel Kensey
I started playing tennis when I was seven and I loved it.
I was one of five children, so money was tight in our family. I'd turn up to tennis wearing runners while other kids had brand-name shoes. I was the kid who arrived with a racquet in one hand and a calico bag (with sandwich and can of home brand soft drink) in the other while other kids rocked up with their tennis bags slung coolly over their shoulders. I would have loved a tennis bag, but they were expensive. I saw out my tennis days, playing until I was 22, never having one.
Three years ago I took up tennis again. I'm in my 40s now and am pleased to report that I'm playing better than I did when I was in my 20s. Back then, I remember playing older guys who didn't hit the ball that hard, but they got every ball back. They were like an impenetrable wall – and wow! they really annoyed me. Well, I'm that guy now, the old dude who frustrates young guys!
A few months after I started playing tennis again, I celebrated my birthday. My wife, Cate, gave me a beautifully wrapped present and when I opened it, there it was – a tennis bag. I loved it – the zippered pockets to store things in, the design, the colour – I was as excited as my seven-year-old self would have been.
Do you know, it hadn't even occurred to me to go and buy myself a tennis bag? But Cate knew. She chose the perfect gift for me because she loves and knows me so deeply. Even now, as the bag is starting to look a little worn, I still love it because I know it was a gift specially chosen for me by someone who loves me.
Gifts are special. Do you know that you and I are gifts to Jesus from God the Father? No? Kind of? Not sure? I admit I struggle to accept this. I know God loves me, I know he is patient with me, and I know he forgives me. But me, a gift? I can picture God, in his great mercy, tolerating me in my weakness, but to be his gift to Jesus? That's so much more. It seems too much, too over-the-top.
But listen to what Jesus has to say about it. In John chapter 17, Jesus knows he is on the threshold of his suffering and death. He knows what is about to happen, and so this moment in time is like him standing on the precipice between life and death, bridging what has been and what is to come.
He is talking to his Father. This is a moment of raw, honest intimacy between them, and gives us insight into what is on his heart. And what is on his heart? His disciples, the people he has been with for the past three years. But it's not only his present disciples who are on his heart, but also his future disciples. You and I were on his heart as he was talking to his Father.
As Jesus prayed for his disciples, his beloved friends, he also prayed for us. "I pray not only for them, but also for those who will believe in me through their word, so that they may all be one, as you, Father, are in me and I in you" (John chapter 17 verses 20-21), "Father, they are your gift to me. I want those you have given me to be with me where I am" (verse 24).
There are times when we find it difficult to believe in our hearts that we could bring so much joy to Jesus, that we are received as a gift by him, especially when we don't live up to the fullness of life that God offers us.
But we can be confident that when God the Father gave us as a gift to his son, that we were received by Jesus with immense delight, wonder, and exuberance. And that the wonder and joy and delight each of us brings to Jesus is a unique wonder and joy and delight that no-one else can give him.
We can be assured that Jesus will not reject a gift given to him by his beloved Father.
Daniel Kensey is a workplace relations manager with The Salvation Army.