A shared responsibility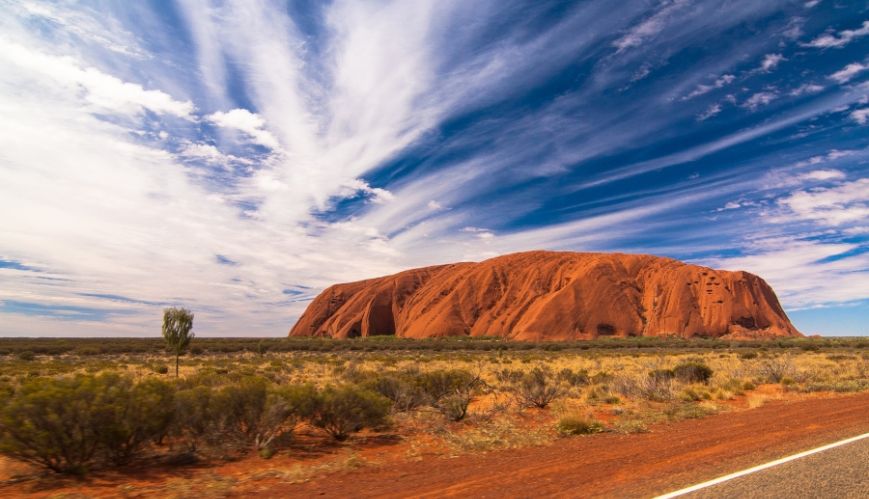 A shared responsibility
6 January 2020
Photo: Holger Link
By Lucy Davis
In my times of prayer my heart hurts for the land and the sea.
For more than 60,000 years, Aboriginal peoples have loved and nourished our lands like a mother would love and care for her newborn child. We do not take too much from her and, when we do, we always put back.
As custodians it has been up to us to ensure the land nourishes and sustains into the future.
It was up to us to ensure that we harvested in the right seasons, and we did our burn- offs in the opposing seasons to ensure new life would be given. It was up to us to calculate when and where to lay our crops and produce. We did this by reading the land and understanding weather patterns. It was up to us to protect our waterholes and maintain the purity of Mother Earth in all her beauty. This is what our Father God bestowed on us as Aboriginal peoples.
So, as I've reflected on the recent decision to ban climbing Uluru, I've asked myself: "Is this really about closing a 'tourist attraction' or is this about how we, as Christians, look at this gift our Creator has given us, what we as Aboriginal people call 'Mother Earth'?"
I think Aboriginal peoples did a pretty good job right up to about 230 years ago when foreign animals were brought ashore and began polluting the land with waste that our land cannot bear.
We've also had the introduction of agricultural methods that were not meant for this land. Too much has been taken from her and not enough has been given back. The 'lore' of the land has been ignored and the very landscape of what Father God has given Aboriginal peoples to look after is now becoming unrecognisable.
It is well documented that Aboriginal peoples have a unique relationship with the land. We believe we are all connected and need to look after the elements that Father God has entrusted to us. We believe in feelings, and that when the land is hurting we are hurting too. We believe that we do not own the land but that the land owns us.
For years, as Australians, we have watched Uluru become a national icon – 'The big red rock in the middle of nowhere'. It attracts tens of thousands of tourists every year. As tourists begin the trek towards this sacred being we call Uluru, there is a sign which reads: "We, the Anangu traditional owners, have this to say – 'Uluru is sacred in our culture, it is a place of great knowledge. Under Anangu traditional law, climbing is not permitted.
"This is our home. As custodians, we are responsible for your safety and behaviour. Too many people do not listen to our message. Too many people have died or been hurt, causing great sadness. We worry about you and we worry about your family. Please don't climb. We invite you to walk around the base and discover a deeper understanding of this place.'"
As a Christian, I embrace diversity and humble myself to understand the unwritten 'lores' that exist in diversity. However, the ignorance and disrespect shown to Aboriginal people with regard to looking after the land and sacred sites always amazes me.
And there's also the logisitics of tourists climbing the rock, which are a nightmare. The climb is actually quite difficult and not suitable for children. There are no toilet facilities at the top of the rock nor are their bins; therefore, it has become common practice for tourists to leave their rubbish and human waste.
It was our Creator who entrusted Aboriginal peoples to care for, love and look after this great country we now call Australia. God entrusted Aboriginal peoples with this task for thousands of years, and we have abided by his commands.
But for Aboriginal peoples, trying to uphold these commands entrusted to us before colonisation has become a harder task. It's almost always 'controversial' because the wealth that can be derived from the land – minerals, gas, coal, etc. – seems to override any value of people or the lore of the land.
We are a shared country now – Aboriginal people acknowledge that – therefore, we have a shared responsibility to heed God's commands. We all need to care, love and nourish the land; this is all our responsibility as children of God.
Uluru is a sacred site to the Anangu peoples. It's their place of story, ceremony and prayer, a place directly linked back to our Creator that is now sadly scarred, polluted and tired. How do we gain forgiveness for not listening to you, Father God?
How do we gain forgiveness for taking too much and not giving back to this precious gift you gave us? Since the closure a new sign has been erected. It says, "The land has law and culture. We welcome tourists here. Closing the climb is not something to feel upset about but a cause for celebration. Let's come together; let's close it together."
Uluru, we are sorry for not listening to your cries and we are sorry for not protecting you. It's time for a long rest, it's time for you to breathe and to heal. We, as your custodians, will pray that you can recover and continue to bring story, love and guidance to all in your majestic presence. God is good.
Lucy Davis is The Salvation Army (Qld) Aboriginal and Torres Strait Islander engagement coordinator.