Allowing Holy Spirit interruptions in our day
Allowing Holy Spirit interruptions in our day
28 June 2021
Captain Joanne Williams (centre) collecting for the Red Shield Appeal. She encourages people not to get caught up in the 'busyness' of life and allow time for 'Holy Spirit interruptions'.
By Joanne Williams
As Salvos meet people in high-need situations, and even in the busyness of everyday life and work, it's easy to get caught up in getting our tasks done.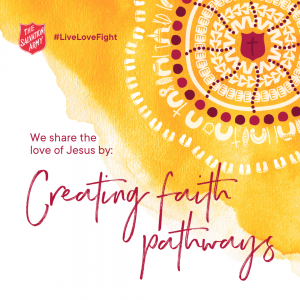 God has been reminding me to allow 'Holy Spirit interruptions' in my day ... and even ask for them – that my eyes and heart be opened to when God has brought 'something' my way, and not to rush on to the next thing.
Recently, we were scheduled to have our women's group meeting at our corps. It's hard getting everyone there. Someone is always in crisis and doesn't turn up. This particular morning, only one woman came. It would have been easy to say, "Group isn't on", so I could do the many other things I needed to do, or even say, "Let's just have coffee", and do nothing.
But we had just finished our community breakfast and there were people and volunteers hanging around. Men and women from the local community. So, I said to those standing there, "We are going to do a Bible study group now, would anyone like to join us?" One of the men said, "What's that?" I replied that we share life, have some community and sharing time and look at the Bible and see how we can work it out in our lives. He said, "Sure!" Then a couple of others came and joined us.
In the end, there were five of us around a table. Great conversation ensued. The next week those same five said, "Are we doing that again?" I said, "Sure!" And they kept asking every week. A 'Community Table'* started, just like that, because I allowed an interruption and took an opportunity the Holy Spirit gave me.
What opportunities has the Holy Spirit given you lately? What interruptions have there been? Ask the Holy Spirit to open your eyes and heart to those times, wherever you are – at the shops, at work, in your family, at sport. Ask the Holy Spirit every day to interrupt your day.
One of our women is so good at this. She takes every opportunity. She has talked with people in Kmart and prayed with someone in the shops. She has talked with shop assistants and linked them to the corps for help. She has bought chocolate for a bus driver. She just lets the interruptions come as she goes about her day.
Romans 23:1-2 says, "So here's what I want you to do, God helping you: Take your everyday, ordinary life – your sleeping, eating, going-to-work, and walking-around life – and place it before God as an offering. Embracing what God does for you is the best thing you can do for him" (The Message translation).
Let us pray: Lord, open our eyes and heart to see you at work. Open our eyes and heart to see who you bring our way, even when it's inconvenient! Please interrupt our days with your interruptions, the people you bring our way. Amen.
* A 'Community Table' is a regular meeting of 2-12 people who gather to have conversations about life, faith and ways to work together to serve others. They meet in a home, at a coffee shop or anywhere that's suitable.
Captain Joanne Williams is Corps Officer of Eastern Beaches Salvos in Sydney