Breaking the siege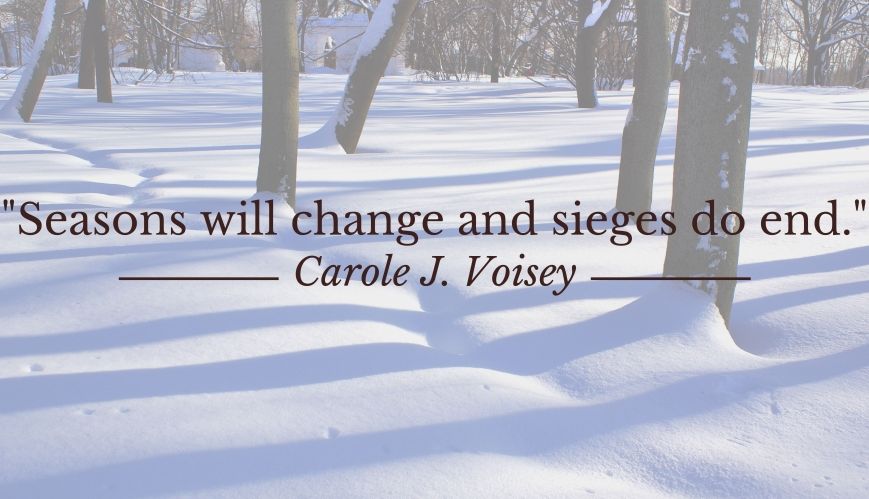 Breaking the siege
16 September 2020
"Is it possible for a person of faith and hope to experience despair?"
By Carole J. Voisey
The God who toppled David's Goliath and crumbled the walls of Jericho is the same God we put our hope in today.
It was early spring and I woke to snow. We were living in Moscow, so snow is something we were used to. However, that morning I did not look at the snow with joy. Earlier in the season, the tree branches covered in snow made me think of sleigh rides and snow globes. Now, they just made me weary.
Have you ever been in a season that seemed as if it was never going to end? Some have called these "the dark nights of the soul". Others refer to difficult years that drag on as "winter seasons". Sometimes, it is not spiritual darkness or internal struggle, but maybe an illness that we wake with every day, or a situation or person we have prayed for with passion, only to see no change year after year. It is not that we do not believe! We know God hears us; we cling to his promises and often come this far through trials like these only because of our hope in our Lord.
So how can we, people of faith and hope, fall into depression or despair or grow weary in doing good? It goes against everything we profess and it contradicts every great effort of faith we have fought to make. Is it possible for a person of faith and hope to experience despair?
In 1994, we moved to St Petersburg, Russia (known as Leningrad during Soviet times). It was there that I learned about the Great Siege of Leningrad, a tragic period in the city's history. The 'Blokada' (Siege) of Leningrad is an important part of the city's heritage for every resident, and a painful memory for the population's older generations.
Season of desperation
Less than two and a half months after the Soviet Union was attacked by Nazi Germany in 1941, German troops approached Leningrad. On 8 September they fully encircled Leningrad and the siege began. The siege lasted for a total of 900 days, from 8 September 1941 until 27 January 1944.
The city's almost three million civilians, including about 400,000 children, refused to surrender and endured rapidly increasing hardships. Food and fuel stocks were limited to a mere one or two-month supply. Public transport was not operational and by the winter of 1941-42, there was no heating, no water supply, almost no electricity and very little food. In January 1942, in the depths of an unusually cold winter, the city's food rations reached an all-time low of only 125 grams of bread per person per day. In January and February of 1942 alone, 200,000 people died in Leningrad from cold and starvation. There are stories told by the older generations about some people giving in to cannibalism just to survive those most desperate of days.
The book of Lamentations contains a similar account of another city under siege and the desperate things its people did to survive. According to Lamentations 4:10: "With their own hands compassionate women have cooked their own children, who became their food when my people were destroyed." That same passage in the New Living Translation reads: "Tender-hearted women have cooked their own children. They have eaten them to survive the siege." It is interesting to me that these women are described as "compassionate" and "tender-hearted", yet in the very same sentence we read that they sacrificed their own children for survival. Is it possible that people who are tender-hearted and compassionate can be in such desperate situations, surrounded by the enemy for so long, that even the best of them do the unthinkable to survive? Give up hope? Give in to certain defeat? Sacrifice their own for survival?
The Siege of Leningrad did end. Though many did not survive, 27 January 1944 is the date recorded in history as the end of the enemy's blockade. And as I looked out my window on that day and saw snow accumulating, I knew in my head that spring would come. It is the way our Lord has set up the seasons. Winter may be long, but even the enemy cannot stop spring from eventually arriving.
In these seasons, when our winters seem to be never-ending, we need to remember that the adversary is hoping we will lose hope. He wants us to be discouraged, to feel defeated, to believe that every day will be winter and that every dark night will last forever. So if tender-hearted and compassionate women in desperate situations can give into sacrificing what is most dear to them, I believe people of faith and hope can also experience despair and even depression when under a siege by our adversary.
Resisting attacks
Have you ever experienced this kind of despair? In Seasons of Hope In Streams in the Desert, L.B. Cowman writes, "The Adversary attempts to push God's people toward despair and hopelessness over their condition or the condition of the Church. It has often been said that a discouraged army enters a battle with the certainty of defeat."
Then she continues, "We need to better understand these attacks of the Enemy on our spirit and how to resist them. If he can dislodge us from our proper position, he then seeks to 'wear out the saints of the most High' (Daniel 7:25, King James Version) through a prolonged siege, until we finally, out of sheer weakness, surrender all hope of victory." Our enemy has a plan – a plan that includes discouragement and despair. He wants to wear us out, wear us down and make us so discouraged that we are more sure of defeat than of victory.
What is our response to his battle plan? In these moments, we cannot spend time beating ourselves up that we 'feel' discouraged or grow weary in our siege. We must not succumb to the thought that we are not people of faith and hope when we are! We must use all the strength we have left to remind ourselves that seasons will change and sieges do end.
The God who toppled David's Goliath and crumbled the walls of Jericho is the same God we put our hope in today. God is the creator of all seasons and breaks though our darkness like the morning light. Will we wait on him? Will we trust in him, when it seems as if the snow will never melt and spring will never come?
Among the many promises God has given to reassure us at such moments is Psalm 30:5b, "Weeping may last for a night, but joy comes with the morning" (New Living Translation). Perhaps your faith will be renewed, too, as mine has been, by the lyrics of Donald Lawrence's song 'Encourage Yourself': "God is present help. The enemy created walls, but remember giants, they do fall."
For more from Carole, check out: carolejeanneministries.com