Engaging communities through the arts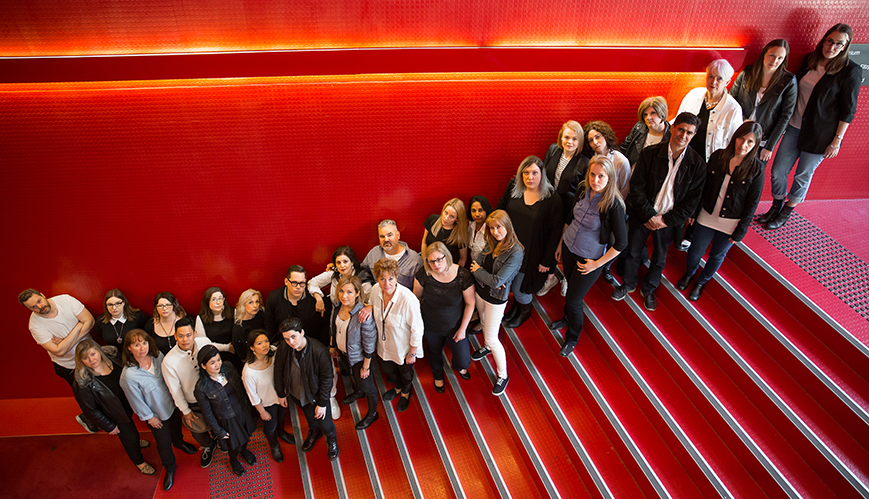 Engaging communities through the arts
10 May 2022
The Melbourne Contemporary Choir (MCCHOIR) has formed a unique partnership with the Moreland City Corps. Executive Director and Salvationist Jason Simmonds says that creative community engagement is the way forward for Salvos as society recovers from COVID-19.
By Jason Simmonds
After years marred by COVID-19 and lockdowns, Australians are rebuilding their mental health and well-being (McCrindle Research, 2021). A return to the arts plays a major role in this healing, with The Salvation Army poised to offer a unique contribution to this conversation.
Jason Simmonds (far left, with fellow choir members) has witnessed the healing effects of Community Singing through the Melbourne Contemporary Choir and is eager for other Salvos to embrace creative community engagement.
I see this daily in my role as Executive Director of Melbourne Contemporary Choir (MCCHOIR) – where, as a Salvationist, I have been able to partner with Moreland City Corps, enabling the choir to cross barriers in the community.
With increasing lifespans, Australians want to care for their health and well-being. The arts provide a unique outlet to reduce stress, provide creative expression opportunities, reduce anxiety, and improve mental health outcomes. MCCHOIR recently relocated operations to Moreland City Corps, and through the arts industry, we have seen people take positive steps towards wholeness and mutual flourishing.
The benefits of Community Singing are well documented; for example, the use of music in clinical settings to reboot the brains of people suffering from neurological disorders like Alzheimer's disease. The quality-of-life improvements through musical experiences like those offered by MCCHOIR speak to the power of music to catalyse health and well-being outcomes for community members. Now that MCCHOIR bases its rehearsals out of the local Salvation Army facility in Coburg North, the choir is making connections and reconnections with the arts community through group singing and having a lot of fun doing it.
The arts and entertainment business has been one of the hardest-hit industries during the pandemic, and the challenges of navigating community singing groups, labelled as 'super spreader' activities have been challenging. Online zoom sessions, virtual choir video recordings and an easing back to in-person sessions with monthly "face mask" rehearsals have been just some of the ways the choral community has come together through this tough period. Community arts programs like MCCHOIR are leading the pandemic recovery response as restrictions ease and community groups start to gather again.
Recently MCCHOIR rebooted with 170 singers registered over two big preview nights, singing Adele's hit single 'Easy on Me' – a fitting song for a return to in-person singing post-COVID. The buzz around the coffee station during the break was palpable, with so many members reconnecting for the first time in two years and lots of new faces in the room as well. The choir enjoys welcoming new members of various abilities and produces a convincing contemporary choral sound in their live presentations and recordings.
Singers are supported with demonstration tracks of their part using the choir's app – this makes learning songs accessible for singers from a range of musical backgrounds, experiences, and abilities. With engaging sessions that allow for plenty of social interaction, the choir meets a real need for its members and provides opportunities for many to reconnect with their creative side. The choir seems to attract many members who have lost touch with their musical journey, when life got too busy or kids came along. The choir provides the regular creative outlet they need, with some members travelling quite a distance for the MCCHOIR experience.
The choir enjoys singing and recording covers of popular songs and performing a growing catalogue of original uplifting tunes. Melbourne Contemporary Choir has recently released a live album, MCCHOIR Live, which is available for streaming on your favourite music platform and is about to head into the studio again, with plans for an EP release of original tunes later in the year.
It's exciting to see that The Salvation Army recognises the benefits of community engagement through the arts and is investing in this very accessible and organic means of building healthy communities – a significant pillar of the mission intentions of the movement. The state of community engagement through the arts is still very much in the recovery phase; however, it's exciting to see so many people picking up where they left off on their musical endeavours through community initiatives like Melbourne Contemporary Choir.
As Brené Brown says, "There's no such thing as creative people and non-creative people. There are only people who use their creativity and people who don't. Unused creativity doesn't just disappear, it lives in us until it is expressed, neglected to death or suffocated by resentment and fear."
As Australians re-emerge from the pandemic, The Salvation Army is able to give people a creative avenue to get back in touch with their creativity again – body, soul and spirit.
Find out more at mcchoir.com.