God in the neighbourhood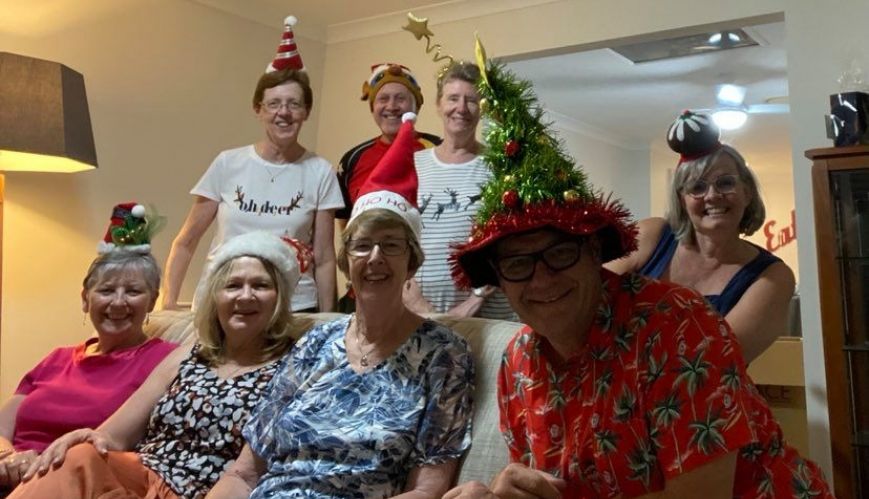 God in the neighbourhood
15 February 2021
Major Bryce Davies (front right) and the 'lovely Sue' (far right) and their 'Village' community at the annual Christmas party.
By Bryce Davies
Until recently, my wife – the lovely Sue – and I, lived in a block of four ground-floor villas with a shared driveway and shared carports. It's was a terrific little community and we called it 'The Village'.
Our neighbours all looked out for each other. On bin night, our bins always arrived back at our doorstep, as someone had just brought them in for us. If our bins were overflowing, as sometimes happened when I forgot to put them out, we could always load up our neighbours' bins and they were fine with that. When we had a big garden clean-up, we all shared the green waste bins. (Bins and rubbish are a big part of community life!)
There were a few older ladies in the mix who had dodgy hips or knees, so me and Trev, the other guy in the complex, did the lawns, trimmed the hedges and weeded the gardens. If there was anything heavy to be lifted or a little maintenance job to be done, the ladies would give us a call and would go over and fix it. Not long after these calls, my favourite chocolate bar often mysteriously appeared at our front door.
When we ran out of sugar or needed some soy sauce for a recipe, we just popped next door and got what we needed. During lockdowns, we shared the shopping and met for a socially distanced coffee catch-up each week in our driveways.
Each year, we got together for The Village Christmas party, and it was great fun. We would wear silly hats, have a 'Secret Santa' and eat a delicious meal together. When something difficult happened to any of us, we would call and catch up. We would often stop and chat in the driveway, and really did care about and look after each other.
"It was old-fashioned neighbourly goodness, and I loved it."
One time, one of our neighbours had a son come home from the hospital and she had the whole extended family over – maybe 10 people. It was emotional and she was feeling the pressure. She asked me to go to the Chinese restaurant up the road and pick up a meal. Of course, this was no problem at all and I'm sure it just made the night a little bit easier for my friend. It felt good to be able to do something practical to show my care. I'm glad she felt comfortable enough to ask.
There was a beautiful atmosphere of love and support in our little village, and I think it made everyone feel a bit safer and free to be themselves and to share life authentically.
I was recently chatting to my mate Andrew, who lives in London, and he has been in his street now for 17 years. He has seen it change from a quite isolated and disconnected community to one that is now really engaged and supportive.
Andrew is a friendly and enthusiastic sort of guy, and I am sure he has wholeheartedly been involved in every effort to build this community over the years with things like barbecues and, during lockdowns, little street singalongs. People now wave, and stop and chat, and they know each other's names. Every Christmas now, they close off the street for a big party, and I know he is out there in the cold, putting up lights and making sure all the locals get into the spirit of things. I am sure everyone in that street is glad Andrew and his family moved into the neighbourhood.
When describing the coming of Jesus into the world, one version of the Bible says, "The Word became flesh and blood, and moved into the neighborhood" (John chapter 1, verse 14).
I love this image. The God of all love, grace and truth comes close, assimilates into our lives like a friendly supportive neighbour and floods our souls with love, hope and joy. I know for me, because I am open to it, I live with an authentic connection with the spirit of Jesus and am often aware of being loved and hopeful. Sometimes I just smile for no reason at all. It's a mysterious thing and hard to describe really. It's a bit like knowing that a spiritual Andrew lives next door and is ready, willing and available to listen, encourage and help out whenever I need him – 24/7.
Major Bryce Davies is a Salvation Army officer now based in Queensland.
This article first appeared in Salvos Magazine