Hiding behind the mask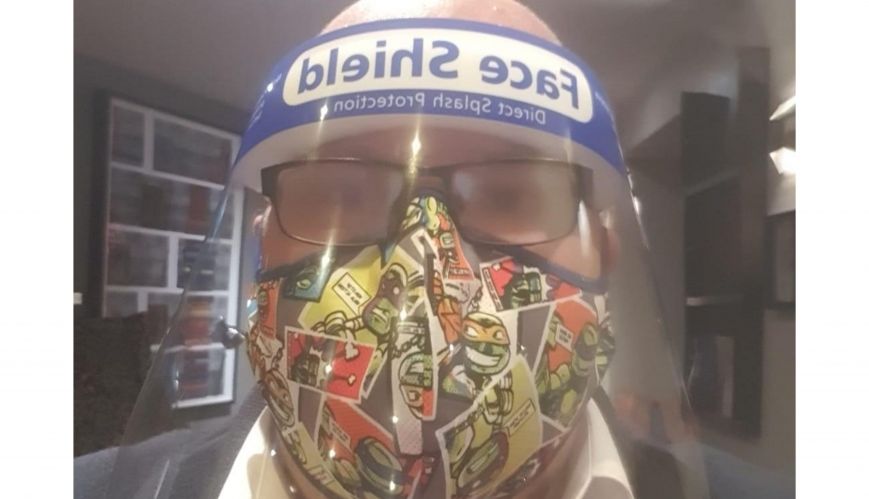 Hiding behind the mask
24 August 2020
Captain Pete Brookshaw heads out for essential service as a Salvation Army officer in Melbourne.
By Pete Brookshaw
I love to have a laugh. That's been more and more of a challenge in recent weeks.
The Victorian Government's Stage 4 restrictions have meant the everyday Victorians have to wear a mask every time they leave home. It's definitely a sight I never thought I would see; wandering through the local supermarket, trying to find the caramel popcorn, and seeing staff and customers wearing a mask. There were surgical type masks, that 'cover-my-whole-face' with a scarf-type look, and of course the hand-made cotton mask with pictures of Labradors and kittens.
It didn't take me long to adhere to the restrictions when I saw the diagram of air molecules circulating and how the mask blocked the potential spreading of the virus. But to be honest, it was probably the other week that convinced me, as I walked past a middle-aged man smoking, with a mask around his chin and coughing like he had one too many Benson and Hedges. I put my mask firmly on my face as I literally danced from side-to-side while picking up my essential items from the shops.
Now, I'm no epidemiologist. I'm not therefore able to give you the benefits or otherwise of donning a mask. But as a pastoral leader, I can say this: I've already been wearing a mask
Do you know the one?
The mask that hides your inadequacies and limits your potential.
The mask that holds the world back from seeing what you're truly capable of.
The mask that obfuscates your true vulnerabilities and then convinces you that you're not good enough.
The mask that conceals your fears and tells you not to be courageous.
The mask that disguises your passion for change in the world because you're worried about what others will think.
We've all worn a mask like that at times.
Let me give you an example: I love to make people laugh. I can always remember my grandfather (Poppy Arthur), who would sit at the head of the table at Christmas time, and the family would laugh and joke around the table for hours. That was partly because there was plenty of food to consume. It generally started like this ...
"Can you turn the light switch on, Dad?"
"All power to you, son." My grandfather bellows out.
"You really lit up the room with that one, Dad." My sister chimes in.
And so it goes on. Then the plum pudding and custard comes out from the kitchen. And we all know what's coming next. Poppy Arthur is going to pretend to swallow a five-cent piece that he didn't see was hidden in the plum pudding. We all laugh until we cry, even though that was the exact same joke from the year before. I don't think my grandfather read any scientific literature that reveals how much bacteria is found on money. Anyway, I digress.
So, making people laugh and smile is in my family's DNA.
Now, consider for a moment, on another note, that I love words of affirmation. Not only do I love to make someone laugh, but I don't mind it when someone affirms me with a word of encouragement. Others may love hugs and spending quality time with each other, but I just love a really genuine, "Well done, Pete." If you put those two together [humour and words of affirmation] you get a desire to put a smile on someone else's face, and also an internal longing for people to affirm who I am.
If I go through a moment of struggle or self-doubt or frustration, I put a metaphorical mask on. I seek to make someone laugh, but really, at that particular moment, I'm hiding the fact that I feel fragile and just want someone to say they appreciate me. Naturally, that's not all the time, but in moments of weakness, my very own personality is what can be used to mask the very fragility I'm experiencing.
It seems then, that my very God-given personality can, at times, be the very thing that masks others from seeing how I may be really feeling. I wonder then how often we don't just wear a mask, (mandated from a state or territory government), but how often we wear a mask that hides our true vulnerabilities from the world and shields us from ever dealing with our inadequacies?
That's a difficult question to ask. Unfortunately, I think it's simply easier to just wear a mask.

Captain Peter Brookshaw is Corps Officer at Craigieburn Salvation Army in Victoria. He blogs at www.petebrookshaw.com