Readjust your focus - that's the spirit!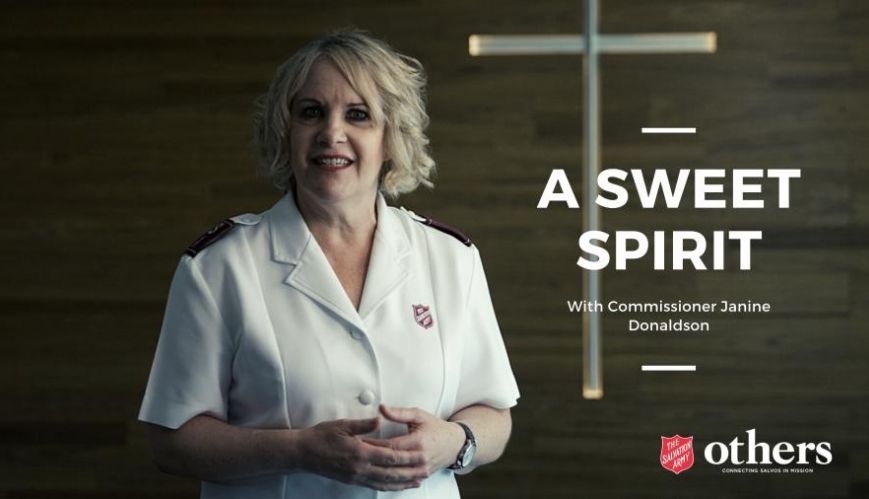 Readjust your focus - that's the spirit!
1 October 2020
Commissioner Janine Donaldson reminds us that the greatest battle we fight is against our own spirit.
By Janine Donaldson
Our soul is like a stream of water, which gives strength, direction and harmony to every other area of our life. When that stream is as it should be, we are constantly refreshed and exuberant in all we do, because our soul itself is then profusely rooted in the vastness of God and his Kingdom, including nature; and all else within us is enlivened and directed by that stream. Therefore, we are in harmony with God, reality, and the rest of human nature and nature at large. – Dallas Willard in his book, Renovation of the Heart.
The greatest battle we fight is against our own spirit. Scripture reminds us that if we do not accept responsibility for keeping our own spirit right, we become open to attack.
What are some things that affect our spirit?
Sometimes it difficult not to be critical. A critical spirit, though, robs us of our joy, ruins our day, and causes us to lose focus on who God is and what he wants us to do in his name. The hardest thing perhaps is criticism, especially perhaps from our family or our church. It's really hard then to keep a good spirit.
Scripture tells us, "We are born to trouble as the sparks fly upward" (Job 5:7). COVID-19, car not starting, bad weather, financial problems, a broken relationship, sickness – all of these can affect our spirit. A bad spirit can affect us. It can affect the way we think. Because we are unhappy, things around us seem bad. It can affect our perspective.When we have a bad spirit, we don't see things in perspective. All our troubles become maximised, and all our blessings become minimised. Most of us have far more blessings in our lives than we do burdens. Sometimes, when we develop a bad spirit, we forget our blessings and it's hard to see things in the proper perspective. It can affect our potential. People with a bad spirit can accomplish little for God. We become unattractive to others. We lack faith. We find ourselves in a critical mode.
How do we keep our spirit sweet when the world around us does not teach us to pay attention? How do we keep the right focus.
Let's focus on God: "You keep him in perfect peace whose mind is stayed on you because they trust in you" (Isaiah 26:3 ESV). Despite all that is happening around us, God is good. He is loving. He is perfect. He is without sin. He never leaves us or forsakes us. When we find ourselves becoming negative, discouraged and down, it is a reminder that we need to refocus on God.
Let's focus on God's goodness. He has saved us. He has sustained us. He has delivered us from many difficulties and provided for our needs in the past.
Let's focus on the positive around us. Not everybody is critical. Not everybody is negative. Not everybody is insincere. Rather than focusing on those who discourage and disappoint you, think about those who are a blessing.
We are so human. We have the tendency to become down and discouraged if we are not careful. Having friends with good spirits, right attitudes, and good hearts will do much to keep us on the right path and in the right attitude. Spend time with people who lift your spirits, not those who bring you down.
There is something close and personal in the reading of Psalm 51. These are confessional words from David at a desperate point in his life. In verse two, David writes, "Wash me thoroughly from my iniquity, and cleanse me from my sin." David certainly realised the moral and spiritual 'dirtiness' that had resulted from his sin as he prayed for forgiveness. Now in verse 10, David continues his prayer with a plea for a deeper cleansing in which he says, "Create in me a clean heart, O God, and put a right spirit within me." It is the 'right spirit' that gets my attention. Starting over with a clean page in our spiritual life promotes the desire to have a right spirit towards God, others and ourselves. A right spirit creates the right relationships. Our daily prayer can be the same as David's – "Create in me a clean heart, O God, and renew a right spirit within me" (Psalm 51:10 ESV). This 'right spirit' then spills over into the relationships we have with others. Regardless of our ages or stage of life. God wants to give us this 'right spirit'.
It is a gift to be exercised daily, reflecting the spirit of Jesus as we walk through each day. Possessing and using this 'right spirit' makes a huge difference to each of us, to others we meet, and to God. May David's prayer become our daily prayer as we love God, let go of negative thinking, forgive ourselves and others.
"Don't you know that you are God's temple and that the Holy Spirit lives in you?" (1 Corinthians 3:17 NIV)