It's not an event, it's an opportunity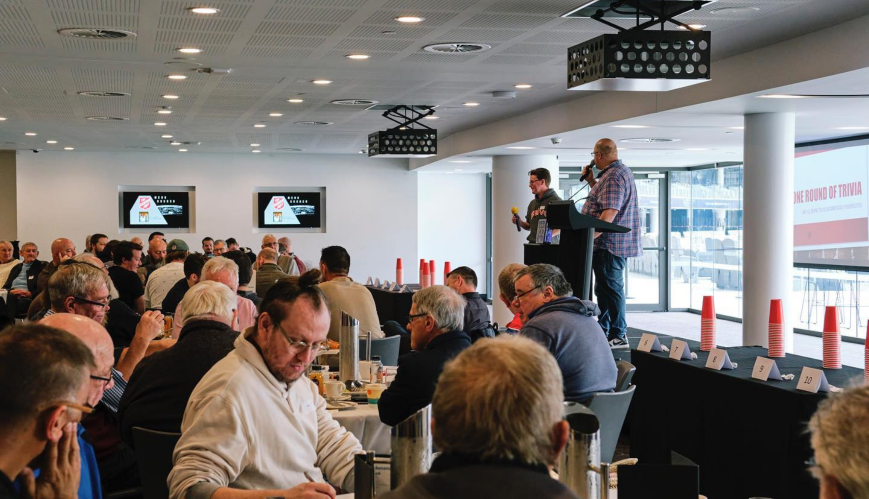 It's not an event, it's an opportunity
19 September 2022
The Mission Department in WA is taking a new approach to holding events and creating community. Pictured here, Captain Scott Ellery and Captain Pete Brookshaw host the Divisional Men's Brunch in August at Optus Stadium. Photo by Joel Gibson. 
By Dianne Jarvey 
I see God is raising a remnant in The Salvation Army to think differently about how we encounter people. He is calling us to our responsibility – to draw and bring in those on the outskirts of our communities.
But what are we prepared to do for connection? Are we ready to forgo some of our traditions, like singing our own songs and doing a weird clap that people outside our organisation don't understand? We need to create events that are comfortable for people, whatever faith space they've come from, and be prepared to remove anything that could distract or divide. This is God bringing us back to the essence of what we believe. 
As the Mission Support Coordinator in the Western Australia Division, the team and I looked at how we could hold and run events in our division. God showed us we need to create events where it's safe to bring those on the outskirts, to create 'Kingdom Communities'. We have a responsibility in a Kingdom Community, and the scripture God has placed on my heart is: 
"I myself will gather the remnant of my flock out of all the countries where I have driven them and will bring them back to their pasture, where they will be fruitful and increase in number. I will place shepherds over them who will tend them, and they will no longer be afraid or terrified, nor will any be missing," declares the Lord (Jeremiah 23:3-4 NIV). 
God wants to gather not just the remnant but those on the outskirts – just as the Israelite leaders had a responsibility with the remnant they were entrusted with. As leaders of this remnant, we have a responsibility for the people God has placed in our communities. He is calling us to go to the outskirts and find them and then create a safe place for them to return and gather.   
All through the Scriptures, we see that when people take responsibility and partner with God, the blessing flows. Just look at the early church in Acts. We need to relearn to hold space together and share. There's a remnant left in The Salvation Army, and we are responsible for carrying this vision into the future. This means we must unpack everything and ask, "How will we do that? What will it look like?"  
If we as a divisional or national team won't think differently about our events and how we go about that, we can't expect local corps to do so. To encourage and support local mission to reflect Kingdom Communities, we must replicate or reflect that at all levels. To be honest, we need to lead in that space – so let's not give up creating these safe spaces for people to belong.   
Let's change our mindset. An event isn't about the event itself. It's about the team running the event and the lead-up. It's about leadership opportunities that come about for people. It's about growth and discipleship.
The Salvation Army loves to gather; in fact, we are used to holding events and meetings. However, we often think, "It's just an event. I'm just going to go, " but we need to understand how powerful it can be to bring someone from our 'mainly music' program, Doorways service, our workplaces or community connections. The people from the outskirts.  
You see, it's not an event, it's an opportunity. 
We have the opportunity to take someone on that next phase of their journey as they walk in step with the broader community. Proverbs 27:17 (NIV) says, "As iron sharpens iron, so one person sharpens another." Have hope – other people are on this journey, and we are trying to do it together. We may not always get it right, but there is respect in trying.  
So next time you see an event come up on Facebook or your leaders are doing something different, don't get stuck thinking, "I don't know if I can be bothered going to an event ... that's probably going be for 'old' people anyway." Instead, take off your expectations.
Like many Salvos across Australia, the divisional team in WA is trying to think differently to reach and impact local mission and the community. So go ahead, give us a go.
God has called his remnant to do ministry and events differently – we are to gather people on the outskirts and bring them home.  
MAJOR DIANNE JARVEY IS THE MISSION SUPPORT COORDINATOR FOR WA AND THE TERRITORIAL NEXTLEVEL AFFILIATE.