My One Bag Life Journal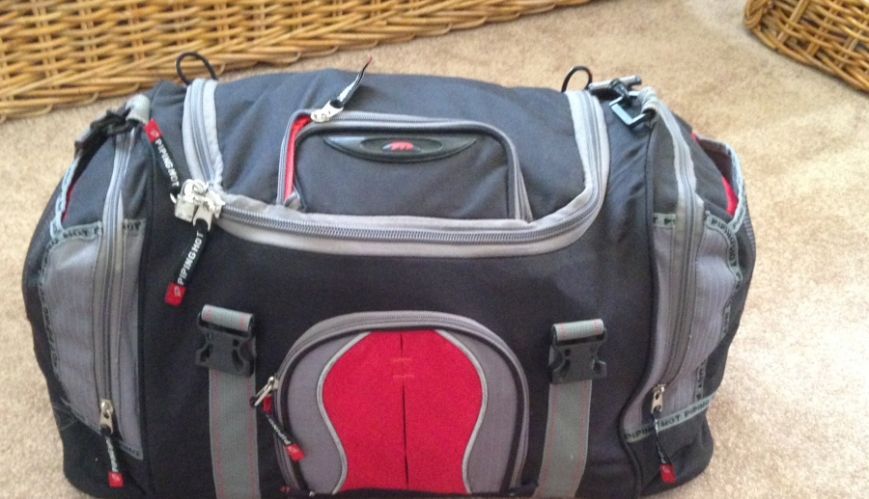 My One Bag Life Journal
17 March 2017
For me, the purpose of reducing my belongings is a spiritual exercise above all else. As I strip away my belongings and the clutter my hope is that I could make more room for Jesus to be a louder, clearer voice in my life.
And so during our season of Self Denial I am going to reduce my personal belongings to just the basics that will fit in a sports bag (slightly bigger than the carry-on baggage allowed for most airlines.) This will include my clothing, shoes, toiletries, books, study material and technology.
During the 40 days I will not purchase any new items and will not use my belongings that do not fit in my bag. However, if I am given a gift by someone (Matt & the children are not included), I can use the item.
Two Days before Ash Wednesday
Today I commenced getting organised for 'My One Bag Life' (MOBL).
As I piled my earthly personal belongings into one space I couldn't believe I had so much stuff. As it is, I actually don't have a lot of clothing as I wear uniform 5-6 days a week. But I still felt overwhelmed by all the stuff.
The whole process of eliminating my belongings to one bag only took about an hour instead of the 4-5 hours I thought it would take. In the end I still had too many items. The bag was overflowing. I will need another 24 hours to finally decide what could stay and what must go.
Day before the MOBL Project begins
I looked at a few YouTube clips about packing lightly and how to pack efficiently. As it turned out, it was helpful.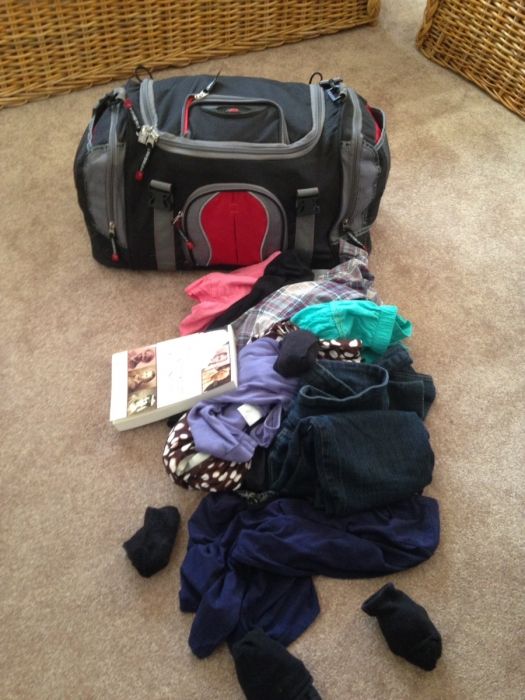 Making tough decisions of what to pack for My One Bag Life.
There were two items that I definitely felt a very strong connection to and felt that if I couldn't put them in the bag I would be very disappointed. (I feel really vain to say this). The two items? My hair straightener and blow dryer! (Eek!) I might explore this at some point during MOBL.
The final concern I have before starting MOBL is that I will run out of toothpaste and/or deodorant. I did not go out and buy a new bottle of deodorant or a new tube of toothpaste. So, unless someone randomly gives me a gift of these, I may be a bit smelly near the end of this project.
Day 1
Well. Here we are. Fortunately, the hair straightener and
blow dryer did fit. Other items that
have made it into my bag include
underwear, 13 pieces of clothing, two
sets of pyjamas, four pairs of shoes, three
books, a journal, ipad, simple
toiletries and make-up. I also packed my pearl necklace and earrings. I often think to myself, when putting my pearls on, "life's too short – wear the pearls today."
I also found that it was easier to choose what to wear today as I didn't have as many options as usual and it seemed that the less stuff I have the more time I have for other pursuits as I spend less time in my wardrobe planning what to wear for the day.
Day 4
I asked myself this question, "What is the true motive of me participating in this exercise/project?" A friend praised me saying, "I'm in awe of you and jealous of you." This felt so good. Too good. MOBL was meant to be a way of a) exercising the spiritual gift of Voluntary Poverty. b) to live a life of self denial c) a way of fasting from the appetites in me that I feel do not lead me towards Jesus and to be more like him.
But I have another motive that I am not proud of and that is d) pride itself. Imagine the great feeling and the sense of glory I received when my friend mentioned her awe and jealousy. I am being recognised and noticed which has been such an issue in my life. And so, my prayer today is "Lord Jesus please receive the glory and praise for my one bag life. Teach me the true sense of Self Denial. Amen."
Today I had only one outfit I could wear (either everything else was in the wash basket or not suitable for the summer weather). The only outfit was a pretty dress. I'm only hanging around the house. But I have no other choice. So, today, I am wearing the pretty dress and realising that I spend too much of my life wearing the daggy stuff. I ponder what the lesson is for me. I'm realising that this is very much a blessing as my brothers and sisters in many places around the world don't even have the choice of a pretty dress.
Day 5

A decluttering of my material stuff is only part of the work that God is doing in me. I sense that God is using this time of decluttering my inner world as a way of reorienting my life and goals. I think God is calling me to a halt and to rethink what he wants of me.
Like the process I took to get to one bag of stuff I am going through the process of evaluating, sorting and eliminating "stuff" from the other areas of my life. This process is far more painful and taxing ... but so worth it. I know in the end that what will be left will be the best.
Day 7
One week into MOBL Project and so far, I wish I had have made space in my bag for body moisturiser. The bottle of moisturiser sits on my bathroom vanity but I do not use it as it I did not put in my bag.
Day 12

Last night we had friends over for dinner. I shared with them about MOBL. This morning I received a text message from one of the friends saying she was challenged about it and wanted to know if I could recommend more reading on the subject. I am glad that my project is impacting people and challenging people about their relationship to "stuff" and how to live simply.
Day 14

Today I realised that I haven't been using my hair straightener as much as I thought I would. I probably could have left it out of my bag and would not have missed it.
Day 16
Today our local butcher gave us some sausages. We had popped into the butcher, not to buy anything, just to say hello, and we walked out with a bag of sausages. Matt pointed out to me the creative generosity of God. In fact, since starting this project we have been more aware of the generosity and provision of God in our lives. We have received several gifts ... particularly of things we needed.
This morning my legs were painfully dry. I got out of the shower and I argued with myself that if Matt rubbed moisturiser on my legs that that could be a loophole around MOBL. My sister recently sent me a belated birthday gift, which included a small container of hand cream. This morning I used the cream on my dry legs. It was so lovely and almost immediately cured the pain. Over lunch, Matt and I discussed what it would be like to find ways of creating my own moisturiser with products from our pantry. It made me consider how part of living simply is being innovative, creative and imaginative. Next time I have painfully dry legs I may do a Jamie Oliver and fetch the olive oil.
Day 18

I love books. For me, I find that the books on my bookshelf have become part of me. Throughout the course of this project I have discovered how much I refer to my library of books day by day. I find myself thinking on a topic and longing to explore the idea more or I long to reread a phrase or idea. I was only able to fit three books into my bag. My Bible and two books I'm required to read for studies.
While doing this project I have remembered the value of ebooks. An electronic book is more cost efficient, better for the environment and better for living with minimal. If I'm going to incorporate an ongoing minimalist lifestyle I will need to gain a greater appreciation for the ebook.
Day 20
I came to the conclusion today that I'd rather live with less. Today marks the halfway mark of MOBL and already I can sense the lifelong change that God requires of me. I hope that I might reduce my belongings so that I could live in a small space. Eventually, I would like to think that my whole family would also commit to a simpler lifestyle and reduce their belongings to minimum.
I began to wonder what life is like for the person who lives in poverty.
Day 24
A couple of years ago I found an incredibly cute pair of black boots. They were perfect. They were only mid-calf height, which would be perfect for me as I am short in statue. They didn't have a heel, which, these days is my preference. I never purchased the boots as I felt like I couldn't justify the hefty price. Would you believe, since starting this project I've thought about those boots nearly every day? I have been imagining what it would be like if I owned them and I've been justifying how they would be perfect for my winter wardrobe and I would get so much use out of them. It's interesting that in many ways I have no desire for earthly possessions but I've become almost obsessive in my thinking about those boots. I have no doubt that this longing for those boots has been amplified because I am participating in MOBL. I wonder why that is?
Day 28

As I've mindfully used all my personal items I've reflected on my attitude towards consumption and my choices. For instance, I've been thinking about my choice of deodorant. I generally choose a brand that is on special and I don't consider the health and safety of the product. I know that aluminium in deodorant is considered bad for your health. However, I've continued to choose deodorant with aluminium. Matt needed to buy new shampoo today. He uses a shampoo made by Lush. While in the store, I asked the shop assistant about the deodorants they stock which are a more natural product that does not include aluminium. The lady was very helpful explaining all about the more natural form of deodorant. After her explanation she gave me a free sample of deodorant. The sample should last for one month. How about that! I feel blessed and provided for.
Day 31
Today I read the story of a widow who could not pay her late husband's creditors and so the creditors threatened to take her sons as slaves. (2 Kings 4) Elisha, a prophet recommends to the widow that she should gather empty jars from her neighbours and take the oil from her shelf (the only valuable resource she had and of which she has only a small amount) and pour the oil into the jars. What happens next is a miracle. The widow is able to fill every jar. She sells most of the jars of oil to pay her creditors and keeps some jars for herself.
What a story! This widow was at the very end of her resources. The widow looked at what she had and it was minimal. What can be done with minimal? In God's economy minimal becomes enough. For the widow, the oil paid off the debt and became the household budget. I wonder and begin to imagine how often she walked past the small amount of oil and thought nothing of it. I wonder, did she ever consider that God could use the minimal in her life to provide enough?
What minimal do I have that is enough? What resources do I have and have yet to recognise the potential?
Living a one bag life makes me look at all that I have and see the incredible potential. I don't have minimal. I have enough.
Day 32

Without even thinking I grabbed a dumbbell (only one) to exercise in the backyard while the kids were playing in their cubby house today. I did not pack a dumbbell in my bag. When I realised what I had done I felt disappointed. It just didn't even cross my mind. I thought I was becoming more aware and mindful of how I relate to my stuff but today I was not mindful.
Day 33
I am frugal. I always look for a deal and for a cheaper option. Just a few months ago I bought a brand-named t-shirt because it was only $9.95. This shirt made it into MOBL. I've worn it at least three times a week (that's what happens when there's minimal choice). With regular wearing and washing, my pale blue, brand-named, bargain-buy tee has discoloured and stretched out of shape. This has given me something more to think about in terms of stewardship. I always viewed stewardship as being frugal but stewardship is not only about how I manage my finances, it's actually about being a protector of that which is in my care.
Day 36
Now that the weather is getting cooler and the air is getting drier I am starting to get more and more uncomfortable with dry skin. Tonight for the first time I felt almost overwhelmed with a desire to break the one-bag life project to simply put on some moisturiser.
Once again I looked at alternatives – this time I used my face moisturiser on my legs. I used it sparingly as my face moisturiser is more expensive than a body moisturiser. It caused such a relief to my dry skin. I began to wonder what life is like for the person who lives in poverty. What discomforts and ailments go untreated because finances are tight?
Day 37
At the beginning of this project I wrote about my fear that I would run out of toothpaste. With only three days left of the project I am happy to report that so far I have not run out of toothpaste. I have diligently made sure to use no more than a pea-size amount of toothpaste each day. I'm certain that there is just enough for me to brush my teeth six more times.
Captains Matt and Emma Moore
Day 40

Today is the Self Denial Altar Service Sunday. This Sunday has always been very meaningful to me. It was on this Sunday 15 years ago that I turned up to The Salvation Army after a short time attending a different church. On that Sunday, God creatively confirmed a calling to full-time ministry and to overseas service. Each year since then I have reverently approached the Altar Service expectantly. I usually lay my offering at the altar and then stay there in prayer, sobbing my heart out. For me, any sacrifice I make seems so minute and insignificant compared to the great need in our world. I always feel there is more that I can give up, more I can do, more I can offer!
Today is the conclusion of MOBL. For 40 days I have (mostly) been in my sweet spot. I've been so blessed through this experience. My life is changed for good. I admit that I am still weak in my approach to material goods. When I couldn't sleep last night I still found myself thinking about black boots and body moisturiser but I have learnt a very important lesson. I have learnt to be more mindful of my use of all material resources. I have learnt that when we say "yes" to only a few things we can easily say "no" to the excess and this has given my life beautiful space or margins ... and it is here in this space and in these margins that Christ speaks ever so clearly.
At the conclusion of this project and at the commencement of my new way of living I use this hymn as my prayer:
I bring to thee my heart to fill;
I feel how weak I am, but still To thee for help I call.
In joy or grief, to live or die, For earth or Heaven, this is my cry, Be thou my all in all.
I've little strength to call my own,
And what I've done, before thy throne
I here confess, is small;
But on thy strength, O God, I lean,
And through the blood that makes me clean, Thou art my all in all.
Christ is all, yes, all in all,
My Christ is all in all.
                                                                        - Herbert Howard Booth & W. H. Williams
This year, the appeal (26 February–2 April), will feature the Philippines, Sri Lanka, Kenya and Mexico. For more information visit selfdenial.info 
Read our news article on Emma's My One Bag Life journey. 
Captain Emma Moore, along with her husband Matt are Mission Leaders, Booth College.