Prayerful, courageous, innovative and loving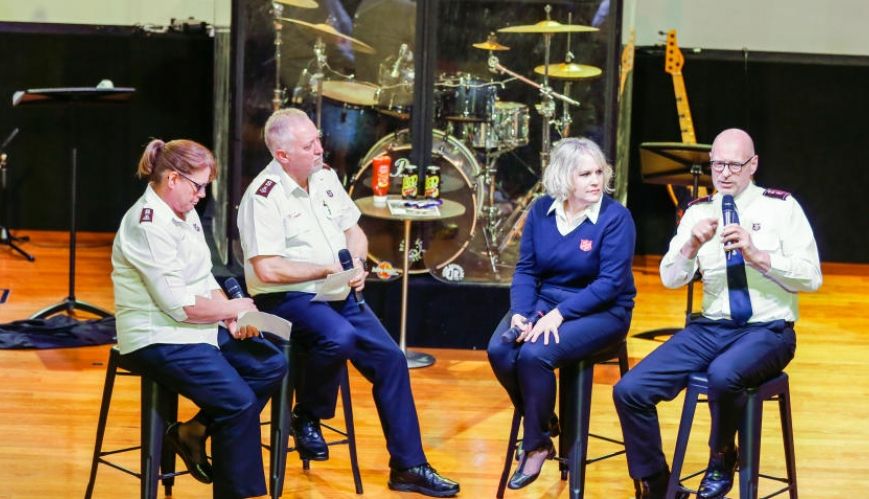 Prayerful, courageous, innovative and loving
4 September 2019
Area officers Majors Dean and Vicki Clarke interview Commissioners Janine and Robert Donaldson during a Celebration of Community event during their visit to South Australia last month.
By Janine and Robert Donaldson
It has been a privilege over these last few weeks to have had the opportunity to visit some of the divisions that make up the Australia Territory.
Visits to frontline ministry, being able to listen, learn and meet many colleagues who are committed to the territory transforming lives with the love of Jesus has been incredible.
We have been to five states and enjoyed meeting many people in frontline mission. We have been warmly welcomed by all we have met.
Thank you so much for wanting to minister together with us in bringing Jesus to everyone The Salvation Army interacts with.
For those sports lovers and especially rugby followers, we really enjoyed the friendly banter around the Bledisloe Cup games.
For us this was even further evidence that Aussie Salvos are keen to get to know us and involve us in all that you are and do.
Sport is a wonderful example of people doing 'team' with a purpose that needs strong relationship, skills, abilities, determination and courage to achieve.
Transforming Australia is a team effort and it definitely involves building strong relationships. Society has changed dramatically in the past few decades.
Many people are not aware that God loves them and has a plan for their lives. So how do we share the love of Jesus?
People are being saved in body, mind and spirit. Thousands of people contact The Salvation Army every week seeking help.
Thousands more visit our Salvos, Family and Thrift stores. How can we build relationships with all these people who are already willing to walk through our doors?
What can we, Janine and Robert, along with you, do to engage with all those who not only come to us for help or for clothes or furniture, but want to come back to learn more about Jesus?
Do we know how to identify the key connection points so we can start to show the love of Jesus in practical and effective ways?
What are the connections we need to make that will reveal God's huge desire to bring peace, kindness, joy, forgiveness and so much more to people we meet?
Every time we speak with someone there is an opportunity to build a relationship.
May we be prayerful, courageous, innovative, caring and loving as we live as Christ's people right where he has placed us.
Commissioners Janine and Robert Donaldson are the territorial leaders of The Salvation Army Australia Territory.