Sharing the journey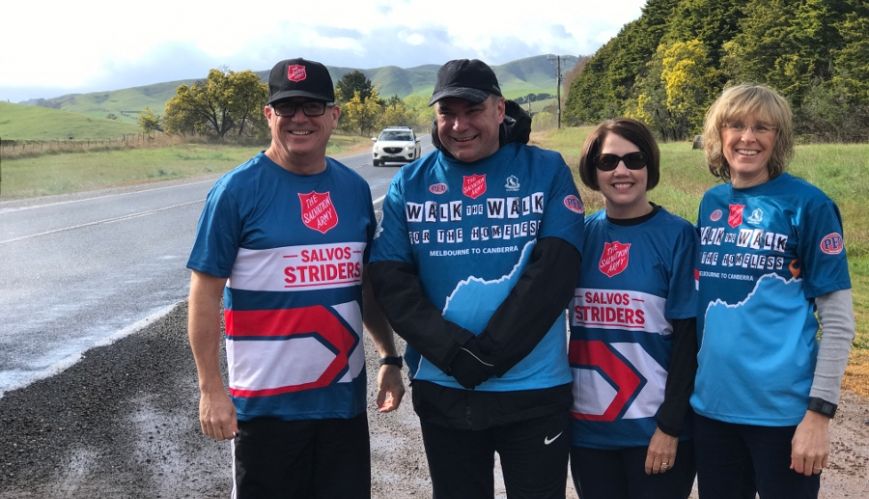 Sharing the journey
12 October 2017
Walking 700km from Melbourne to Canberra is an extraordinary expression of living, loving and fighting "alongside others".
To choose to step into the places of hardship or injustice is to choose to stand by the people God has placed before us.
My wife, Tracey, and I spent time last month sharing the Walk the Walk for the homeless with Major Brendan Nottle, with Major Sandra Nottle leading the support team.
The Nottles have for over a decade walked alongside countless people living in places of hardship or injustice in the city of Melbourne.
While walking the road from Melbourne to Canberra they, together with people from all walks of life – who like ourselves share some of the steps – invite a nation and its leaders to work together to reframe the picture of homelessness in Australia.
It is a coming alongside others in local communities through this walk that will provide first-hand accounts about the issue of homelessness for Brendan to share with our elected representatives.
Through walking together with Brendan and Sandra there is the reminder of the pace required to be alongside others, far different than the chaotic pace at which many of us do life.
In walking there is the sensitivity to the pace that works for the group – ensuring no one is left behind.
There is the shared experience of meaningful progress, moving from the starting point to the destination.
And there is time to explore the power of deep conversation and dreams.
As we continue to unpack the National Vision for The Salvation Army in Australia, a key element is the choice to be a movement that lives, loves and fights "alongside others".
Generations of self-sacrificing Salvos have laid a foundation of trust with fellow Australians, that allows Salvos today the privilege to share the journey of life with communities throughout the country.
When I consider the term "alongside others" in our Vision Statement, I am challenged by the words of Paul in his letter to the church at Philippi, when he writes of Epaphroditus who had been sent by the church to bring him support during his imprisonment. He calls him, "my brother, co-worker and fellow soldier" (Philippians 2:25).
He identifies that Epaphroditus was like a brother to him and treated him like family. By referring to him as a co-worker he implies they share the same work and tasks.
Paul was a great hero of the faith but still knew the power of soldiers fighting together in battle and calls him his fellow soldier.
Paul pointed out the power and the portrait of being "alongside others".
Would you share the challenge of those words as well? Who would call me brother, co-worker and fellow soldier? We will only effectively and passionately live, love and fight as we come alongside others.
Commissioner Floyd Tidd is National Commander of The Salvation Army in Australia