The path to peace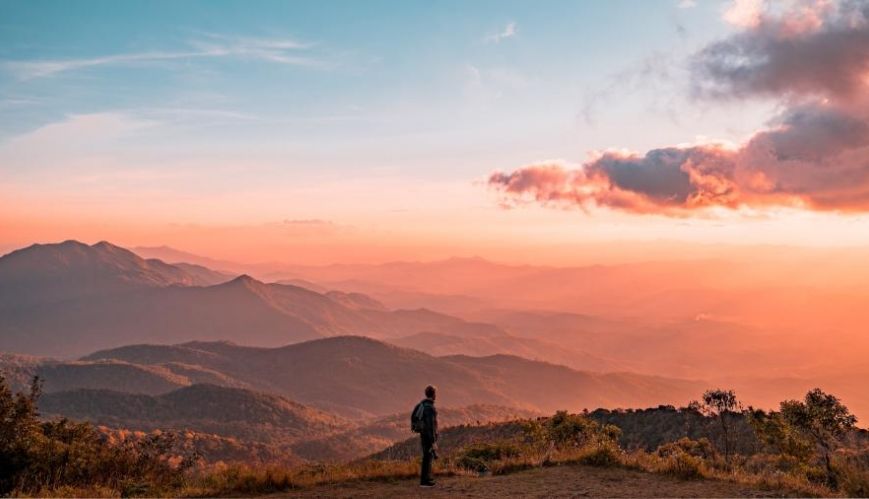 The path to peace
14 April 2020
A journey into the peace of God which is not of this world. Photo: Colton Duke
By Neil Young
Like most christians, I usually start the day with private devotions. I have some scripture in mind and some devotional help. This approach is fine when everything is going well, but when we are faced with anxiety over some issues, we have to take ourselves seriously in hand and do something about our problem. We all have those periods when we lose our peace and cannot get things right.
I can recall such a time for myself. My concern was with the decline of the Church, in membership and attendances in the Western world, but especially those here in Australia. Statistics cannot be ignored because they confront us with the truth. At the beginning of the 20th century, the Church was a major influence in Australia. These days, only five per cent of Australians regularly attend church.
I lived with this concern for many years, but there came a time when I was forced to deal with it. I needed to bring my distress to God and to experience all that he made available to me. I came to the conclusion that I had to cancel my engagements, including meals, phone calls and other business, and spend time listening to God without any interruptions. It was actually a fast. This fast lasted around 12 hours – as an elderly man it was as long as I could cope with – but what happened in those 12 hours was life-changing.
During this fast the Holy Spirit brought to my attention what Jesus said to his disciples just after the Last Supper, as recorded in John 16:33. Jesus told his disciples, "I have told you these things, so that in me you may have peace. In this world you will have trouble. But take heart! I have overcome the world."
That is a monumental statement, to have Jesus giving the disciples his peace when he knew what he would be facing in just a few hours' time. Apart from his prayers in the Garden of Gethsemane, Jesus was completely at peace throughout the ordeal that he suffered. It was upon that realisation I knew that he could give me his peace – that was what I was fasting for.
Then, I was directed to the words of a song that at the time I only vaguely knew. The songwriter commences with his devastation over his lost faith. He describes the pain caused by his "shattered hopes and unbelief", but as the song progresses he finds this peace. The song concludes with, "Jesus himself drew near, when alone on the road, oppressed by my load, Jesus himself drew near and walked with me." I realised that this experience was also available to me for the humble asking. Praise God, I was given a renewed peace that I had not experienced for too long a time.
Many Bible readers will know that this poet's song is a parallel to the story of Cleopas and his friend on the road to Emmaus, found in Luke 24:13-35, where it says, "Jesus himself drew near and walked with them" (my translation). There are some implications in this story for all of us. The text reads "Jesus himself " drew near. That pronoun (himself) is what is called an emphatic pronoun and was included by Luke to emphasise that it was Jesus himself. My belief is that Christians do not heal the spiritual and the moral shortcomings of people; we just introduce them to Jesus, who has the love and strength to give people his peace.
Now we need to think about how we communicate this to lapsed believers as well as to those who are without faith. The peace we have received is such a blessing to us, but we are never to keep our experiences to ourselves. We are to share them, and experience God's peace as we do. In doing so, we also have to be careful to avoid 'talking down' to people, especially those who are not believers.
What we have has been given to us freely as a gift from God – it is not something we have achieved – so we cannot feel superior; we are just another follower on the way. God's love extends to all his children whether they turn to him or not. We need to do the same even if it means sacrifice.
Those outside the faith need to see that we have a peace that "the world cannot give and the world cannot take away". The hope is that they will see what we have and want this for themselves. The Gospel is still good news so let us enjoy it to the full, whatever our circumstances.
Lieut-Colonel Neil Young is a retired Salvation Army officer who lives in Queensland.