What's the next chapter?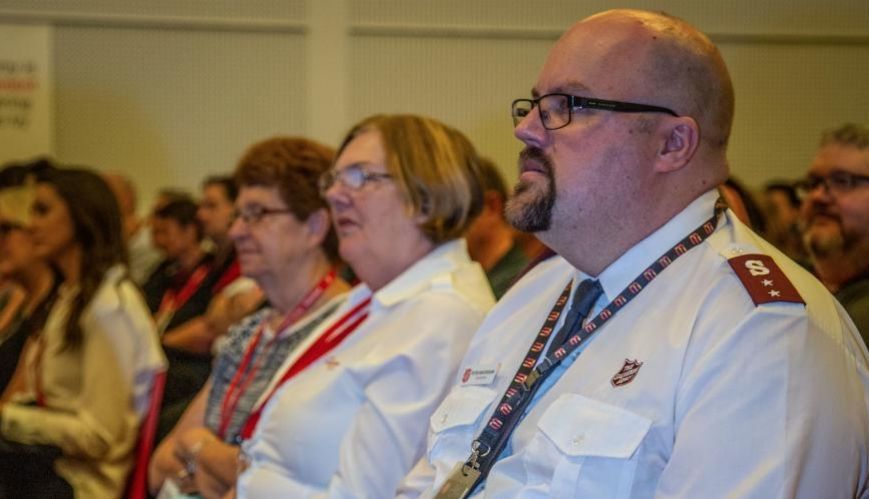 What's the next chapter?
29 January 2020
Captain Pete Brookshaw challenges us not to stay in familiar territory with Jesus.
By Pete Brookshaw
Walking through the conference centre foyer, I made my way to the barista and ordered a soy latte. Dairy gives me headaches. Actually, overworking gives me headaches. I knew what I needed – a short rest and a moment in a comfortable foyer armchair without the expectations of the coming week. I had spent the past few days catching up with Salvation Army colleagues who had entered 'the ministry' with me a decade ago. This was a time away for reflection and for recharging the batteries. But I wasn't ready for what came next. As I pondered the world, in the slightly uncomfortable armchair, I couldn't get a particular thought out of my head – I was out of inspiration. The stories had dried up. I mean, I was out of stories. The well had run a little dry. Let me explain.
Over the past seven years, I have served in a wonderful Salvation Army community in Craigieburn, Victoria. In that time, I have preached with passion, taught with enthusiasm and shared stories of what God was doing among his people. I would talk about the new breakfast program or highlight the latest initiative. I would celebrate the wins from the weeks gone by. But now, sitting in that increasingly awkward armchair sipping a soy latte, it suddenly dawned on me that I had run out of stories. From a preacher's perspective, I felt like I was preaching on the same Bible passages week in, week out.
During my sermons I would quote Psalm chapter 23, "The Lord is my shepherd ..." I would quote familiar passages such as, "The Spirit of the Sovereign Lord is upon me, because the Lord has anointed me to preach good news to the poor, to heal the broken-hearted and to set the captives free" (Isaiah 61:1). I would call people to action and challenge them to allow their faith to drive them into helping those less fortunate than themselves. But the stories had dried up. I needed inspiration. Then it came to me ...
In a moment of reflection on that armchair, now a virtual 'hot seat' of inspiration, I felt a whisper. I imagined it as the kind of whisper that Elijah experienced (1 Kings 19), where God says, "What are you doing here, Elijah?" This whisper pounded in my heart and soul: "What's the next chapter, Pete?" My answer: "I don't know. You know that The Salvation Army is in charge of choosing the next chapter for me." God's comeback: "No, Pete. What's the next chapter in the Scriptures?" And then it became clear. I was out of stories because I had stopped moving on to the next chapter. I was reading what was familiar to me. I was content to stay where I was; like being on cruise control on a freeway. I was stuck on autopilot. That whisper woke me up, or sat me up.
So, what's the next chapter? As I read Psalm 23, "The Lord is my shepherd...",
I felt God say, "Yes, but what does Psalm 24 say?" What's the next chapter? You know Isaiah 61, but what's the next chapter? What's the next page say? What's the next story highlight? What's the next part of the narrative?
And with that, I leapt out of that armchair with a new sense of purpose. I'm moving again. I'm pushing through simply regurgitating the familiar and now I'm delving into new ideas and truths
that reveal themselves as I venture into new chapters. I was stuck. It wasn't the end of the world, but I'm moving again. I feel like I have a renewed passion and desire to keep learning and reading and growing. I feel like this question, "What's the next chapter?" is going to resonate with me for some time.
If you're a little stuck in your faith in Jesus, then I ask you the same question I felt God ask of me: "What's the next chapter?" And are you willing to delve into new stories and new scriptures and new revelations, beyond the familiar? For me, the headache has subsided and I'm no longer stuck. I'm reading on to the next chapter and I'm going to watch what God has in store.
Captain Pete Brookshaw is Corps Officer of The Salvation Army Craigieburn. He blogs at www.petebrookshaw.com
Download file