Paul's passion for helping 'prodigals' find their way
Paul's passion for helping 'prodigals' find their way
19 July 2017
Streetlevel brisbane is a raucous, busy place at breakfast, lunch and dinner, served several days a week. For many among the 100 or so boarding house and homeless people who turn up, it's a rare opportunity to engage with others. They take advantage! They shout across the tables; across the room. It's an excited environment.
Yet, in the centre of the tumult is a still, quiet, reassuring voice. It belongs to Paul Maunder, the Streetlevel Brisbane Team Leader. He moves quietly among the crowd, smiling at everybody who looks his way. Everybody knows him here; everybody loves him. He is their champion. He listens intently to every conversation, as though the person talking at the time is the only person in the room.
Jacqui Cronin, a reformed gambler and now employed Streetlevel community engagement worker, says Paul Maunder is "the most Christlike person I know – full of humility, with joy". He is unassuming. "Oh, I would love to climb a very high mountain and just sit there taking in the view," he says. "But I am called to love and serve in the valley."
Coincidentally, Streetlevel is at the entrance to Brisbane's Fortitude Valley, a notorious nightlife and boarding house locality. Paul has been Team Leader since January. Previously, he was an outreach worker under the leadership of his brother-in-law, Major Bryce Davies.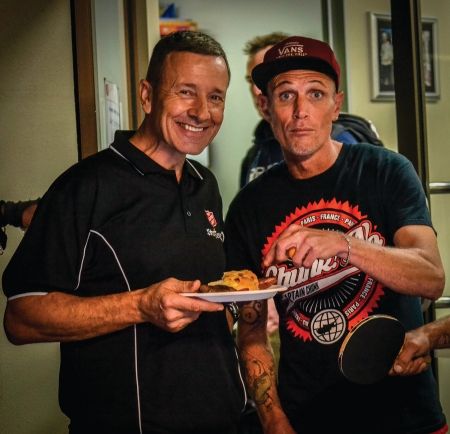 While the pair are close friends – and both from Salvation Army backgrounds in Melbourne – they are vastly different personalities. "Bryce is the kind of guy who can be trying to juggle 10 balls in the air at once, drop a couple, but then pick up more and quickly move on. I'm the kind of guy who is content to try to juggle maybe four balls at the same time. He did a great job as the leader here. I am building on that but still establishing my leadership style."
Paul was born in Melbourne – "a child of the regiment," as older Salvationists would say – the son of Bruce and Doreen Maunder, long-serving Salvation Army soldiers of the Camberwell Corps.
He progressed through the various Salvation Army young people sections and was enrolled by the late General Eva Burrows as a soldier in Melbourne in 1983. He married his wife Tracey in 1987. They spent nine years as Salvation Army officers in the Australia Southern Territory. They have two adult children. Paul and Tracey moved to Brisbane in 2000. He was appointed Children and Youth Ministry Coordinator at Carina (now Carindale) Corps and started at Streetlevel in 2009. He was chaplain of the Gold Coast Suns Australian Football League (AFL) club for several years.
Streetlevel and its people are his passion. "We have all sorts of people with all sorts of issues come here," he says. "We love them all. But that doesn't mean they're all easy. We see lots of angry and suicidal people. We have a mission to move them to faith." Since 2009, 70 people have become Salvation Army adherents at Streetlevel. "There are issues around whether we are a social centre or a corps," he says. "We are a corps. We want to encourage people to have a relationship with a loving God. So, adherency is the pathway for our people, at present.
"For me, there are two big issues. The people we see every day are, yes, flawed people. I want them to know that I am able to do what I do because I am a prodigal who returned home. I, too, was flawed. But, by the grace of God, I am a child of God. I work with prodigals.
"Secondly, I want people to understand God's grace. I want them to understand that God gave his grace to me not because I was good enough, but because he loved me. I want them to know the love and grace of God for themselves, as I do."
Paul and his team hold classes for people interested in learning about the Christian life. They also run chapel service, where people who come to know Christ through their connection with Streetlevel can testify to their new-found faith. And everybody can volunteer for some kind of service.
Paul is now working on replicating Streetlevel in other communities, encouraging people who are passing through the Brisbane centre to take leadership of the next stage. "We [The Salvation Army] can't stay as we are," he says. "We will die if we do. God has more for us to do."
Read another story about Brisbane Streetlevel.