Spiritual renewal the key to the Army's future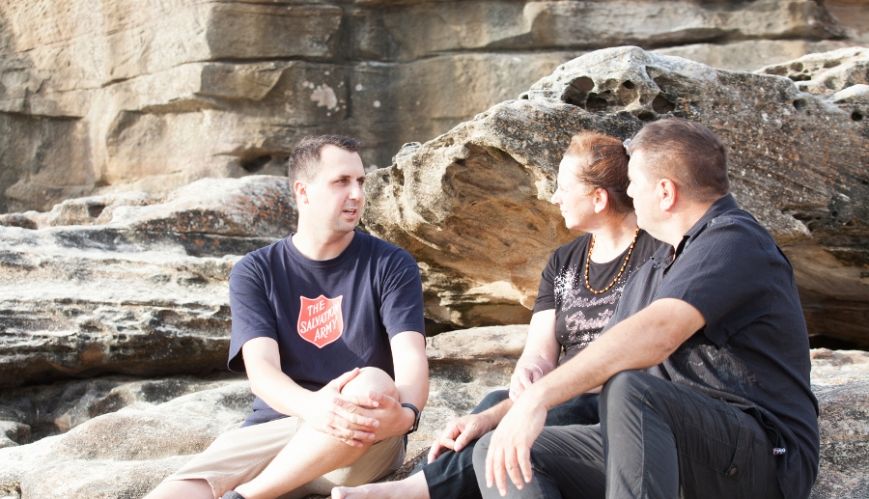 Spiritual renewal the key to the Army's future
The Salvation Army in Australia is in decline.
We're in days where our grassroots ministries – our corps – are diminishing. And a strong Army has strong corps.
We want to be an Army that's advancing not retreating. Hope Rising is about every single person in The Salvation Army in NSW and the ACT reimagining what the Army could look like.
We're stripping things back to the Army at its best. Hope Rising is totally aligned with where the Australia One project is heading. We strongly believe that, as the National Commander, Commissioner Floyd Tidd, states, 1+1 will equal new.
God is doing a new thing in our nation, and in every corps mission cluster throughout the NSW and ACT Division we are aligning with the mission, vision and values of Australia One, ensuring that we move forward together.
Whether you live in a rich or a poor suburb, people are longing for community and in a world where things are getting pretty desperate for most people, whether it's overseas or here, they are longing for hope.
The Salvation Army is probably in about the fifth generation of church in Australia now. In the first generation, mum and dad and the kids went to the Army or went to church; in the second generation, mum and dad stayed home and the kids went to church; in the third generation, no one went to church; in the fourth generation, people were happy with Jesus but not particularly the church; and in the fifth generation, where we are now, "Jesus is one of many".
So how do we become people who know the times and are able to be more relevant in the generation that we're in today? The connecting factor is community. We need to work out how we can get together in community to have conversations of faith and of life and of hope.
Reimagining of corps
We have to get back to The Salvation Army on its knees and then rising up.
Spiritual renewal holds the key for us. But living in the West, we don't always have to depend on God so I think it's a new dependency because the times are different.
We want to be people of prayer, encourage personal spirit-filled encounters, living authentic missional lives. In any forum that we are in at the Army these days, how do we ensure that we're living a Jesus culture?
If we define culture as the way we do things around here, or the things that we tolerate, the Church has to become Jesus-centred: living like him and for him.
So, what does that look like? We need to get really creative and innovative in the way that we approach the future. The question is, "what are the new ways that we can think about sustaining ourselves?"
And instead of being one-man bands everywhere, it's actually about realising that we need each other. So how do we partner up to work out what God really wants in our regions and suburbs rather than in just our individual corps.
We can't sustain what we have unless we partner up. So that will be partnering with other corps as they've done in Sydney's inner-west; with other churches; and with other organisations. Joining together to ask, "How do we become The Salvation Army where we are?"
Already happening
We've got nine areas throughout NSW and ACT and each of them are starting to move towards how that might look in their areas.
We're coming together, dreaming together, and saying, "God, what have you got for us?" Then we ask, "How do we do that?"
Out at Cowra in NSW's west, Captain Cathryn Williamson has started what she calls Kids in the Kitchen (a kids cooking class) and really that's what we would call a "community of hope".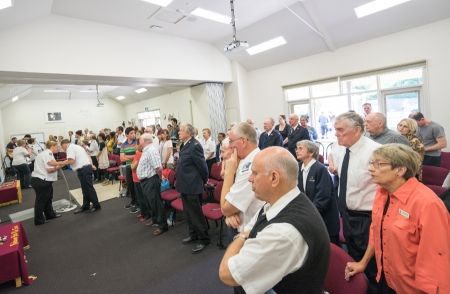 She has started something new in the community that has engaged in an area of need. It's also attracted volunteers and people who perhaps wouldn't have come to the Army for a Sunday meeting. But through that she's creating faith pathways and talking about Jesus in a very natural way.
That's a good example of Hope Rising. 
In Sydney's inner-west, four congregations have joined together to worship communally (pictured right). They're multiplying for health, getting together to reimagine how they can be relevant and active in their local suburbs.
At Maroubra and Manly in Sydney, we're already engaging in different ways. It's about community.
I envisage lots and lots of different expressions all throughout the community that we haven't had before. We'll have worshipping communities, no doubt about that, but we've got to sit around tables and start talking to people and start engaging again.
The Army at its best
If people want to look at history, we were a people who were out in the community bringing hope. Brigades and lay people were out there in the community all the time making a difference.
So really, we're going back to what we honour about the past. But we live in different times, so we have to work out how we become that Army again that is on its knees and rising up and moving forward.
Hope Rising is not an agenda. It's asking our people to talk to God about what's right in their region and then come back to us at territorial headquarters and we'll try to put the support structures in place for God's vision for that place.
We're not asking anyone to do anything different, we're asking them to be the Army at its best, lifting up God in these days.