Auburn's gift to Nepal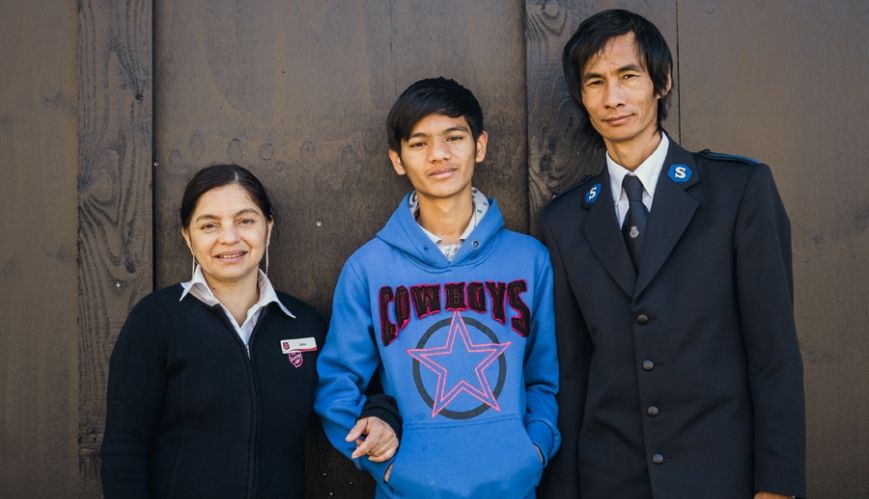 Auburn's gift to Nepal
2 December 2016
The scene at Sydney International Airport was sad. There were heavy hearts and tears. It was early October. A small group of Salvationists stood singing as a Nepalese family boarded a flight. They had been denied approval to stay in Australia after nine years in a country they hoped would give them a new life free of the persecution they had suffered back home.
There were just over 20 in the group from The Salvation Army's Auburn Corps, where Phurba and Usha Tamang and their 17-year-old son, Poshan, had found support, encouragement and God. As the family prepared to board their plane, the group of Salvationists sang: "I have decided to follow Jesus ... no turning back." They prayed – and Phurba, Usha and Poshan were gone. Their removal from Australia was cruel, says Auburn Corps Officer, Major Paul Moulds. He is confident that God will turn what he says is a bad decision into good.
Phurba and Usha left Nepal in 2007 to find "a more peaceful life" and higher education opportunities in Australia. At home, they had suffered persecution by family and friends because their marriage was inter-caste. As Hindu, Phurba and Usha were from different castes – or society structures. Reaction to the marriage caused turmoil and mental anguish. They were disowned by close family and felt threatened. They needed to start again somewhere else. They chose Australia.
After completing his studies, Phurba applied for a protection visa and asylum in Australia. Confident they would get the visa, they sent for their son, who had remained in Nepal until the family was settled in Australia. Poshan arrived in 2012.
Preparation and consideration of their application took time and expense. Phurba and Usha continued working. Poshan started school in Sydney. Surviving was tough. Life was basic. But they persevered. Life became tougher. Their application was rejected. Paying their bills became a strain as an appeal was lodged. Appeals are expensive.
Church Invitation
Three years ago, they received an eviction notice from their home. There were no resources to pay for new accommodation. Desperate, Phurba went to Auburn police station to seek help for his family. An officer at the station suggested they should seek help at the local Salvation Army. Phurba phoned the Auburn Corps office on a Sunday morning. He was invited to the church. There, he met the then-corps officer, Captain Nesan Kistan.
"When we reached the church, everyone welcomed us with an open heart," Phurba told Pipeline days before leaving Australia. "Nesan was very kind and generous. He not only helped me to get accommodation, but he gave me a new hope."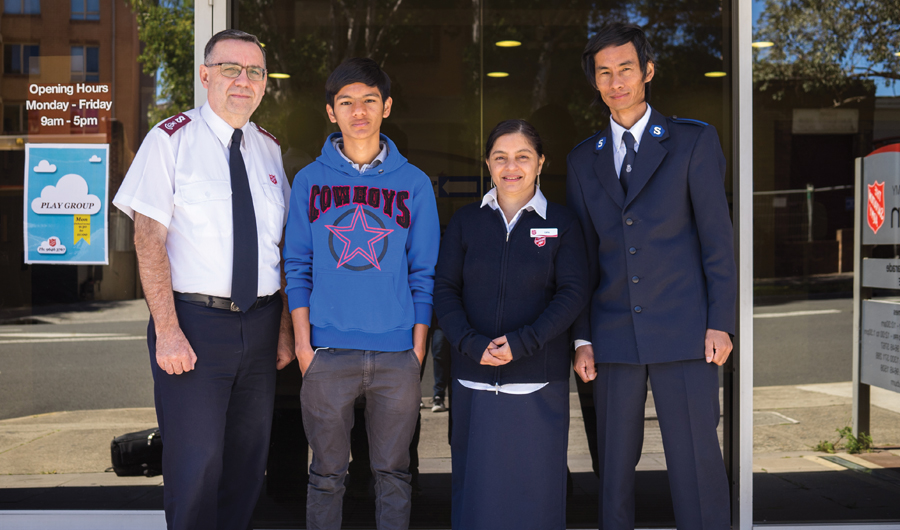 The Tamang family with Auburn Corps Officer, Major Paul Moulds. Photo: Lena Pobjie
The Tamangs continued with their life, still hopeful of being allowed to stay. But 18 months ago, the Australian Government denied their appeal. Phurba appealed to the relevant government minister. As the appeal went to the minister's office, the government withdrew Phurba and Usha's right to continue working. Again desperate, Phurba and Usha returned to The Salvation Army for help. Majors Paul and Robbin Moulds were the new corps officers. They provided letters of support for the family in their appeal to the minister.
Usha started attending Sunday services at Auburn. The corps supported the family with ongoing rent and living expenses. "The three members of the family were living together in one small room of a share house," Major Paul Moulds revealed to Pipeline.
He discovered other families and individuals in a similar situation. While making enquiries about how best to help the families, a Christian couple offered the corps, at minimal rent, a six-bedroom home. Phurba, Usha and Noshan were the first tenants. The house is still used as a refuge for families and individuals dealing with visa issues.
Usha was so moved by The Salvation Army's generosity to her family, that she became a Sunday service regular. She volunteered for whatever needed doing. She loved street ministry. "Although brought up a strict Hindu, she had always been attracted by the story and life of (Catholic saint) Mother Theresa," Major Paul Moulds recalls. "She began learning about Jesus and was drawn to him."
Life transformed
Six months after becoming a Sunday morning regular worshipper, Usha, in the words of Major Moulds, "made a very sincere decision to follow the Jesus way (as she described it)". She became a soldier of The Salvation Army.
"Her life was transformed," says Major Moulds. "She told everyone she met about how Jesus and The Salvation Army had helped her and saved her life. Many people have been touched by her story. She shared it with all the neighbours in her street. She also began hotel ministry and was still doing that until the day she left Australia."
Phurba watched his wife's transformation with interest. He was, says Major Moulds, much more intellectual in his approach to faith. He read the entire Bible from cover to cover and had many questions. "He was very deliberate and thoughtful about embracing Jesus as his saviour and lord." But Phurba eventually made that decision and three weeks before leaving Australia, he joined Usha as a soldier of the Auburn Corps.
At his enrolment, Phurba quoted Salvation Army founder William Booth's famous "I'll fight" speech word for word without reference to notes. He amazed the congregation by not condemning the Australian Government's decision to disallow he and his family to stay, but, instead, declaring that the decision and hardship it brought had resulted in he and his family learning about Jesus and beginning a new life in him.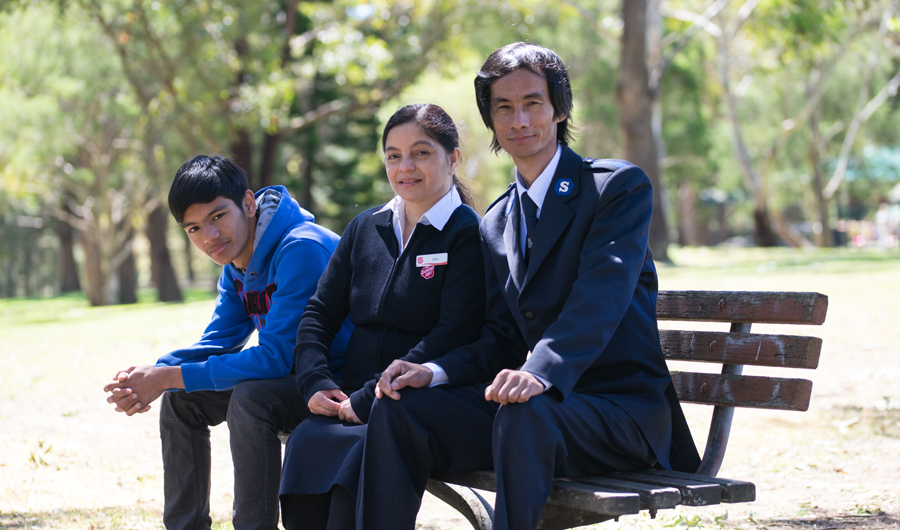 Phurba and Usha may have been denied asylum in Australia, but they head back to Nepal with the love of Jesus in their hearts. Photo: Lena Pobjie
Before leaving Australia, Phurba told Pipeline: "I found Jesus in the form of Major Paul (Moulds). In one of his Sunday sermons, he said, 'Be Christ; not Christians'. The message touched my inner soul deeply.
"I started to dream of a world full of people with the virtue of Jesus – merciful, kind, generous, helpful. That would be a wonderful world. I saw these virtues in Major Paul, working tirelessly day and night to give hope to the displaced and needy. Most importantly, I have seen him giving hope, a reason to live, a reason to love life. He has been a role model and mentor who helped me to find Jesus, surrender my life to Christ Jesus and become a soldier of The Salvation Army.
"Equally, I give credit to Major Robbin for my transformation. I used to watch her playing with children. I could see her fondness and love for the children. As it says, we can see God in the form of a child. I saw God in the child in Major Robbin."
As he prepared to leave Australia, Phurba told Pipeline, "I can see now that because of all of my visa issues and problems, meeting Majors Paul and Robbin was planned by God. It was a blessing in disguise. I believe that God wanted me to serve him as a soldier of The Salvation Army."
New chapter
The Auburn Corps was devastated when Phurba's final appeal to the minister was denied. "We prayed so hard and believed so hard for a positive outcome," Major Paul Moulds confesses. "But then God gave us his word and vision from the life of Joseph: You meant this to harm me, but God meant it for good (Genesis 50:20).
"We began to see with God's eyes. We realised that God had a purpose for this family back in Nepal. We commissioned them back to their country as his ambassadors. They also caught this new vision and while it was still sad to see them go, they knew that without doubt God was at work in their circumstances and that he went with them."
After their arrival back in Nepal, Major Moulds was contacted by The Salvation Army there. They were seeking Phurba's contact details. A business manager's position had unexpectedly come up within The Salvation Army in Kathmandu. Phurba's educational qualifications received in Australia were ideal for the position. At the time of writing this article, Phurba was about to start in the job.
"The Salvation Army Commissioners for the Nepal Territory were visiting Kathmandu on the Tamangs first day at the corps. On meeting Phurba and Usha, the Territorial Commander said, 'Thank God he has sent you to us. We need you here'," Major Moulds said. "And, so, already God is at work creating good out of a bad decision. A new chapter in the Tamangs' story has begun."
As he boarded the plane from Sydney, Phurba was advised that he had been accepted to do a Master of Divinity degree by long-distance learning through The Salvation Army's Booth College in Sydney.