Because of compassion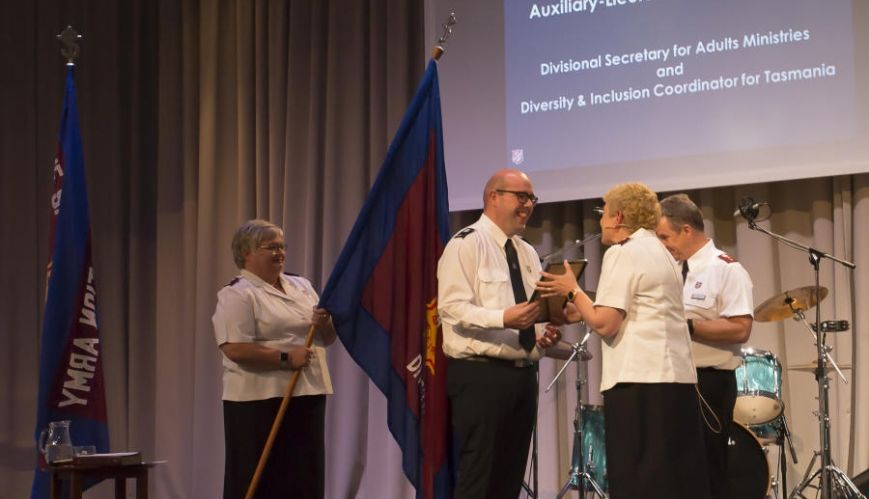 Because of compassion
23 July 2020
Tasmania Divisional Commander Kim Haworth presents David with his certificate as an auxiliary-lieutenant.
By Bill Simpson
David Bruford was 14 when his mother died. Just a boy, he had watched anxiously for years as his mother's health deteriorated.
She died of kidney failure.
David, his father and two older sisters tried hard to cope with the loss. They were living in Perth (WA) at the time. The family had come to Australia from Grimsby, in England, when David was three years old. They came for "a better life".
After the loss of his wife, David's father remarried. His new wife brought two more children into the family. As a child, David was "happy, loud and loved to talk". He was baptised as a baby in the Church of England, but the family didn't attend church.
After his mother died, his school chaplain – a Salvation Army member – kept a close watch on how David coped with losing a parent. He invited David to attend a Salvation Army youth camp. It was 2004.
It was at the camp that David "experienced" God for the first time. "I had some amazing spiritual conversa- tions with the leaders on the camp," he says. "This led me to attend my first Easter camp, where I accepted Christ, and to Swan View Corps [Perth]." David became a Salvation Army soldier the following year.
Journey of love
Today, now 31, David is an Army auxiliary-lieutenant in Tasmania. "Full officership" is in his planning. "I believe that God's plan is officership for me and I will continue on this pathway that he is calling me to," David says. "His plans are going to be better than any of my plans."
While it was God, he says, who called him to The Salvation Army, it was love that called him from his home in Western Australia to Tasmania, where he currently serves as Adults Ministry Secretary and Inclusion Engagement Coordinator for the Tasmania Division.
"I worked in retail for 12 years with Woolworths super-markets. I would work after school and weekends to get some pocket money. When I finished school, my then girlfriend and now wife [Lydia], well, her parents, who are officers, were moved from Swan View in Perth to Moonah Corps in Tasmania.
"I followed her – yes, love – and I transferred with Woolworths to Tasmania. After a while, I felt that God was telling me to work for the Salvos. Actually, I didn't listen the first time, but then the same job came up a year later doing administration at The Salvation Army's Barrington Lodge Aged Care Centre.
"I had been having a real struggle and spiritual battle and I knew I needed to trust God. So, in June 2015, I handed in my notice in full-time management at Woolworths to commence at Barrington Lodge in administration, doing human resources-related admin. Then I became the chaplain at Barrington Lodge and studied for a Diploma of Chaplaincy.
"I had felt a call to ministry within The Salvation Army even while I was still working at Woolworths [in Tasmania]. But I didn't think I had the time and felt that I knew best about what I was doing career wise. I thought, 'Nah God, I got this'.
"I would then experience a sense of God telling me to trust him. During prayer, I asked him for discernment, and this is how I started my chaplaincy diploma. I never thought in my wildest dreams when I was growing up that I would be a chaplain, let alone a chaplain for an aged care centre. "This statement [following] is what I felt and when I reflect, I think I had no doubt when I started in this role; the thing I remember most is that God kept reminding me, 'This is my command – be strong and courageous. Do not be afraid or discouraged, for the Lord your God is with you wherever you go' (Joshua 1:9 NLT). He kept reminding me to simply trust him.
"I was incredibly blessed in my role as the chaplain, living alongside others and having end-of-life conversations, and witnessing God in that space. It was both challenging and rewarding. He taught me a lot of things during this time and I believe that he was preparing me for what he had called me to in the future. This time was a true testament of when we think we have what we want or need in life and actually what God has planned for us is better than what we could ever dream or imagine." Even while working as a chaplain, David still thought there was more to his calling to ministry.
"I felt God telling me that I hadn't given him 100 per cent of me. It was then that I felt the call to officership. In conversations with officer recruitment, I found the pathways to engage in this calling that God had placed on my heart through the auxiliary-lieutenant process."
Inclusive culture
David and Lydia married in 2011. Lydia works at Woolworths. David has been in his Tasmania divisional roles since November last year. He is the first – and, currently, only – male serving as a divisional adults ministry secretary, although Major Graeme Craig was appointed National Adults Ministry Secretary this year. The role comes within the Mission Support Department.
It is to support front-line mission by promoting and resourcing for adult faith development and overall well- being, recognising the diversity of ages and cultures. Adults Ministry supports the five generational adult life stages – Builders, Boomers, Busters and Bridgers. As an inclusion engagement coordinator, his role is to enable inclusive culture and practice across all Salvation Army mission expressions, which includes training and resourcing those expressions. "We believe a truly inclusive Salvation Army is where everyone belongs, develops and has opportunity to contribute to the mission," David says.
"Our primary function is to promote mission inclusion opportunities for those experiencing hardship and injustice on various grounds, support front-line mission expressions to build an inclusive culture in ministry and facilitate diversity and inclusion competency of the Salvos through training and resources. Practically, this is supporting, resourcing and training for mission expressions in building an inclusive culture where everyone has the opportunity to contribute to the mission."
And it all started when a Salvationist school chaplain showed compassion for a 14-year-old boy who had lost his mum.