Chris Brindley's Sonata Allegro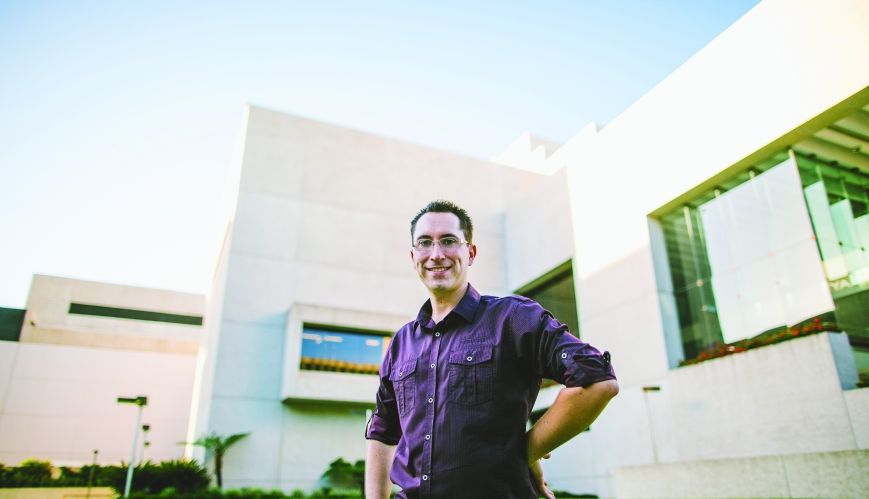 Chris Brindley's Sonata Allegro
6 May 2016
SONATA ALLEGRO
A typical first movement of a symphony, concerto or sonata, in which the composer introduces musical ideas at the beginning then creates excitement and surprise by playing around with the idea. Later, in a sort of homecoming, the ideas return in their original form.
For Chris Brindley, the Territorial Worship Arts Co-ordinator, God holds the baton in the unfolding sonata that is his life. From the first movement in childhood where his love of music and experimenting with sound began, to the pursuit of a highly successful scientific career, with his composing and arranging talents as a background theme, Chris traces the progression of God's leading back to his first passion.
You see, Chris doesn't measure success by conventional measures. He could though, given his internationally impressive curriculum vitae in engineering, business, teaching and music. What is obvious by his infectious enthusiasm and down-to-earth manner, is the strength of his relationship with God, his family and the people around him is what matters most.
"A piece which has followed me around for most of my life is Just where He needs me, my Lord has placed me. I continue to pray for God's guidance in every decision I make, but it is rarely easy when the noise of life gets in the way of hearing a still soft voice," says Chris, who took up his role last May, and is based in Brisbane. "I am involved with a whole range of things – with my family, solving problems at work, being creative with music and just trying to live life and encourage others - you can't completely isolate those things from each other."
"Success to me then, is drawing everything I do back together – being happy where I am in my relationship with God, with my family, and those I can influence positively. And I have to admit, I'm not always successful!" Currently Brisbane City Temple Songster leader, Chris' passion for using music to spread the Gospel, positively influence people and encourage corps in creative ministry and worship is evident, and will be equally vital in his new appointment. "My territorial role isn't about buying tune books or writing worship charts," he explains. "It's about helping people develop their worship art form into a powerful and pervasion express of the freedom they have found in Jesus."
"My role is to deepen the culture of worship in the territory and I aim to build networks of leaders, champions and experts to develop each creative expression, including dance, drama, graphic design, animation, writing, painting and much more.
A microelectronic engineer, Chris left his role last year as a Strategic Development Manager at Corearth, which provides radiation safety solutions for the telecommunications sector."This career choice was part of wanting to start a family one day and being able to securely provide for them after seeing the struggle that my mum had in raising three boys by herself," he says. But in the past six months, Chris says that "while the business and academic side of life was going well, I couldn't find anywhere that I could be anything other than a name on a piece of paper, locked away in a filing cabinet – I couldn't see that what I did made a genuine difference."
"To me, this is the highest calling. To know God, share my faith with others and help them do the same – and that is all the difference in the world." Chris grew up in The Salvation Army - a fourth-generation Salvationist on his mother's side, and with a Pentecostal background from his Argentine father. "My Salvationist heritage extends back to my great grandfather, George Milton Brindley, who was one of the first members of the Wollongong Salvation Army Band back in the early 1900s," Chris says. "My grandfather Envoy Milton Brindley recommenced the Boys' Legion in the Eastern Territory."
Chris was born into the Campsie Corps in Sydney and moved with his family to the Belconnen (ACT) Corps and then to the Campbelltown (NSW) Corps.
Chris has loved music for as long as he can remember. "Basically I like to play any instrument I can get my hands on," he says enthusiastically. "I also have a collection of unusual instruments including the duduk, a woodwind instrument native to Armenia; and a Jew's harp, an ancient instrument from Asia."
He became part of the Brisbane City Temple in 1998, joined the Songsters, band, and worship team and has led the YP band and worship team. In 2006 he took the position of Songster leader. Chris also met Crystal, now his wife, at BCT and the couple has two young daughters, Caitlyn and Laura.
Composing music and writing words to go with his pieces, are special passions for Chris."I started writing for the Queensland Pops Orchestra – the first orchestra I'd written for, with encouragement from conductor Barrie Gott," he explains.
"It was incredibly challenging, but also incredibly rewarding. "Creating original pieces, rather than arrangements is what I really love doing. To create a piece of music that no-one has ever heard before is the most amazing experience. "Words for me are harder than the music and I really have to think about how they will be understood. Both the words and the music have to tie together to mean something and to convey a message. It's a real journey and challenge, particularly for a secular audience, to produce a piece of great value."
Chris has also arranged two albums for Andre Rieu's star soprano Mirusia, one of which was so successful, she became the only classical artist with an ARIA No.1 Chart award. Over the past two years he has worked with the Melbourne Staff Songsters as a guest conductor and composer.
To everything he does Chris brings both intellectual rigor and a heart to live out his desire to be a devoted follower of Christ. He tells of the impact of meeting Eric Abraham, a 104 year old WWI veteran, who was a resident at an aged care facility where Chris was presenting Christmas carols with The Salvation Army, back in 2002.
"Eric looked at me straight in the eye and asked me, 'Are you a man of God'", Chris recalls. "It was like God himself was asking me, and I knew Eric would be meeting him soon! I replied, 'Yes Sir, I am', and the experience of standing up for what I believe struck to the core of my being."Last year Chris set a challenge for himself and the BCT Songsters.
"There were 12 rehearsals from the beginning of the year to Easter, so as part of devotions and music theory, we looked at the 12 semitones and intervals in a scale," he explains. "Each has their own personality, and to match that, each of these personalities was matched with a disciple that reflected this. This was also important for me personally as a significant component of my work has been with scientists, some of whom are outspoken atheists, or from a different faith background. Not only do I have to explain what I believe, I also have to state what solid facts this is based on. This is a privilege, but can also be scary."So, as part of discussing the characteristics of the disciples, I looked at the historical accounts and was able to justify to myself that I not only know my Christian faith by experience, but also through research and analysis."
"If I can use music to spread the Gospel and help people grow in their relationships with God and more deeply understand their faith, then I'm following my calling," he says.