Doors of opportunity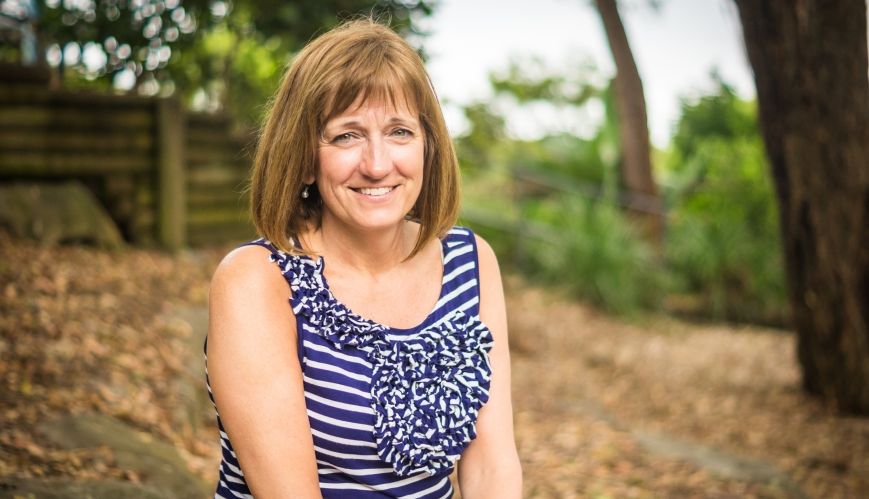 Doors of opportunity
29 April 2016
"My prayer for you is for courage to embrace whatever doors God opens, and closes, for you, so that you can walk in freedom in Jesus," said Commissioner Jan Condon, Territorial President of Women's Ministries, as she introduced three Captivated by the Word events in March. Major Beth Pearo, Pastoral Services Officer at The Salvation Army's Canada and Bermuda Territorial Headquarters in Toronto, was guest speaker for each event.
A two-day conference took place at The Collaroy Centre on Sydney's northern beaches, an evening and day conference at Stafford Corps in Brisbane, and an evening presentation in Canberra. The theme for each gathering was Doors and Keys. More than 600 women attended the events.
As Major Pearo was preparing for Captivated and praying about the topic she would speak on within the theme, transitions seemed a natural choice. "I am facing major life transitions myself, have felt completely overwhelmed at times and am learning how to do transitions as I go," she shared. "I love the Word of God and how it teaches, corrects, comforts and encourages me. Unpacking the scriptures and recognising that life is full of transitions and changes, has been very therapeutic and, even as I preach on the subject, I know it still all applies to me."
Throughout the day conferences, Major Pearo spoke about different kinds of transitions, beginning with natural transitions – those that most women experience as they grow older. "Change is an expected part of life, but it still isn't easy," she said. "To learn how to transition well, we need to go to God's Word."
Major Pearo shared the story of Abraham, Sarah and Hagar in Genesis 16, and how chaos broke out as the transitions in the story unfolded. "The story shows though, that, just as God found Hagar in the desert and saw her plight, even when she wasn't looking for him, so too does he see ours," she said. "The number one key to surviving life transitions is God. He is 'El Roi', the God who sees. He knows us by name, knows where we are, and he understands us when nobody else does." 
Major Pearo explained that God is always with us and even when we make mistakes, he still comes to us. "That is God's grace," she said. "God is here in each of our circumstances as we transition into the new normal. He has a solution in our crises, even if it's going back and facing the problem. Claim El Roi in your own life; perhaps he has got lost in your circumstances."
Unwanted changes
Her next session focused on transitions in life that are thrust upon us – we're not expecting them, don't like them, don't want them, and they don't make sense! Reading from 2 Kings 5 and the story of the young Jewish girl abducted and sold into slavery, Major Pearo examined ways we can deal with unwanted changes in our lives. "We only have 45 words about this young girl, but we discover that it was the choices she made and attitude she adopted that helped her transition through this gutwrenching tragedy to a new life," she said.
Major Pearo explained that the girl chose not to be bitter; to remain faithful to God, even though he had not delivered her from her circumstances; to be a person of integrity that others trusted; and to be alert to the needs of others. Her choices and transition also led Naaman, her owner, to become a believer. It was an open door for God to do his best work. "Every transition is an open door, and when God opens the door, it's our sign to walk through it," she said. "We need to ask, not why, but what – what does God want us to do with what is happening in our lives." Major Pearo emphasised that she didn't want to minimise the struggles people were facing, and that challenges like grief and recovery from abuse were long journeys with many heartaches along the way. "Some of these choices take time, but perhaps it's time to walk through a door of opportunity, look to Jesus and choose faith," she said gently. "It's a daily conscious choice we have to make, whatever our circumstances."
Fanning the flames
In both Brisbane and Sydney, Commissioner Condon announced the record fundraising year for the 2015 project – $139,000 to assist young girls leaving orphanages in Ukraine. "You have gone above and beyond," she said. "This is enough money to have two programs running for women, in different parts of the country."
Project 2016 will raise money for both The Salvation Army's Safe House for Trafficked Persons in Sydney, and assisting four young women from Papua New Guinea come to The Salvos Discipleship School over the next two ears. "Together we can educate, empower and upskill women and girls, and open doors of opportunities for them," said Commissioner Condon.
At each Captivated event, different women shared their moving testimonies, and the doors God had opened in their lives to bring freedom, peace and purpose. Casey O'Brien, Territorial Social Justice Coordinator, also spoke in Sydney, sharing her story and how God had developed her passion for bringing his kingdom here on earth.
Major Pearo asked the ladies at each conference why, if Jesus came to bring us abundant life, do we sometimes feel lonely, lifeless, and, hopeless? She reminded us from the writings of Paul to Timothy, that Jesus is the only one who has the ability to transition us from darkness to light, from hopeless to hope-filled people; and she spoke about the importance of us intentionally choosing "spiritual transition" so we will move from darkness to light and find the abundant life that Jesus came to offer. "There are times in our lives when the fire of our faith gets very low, but we are not left hanging," she said. "Paul tells us in 2 Timothy 1:3-7 that spiritual transition is possible."
The keys to spiritual transition are, Major Pearo said, the enabling Spirit of God and our intentional engagement in the spiritual disciplines. "If we rely on the Spirit of God, he will give us the strength to do whatever he wants us to do," she said. Quoting from Richard Foster's book, Celebration of Discipline, she outlined the inward, outward and corporate disciplines that help guide and transition us and that bring the abundance of God into our lives.
Heartfelt tribute
In Brisbane, Major Michele Terracini gave a humorous tribute to Commissioner Condon, presenting her with a Queensland "survival kit" to assist with her upcoming "seachange" retirement to Caloundra. This included a list of how to keep busy in retirement, a free subscription to the Caloundra Home League and a swimming costume! "Our love and prayers go with you as you transition into this exciting time of your life," said Major Terracini. "We have appreciated your desire to be a servant of Jesus Christ and we all look forward to your involvement in ministry up here."
In Sydney, Major Shelley Soper led 21 ladies representing "team aqua" – each wearing white pants and an aqua top as Commissioner Condon so often did at conferences, and hiding their faces behind a hand-held photo of her – onto the stage. From Commissioner Condon's perspective, each lady shared a fun memory, family story, or something she enjoyed. Commissioner James Condon, Territorial Commander, made a surprise visit, bringing flowers and giving a heartfelt tribute to his wife.
More than 300 women from corps around the Queensland Division and Northern NSW attended the conference in Brisbane on 12-13 February. Major Pearo spoke on transitions, combining two sessions into one and presenting the same teaching that she gave in Sydney on 19-21 February.
During the lunch break, the ladies browsed stalls in the "marketplace". These included Salvationist Supplies, Koorong Books, Candles for Cambodia, handmade jewellery and a Salvonista mobile boutique. The worship team, comprised of mostly young adults, led the women in praise, prayer and worship throughout the weekend.
God is able
Approximately 70 women attended the Captivated evening in Canberra, hosted by the Gungahlin Corps. The hall was creatively decorated with doors to reflect the theme for the evening. Major Pearo spoke on Jesus' words, "I am the Door" – with Jesus being the door to salvation, safety and satisfaction. As she concluded her message, she asked the women to consider many of the promises of Jesus. These promises appeared on the screen, and the women claimed them as they walk through the doors.
Through her teaching, Major Pearo has left the women of the Australia Eastern Territory with much to think and pray about, but she has two specific messages she would like to emphasise: God is able, and God is always able. "God always comes through if we take our eyes off ourselves and turn to him," she said. "God is always bigger than our transitions, changes and circumstances and is able to do immeasurably more than we could think or imagine. Life is filled with change but God is unchanging, and that is what we need to hold on to."
Podcasts of the main sessions at Captivated in Sydney will soon be available. Audio recordings of the main sessions are available for $25. For details, email salvos.women@ aue.salvationarmy.org