Alberto's Paralympic dream becomes a reality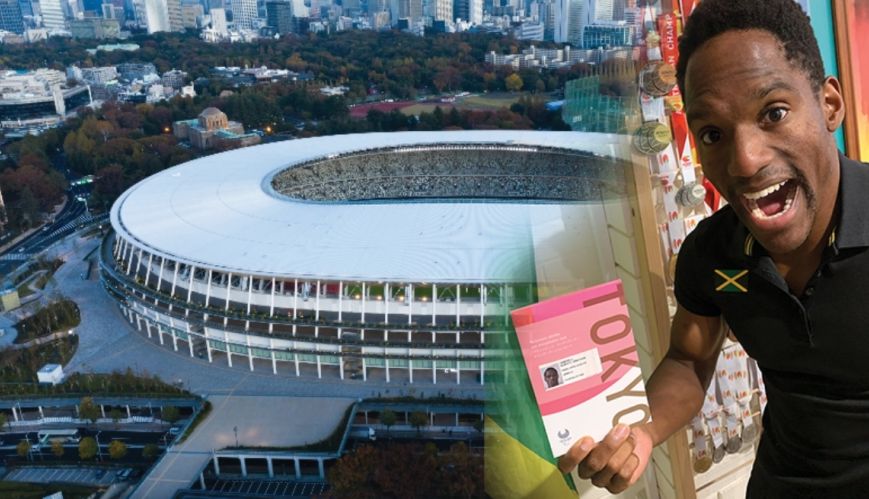 Alberto's Paralympic dream becomes a reality
19 August 2021
Proudly wearing his Jamaican colours and waving his new passport, Alberto Campbell-Staines will be running for Jamaica in the Paralympic Games in Tokyo but, along with mum and dad, Paul and Julie-Anne Staines, and close friend, Txai Anglin, many in Australia will be cheering him, too. Credit: Tokyo Stadium image Tokyo Stadium Shutterstock.
By Darryl Whitecross
Australian champion runner, 28-year-old Salvationist Alberto Campbell-Staines, is to compete in this year's Paralympic Games in his favourite event, the 400m, but it won't be in the green and gold.
It will be his first Games, but he'll be running in the colours of his native Jamaica. "I am honoured and blessed to be able to represent the country of my birth," he said.
Alberto, who has just turned 28, was born in Kingston on the Caribbean island of Jamaica but moved to Australia with his adoptive parents, Paul and Julie-Anne Staines, when he was a young child.
Paul said Alberto was part of the squad of T20 athletes for the 2016 Rio Paralympic Games but was cut when the final team was announced – due to a quota system each country is required to abide by for the permitted Paralympic Games.
He said Alberto would have competed for Australia in those Games but, as this year's delayed Paralympic Games rolled around, Australia was not sending any T20 intellectually disabled athletes in its team, so Alberto has changed his running allegiance to his home country.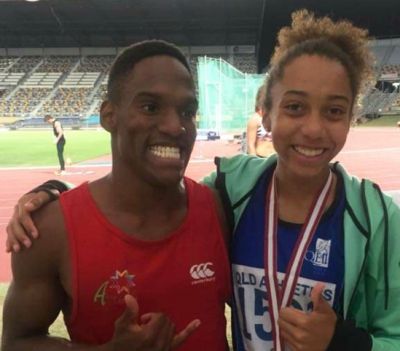 Alberto Campbell-Staines and one of his biggest fans, fellow champion Australian runner Txai Anglin.
While Paul said his son would be the first T20 athlete to represent Jamaica, Alberto is quick to point out that was not only in athletics but "in any sport!"
"They (Jamaica) don't have any other T20 athletes, so, when they heard that Australia wasn't looking at taking T20s to the Paralympics, they sent an email saying: 'Hey. We'd love to have you on the team'," Paul said. "Every race Alberto's run this season has been under the qualifying time, so they were quite happy to have him on board."
Alberto has competed for much of this athletics season as a Jamaican runner. Paul said it usually took three years for an athlete to have approved their application to change their allegiance by the International Paralympics Committee. "It took only about three months to go through," Paul said.
Australia had been "fantastic" in fast-tracking the approval of the change of allegiance to allow Alberto to compete in Tokyo. "The longest part of the process was that Alberto had to renew his Jamaican passport. Because Australia doesn't have a Jamaican embassy, that had to go through the closest Jamaican embassy, and that was in Tokyo," Paul said.
Unfortunately, his biggest fans, Mum and Dad, won't be there to see Alberto's historic races. "There are no international spectators at the Games," Paul said. "Only Japanese nationals will be allowed to spectate in rather tight conditions. It's the first international competition that we've missed, which is sad. The last world championships were held in 2019 here in Brisbane, so we got to watch that."  
Jamaican connection
One person cheering just as loudly as his parents from in front of the television will be Alberto's close friend, fellow Queenslander and Salvationist, 16-year-old Txai Anglin, Queensland's current state champion and former national champion for the 400m sprint. Txai, who is of Jamaican heritage, has an Olympic Games dream, aspiring to represent Australia but said she would love to spend some time abroad training in Jamaica.
"Big Up JamAus" they regularly include in their social media posts, congratulating each other on their achievements.
"Jamaican connection – 2 x Aussie Jamaicans, 2 x 400 races, 2 x gold medals. Big Up JamAus," Alberto posted on Facebook after they had competed at the 2017 Queensland Athletics State Championships.
They both thank God for their abilities and achievements. Alberto said the two both trained in Brisbane and catch up whenever they train or compete at the same venue.
The next hurdle the family faced was actually getting Alberto onto the plane to Tokyo due to COVID-19 protocols surrounding international travel. As he was to leave from Australia, he would not be part of a team of athletes flying in for the event, and team members would be restricted to "team bubbles". He flies out on 21 August.
Queensland Divisional Envoy Bill Hunter, who is to be part of the Australian team as a welfare officer for the cycling, athletics and swimming teams, said he most likely would not see Alberto during the competition because of the team bubbles. Paul said Bill would need to remain with the Australian team and not interact with athletes from other countries. 
Champion in the making
Paul and Julie-Anne adopted Alberto when he was nine. They first met him when they were teachers at The Salvation Army School for the Blind in Kingston, Jamaica.
At the time, although not visually impaired, Alberto was living in the Army's orphanage, The Nest, on the grounds of the school. Julie-Anne was his Grade 1 teacher. The family returned to Australia in 2003, and Alberto became an Australian citizen in 2006. 
The family first noticed they had a champion in the making when they moved back to Australia. "We were getting ready for Alberto's first-ever sports day. We just said: 'Just do your best and see if you can keep up with your mates'. We had no idea. He won absolutely everything, and the PE teacher came up to us afterwards and said: You might need to look at getting this guy some professional coaching. He's got some talent'. From there, he's just gone from strength to strength." 
Alberto received his classification as an athlete with a disability in 2013 and competed in his first world championships representing Australia, and won a bronze medal in the 400m event. "We thought that was brilliant. Since then, he's got another couple of bronze to his name," Paul said. 
Alberto, who has a string of awards, medals, achievements and distinctions to his name, has been undefeated as Queensland champion in the 400m for the past 11 years and, during that time, held the 400m Australian title eight times. 
Along the way, he added the Australian title over 200m to his medal tally: "That was interesting because that was his first time running as a Jamaican, so he was classified as a 'visiting international athlete'. He got to run in his Jamaican kit for the first time at the Australian championships. Alberto has competed against able-bodied athletes at club and state levels. 
Close community
Despite his success on the track, Alberto remains grounded and praises God for the person he is today. On his website, he lists as his happiest memory, having been adopted by the Staines. 
Paul said the T20 community was a close one: "They all know each other, and Bertie has mates all around the world, and so he's looking forward to catching up with them and competing against them because they haven't had any international meets since 2019. This will be the first time he will be running in any meet since then."  
Alberto passes on his experience as an elite athlete to the students at Citipointe Christian College at Mansfield, on Brisbane's southside. He works there as a physical education teacher aide three days a week. "The school has been absolutely great support giving him time off to train and compete," Paul said. 
Alberto is keen to be known as an athlete with a disability rather than a disabled athlete. 
Paul said Alberto would be running on 30-31 August in Tokyo.