Just Brass hits the right note for Redcliffe Corps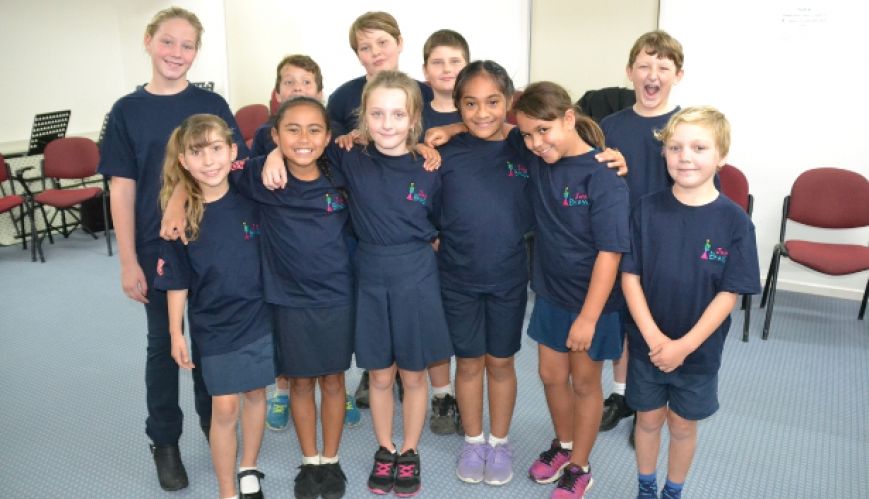 Just Brass hits the right note for Redcliffe Corps
8 August 2016
Redcliffe City Corps launched its "Just Brass" program at Kippa-Ring State School less than three months ago but already their fledgling band has performed a successful public recital.
Last week, the group of 11 Just Brass band members, from 4th grade, played to a crowd of about 90 people including parents, family and corps members. The band played four tunes and demonstrated how far they had come since mid-May, when they began learning together. Two band members Isabelle Benoit (trombone, pictured below) and Dengetta Sonter (cornet) played solos during the concert.

Redcliffe Corps member and program co-ordinator Robyn Mead, a retired music teacher, said it was an exciting day, with students receiving their Just Brass T-shirts which they wore for the performance.

"This program is all about giving kids a sense of belonging and teamwork. The kids were so pleased to get their T-shirts and play together as a team," she said.

Each week, nine students receive instrumental tutoring during school, then are transported to the corps where they have afternoon tea and band practice together. Two additional students from the corps are independently tutored by corps band members and have joined the Just Brass band.
Isabelle Benoit playing her first Trombone solo at the Just Brass performance.
"The corps members have just been amazing," said Robyn. "Every week I have people asking me how the children are going and asking how they can get involved and support the program.

"For me, this is the opportunity to take what I have done all my life, my gift and to encourage others and share it."

Corps bandmaster and retired officer, Lieutenant-Colonel Brian Hood, said the Just Brass program was a way the corps believed it could engage the community in a practical way.

After a positive meeting with Kippa-Ring State School principal Alan Brooks, who was present at the recent recital, a partnership was formed with the school. Members of the corps band went to the school to show students how a brass band functioned and students who were interested joined the program.

A legacy of $100,000 left to the corps for community work, along with some public funding, has enabled the program to employ an instrumental tutor, Myra Janiczak, and a bus for the program.

"Unlike other states, Queensland schools actually provide instrumental tutors as part of their program, but an audition process is part of that," said Robyn.

"The Just Brass program accepts whoever wants to play, so it gives students who might not have an opportunity, the chance to learn an instrument. That really excites me! Just Brass is the only program I know of that provides an instrumental music program with no cost to the families. And its great to see barriers coming down between the school and the church."

The next group of 4th grade students from Kippa-Ring will join the program in 2017, and another state school has expressed interest in Redcliffe City Corps running a Just Brass program.

"We want to grow the program in a manageable way but we are dreaming of what might grow from this encouraging beginning," said Robyn.

Just Brass is an initiative of The Salvation Army which creates partnerships between local schools and local corps, through free brass music programs.
For more information on Just Brass, go HERE.