Lydia's vision to run the race of life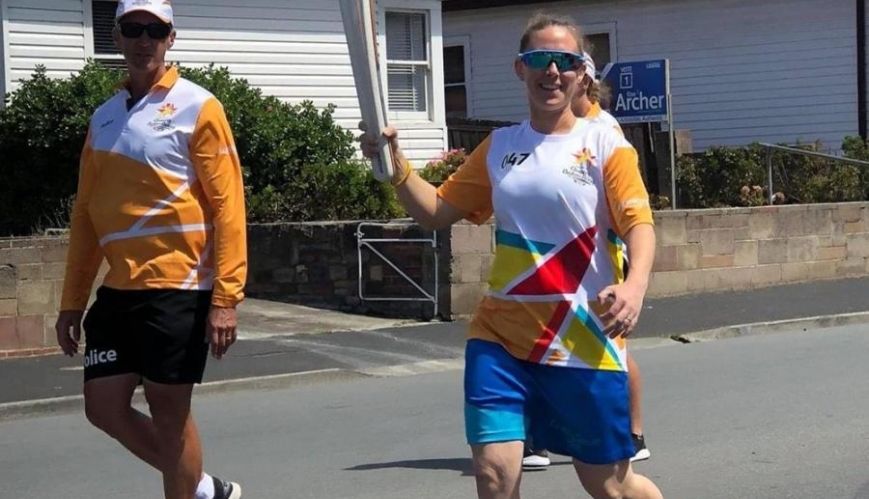 Lydia's vision to run the race of life
16 October 2020
Lydia runs in the Queen's Baton Relay through Hobart for the 2018 Gold Coast Commonwealth Games.
By Jessica Morris
Lydia Bruford was born to run. Even in Hobart's chilly winter air, she will be seen striding along the pavement near her home in the northern suburbs of the Tasmanian capital.
Lydia competes in the 2015 Burnie Fun Run in Tasmania.
You might call running Lydia's 'superpower'. From Gold Coast to Melbourne, she has conquered multiple marathons across Australia. And with this comes a story filled with God's grace and Lydia's determination.
"I'm a person with a visual impairment, so I can't see as well as everyone else. Growing up, I felt judged for this or treated differently; however, when I run I feel normal and not judged. I love the feeling of going for a run and feeling alive!" she says.
Lydia has always viewed the world differently. Born without irises and declared legally blind, she has learned to navigate life with kindness and conviction.
"I feel vision and sight are two different things. Sight is how far you can see. Vision is how you see the world and how you view things like values," she says.
Born in Launceston, Lydia's parents were called to officership and made the move to Melbourne to attend Officer Training College in 1995. Lydia's life was filled with transition and change from this point – something every officer's kid can attest to. But running was an activity that she always returned to – a way of knowing the ground she walked on and making it her home.
"I've been running on and off for most of my life. In primary school I enjoyed it and I had other interests. In high school, I was interested again, and in my early to mid-20s I started running again. I've never really stopped since," she says. "It suits me, long-distance running. I have patience and endurance for it. I have the work ethic – I can't sprint!"
For Lydia, running is an act of worship – an act of seeing and experiencing God in a new way. And while she has always felt close to God, she has experienced an even deeper relationship with him since her running intensified.
"Because I've been in the Salvos my whole life, I've always known about God," she expresses. "It's been since I was older, when I started getting more into running, that I just feel closer to him. He's there with me, guiding me, making sure I'm safe."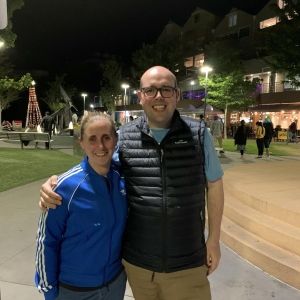 Lydia and her husband Auxiliary-Lieutenant David Bruford, who met at a youth group only months after David lost his mother.
Every good origin story involves a great romance – and Lydia found hers at 17 when she met a young man named David Bruford. They met at a youth group event while Lydia's parents were serving at Swan View Corps in Western Australia. David, grieving the loss of his mother only months before, had been invited by a school chaplain.
They were so taken with one another that when Lydia moved back to Tasmania with her parents, David made the move too. They were married on 8 January 2011 – the same anniversary date as her parents.
While David has forged his own path in The Salvation Army as an auxiliary-lieutenant, holding the role of Adults Ministry Secretary and Inclusion Engagement Coordinator in Tasmania, Lydia has also made her mark on the community. She had the honour of being a Baton Bearer in the Queen's Baton Relay for the 2018 Gold Coast Commonwealth Games.
Lydia gained her personal-trainer qualification in 2006, giving her the opportunity to help other people experience God through physical movement. And, in addition to working and volunteering at The Salvation Army Barrington Lodge Aged Care home in New Town, she also counts her work at Woolworths as a ministry – especially during the pandemic. Because for Lydia, it's all about seeing the dignity in the person in front of her.
"I see some of the residents who have dementia, and [working with them] has helped me work with customers. Some of their accents are hard to understand, and some people have carers. People are lonely, and they want you to understand them – so we stop and listen to them," she says. "Some people have asked me, 'How do you talk to them?' But for me, being a Salvo, I want to show love and for everyone to feel they belong, I don't mind talking to people."
Life is a series of steps, and while some of us walk them one by one, Lydia Bruford lives in leaps and strides. And, along the way, she inspires the people she encounters and sees the 'God potential' in them too.
* Lydia Bruford is a member of The Salvation Army All Abilities Working Group, established in June 2020 in conjunction with the Diversity and Inclusion team. If you have a story or want to know more about disability inclusion, send an email to: Diversity.Inclusion@salvationarmy.org.au