Passion for the word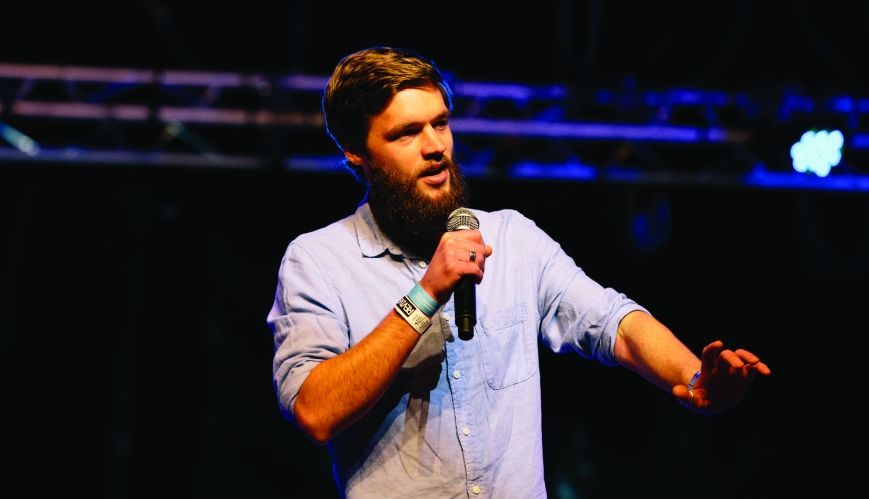 Passion for the word
11 May 2016
Will Small is not your typical worship musician. He doesn't even use a musical instrument. Rather, Will worships using a pen to write poetry and his voice to share his words as a "spoken-word" artist. 
Spoken-word is a part of the hip-hop music culture. While similar to rap, where an individual rhymes to a beat, spoken-word is less structured. Unlike rapping, spoken-word doesn't stick to a beat; rather it changes up the rhythm.
For Will, spoken-word is an opportunity to not only worship, but share stories and express his opinion about a particular issue. He says his voice is all he needs to captivate an audience.
"With rappers, often people don't hear every word that they say ... where a spoken-word artist is heard. You can say something that's a real burning issue on your heart and actually have people listen."
Will has been passing on his skills for a few years now, helping young people craft their gifts as writers and spoken-word artists, and now he's using this talent for The Salvation Army.
School workshops
With this passion for words, Will first started running workshops for disadvantaged young people who struggled with their English studies at high schools in Canberra. Funded by the Australian National University, Will regularly visited local schools and held writing workshops, because he knew first-hand how therapeutic poetry writing could be.
"It's about helping them tell their stories and helping them build some confidence," says Will. "Life is pretty messy and just being able to take the whole mixed experience of it – the good, the bad, the ugly and just spend some time filling it out on a page. It might not always solve things or [you might not] come to any big conclusion, but it's about being able to put it out there and kind of sit with it."
Once a school term, Will would hold poetry slam nights, where students were given the opportunity to perform live poetry they had written as a rap or spoken-word performance.
"When you perform you get affirmation of people responding ... that shared humanity around it."
Then, Will saw a new opportunity to fuse his two passions of writing and working with young people for the Salvos at the Oasis Youth Network Wyong on the Central Coast of NSW. For over a year now Will has been running a youth drop-in centre and meeting the needs of young people that come his way.
Will has been able to bring his passion for spoken-word to his role at Oasis. He runs workshops called Beats, Rhymes and Life in local schools across the Central Coast of NSW. The program focuses on introducing young people to hip-hop culture, assists with their writing skills and teaches them to write poetry.
Emotive words
While these workshops are helping many marginalised youth, Will also targets these workshops at young people from all walks of life. Will believes that everyone has a story to tell and that there's power in expressing emotions through words.
"I help them think about what the mess is in their lives. We've all got a bit of mess in our life. So how could it be turned into a masterpiece? How could your scars be something that's turned into a work of art that's beautiful and can encourage others?"
Will first started listening to hip-hop and rap when he was a teenager and gained a love for music that weaved together rhyme and storytelling.
As Will got older, he began to compete in poetry slam competitions and quickly moved up the competition ladder, performing in two national poetry slam competitions and state competition finals.
Since working for the Salvos, Will has led workshops and performed at various Salvation Army events including EQUIP, a creative arts and leadership conference, Connect, a worship arts conference and at Bonnells Bay Corp carols. Will says he is passionate about using his gift to share the love of Christ. Will is also involved with hip-hop Christian group, Krosswerdz, on the Central Coast. He attends Narara Valley Baptist church along the Central Coast of NSW.
'First Impressions'
© Will Small, 2013
Before you had formed an impression of me,
I had formed an impression of you.
An artistic impression; an expression like reflection
in complex sections like me.
– I am three
So I gave you mind, body, spirit
In a tangle of physics
And breathed into dust to make you.
Before you had formed an image of me
In my image, I had formed your image to be
The synergy, the mystery, deceptive simplicity
Under the illusion of serendipity
Before you had ever loved absolutely anyone
I had loved you absolutely, as if you were the only one
And if you were the only one, I'd still send my only son
To stretch his arms wide for you.
Before you had attempted scientific hypotheses
I had turned my hypothesise into a universe
And hypothetically do you understand what you are worth
To be loved first, by the one who is love?
Before you had ever struck a chord on a guitar
I had strung up the stars with a cord from my heart
I played the first improvisation solo
I conducted the first symphony
I was the first emcee, the first to play middle C
The first to dip toes into the depths of the sea
Before your hardened heart drifted apart from my art
Before you traded your spark for a share in the dark
I had reached into deep reservoirs
And pulled human hearts out of clay jars
And I am the one who can soften or harden
Who can punish or pardon
Who could melt down the stars and turn them into a garden 
Before you examine me like you're some kind of expert
Why don't you flex first, and see if your muscles can stretch earth
Where were you when I laid the foundations of the nations?
I'll tell you.
You were somewhere in my mind's eye.
You were a blueprint in my 'iSky'
You were a twinkle of an idea
Long before you had arrived here
Before you had composed or created
Crafted clothes or debated
Felt exposed or naked, or enclosed or invaded
Before you had dreamed or wrote, or needed hope
Before you loved or shrugged or screamed or whispered
Before all things,
I existed.
You are here because I chose you.
Because I breathed life into your lungs
And I deemed light to flow from the sun.
And if you hear nothing else, then hear this:
Aspects of my being will remain to you mysterious
But you don't need to comprehend in order to experience
My
Love.