Women encounter Jesus at SHE weekend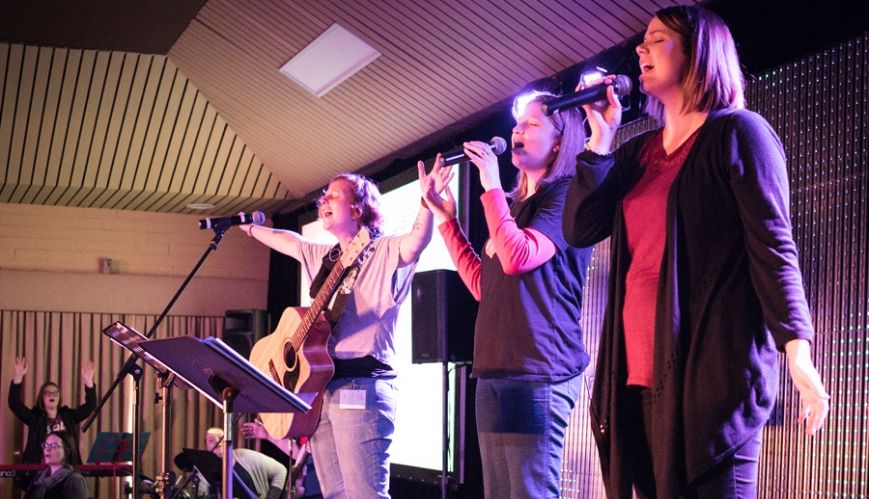 Women encounter Jesus at SHE weekend
5 August 2016
"Awesome", "wonderful", "rejuvenating", "healing" and "encouraging" were just some of the words used to describe the SHE women's conference, held at The Collaroy Centre on Sydney's northern beaches on 29-31 July.
Almost 100 women, from corps and centres across the wider Sydney region, gathered for the SHE (Spiritually Healthy Experience) weekend, to experience intimate worship, focused teaching, moving testimonies and deep spiritual fellowship.
Guest speakers for the conference were Major Shelley Soper, NSW and ACT Divisional Director of Women's Ministries, and Feby Chan, pastor, teacher, and wife of Andrew Chan, who was executed in Bali, Indonesia, on 29 April last year. Major David Soper, Men's Ministry Coordinator and Mentor, was a father figure to Andrew throughout his time in Bali's Kerobokan Prison, and was his chaplain for the execution. The Soper family has been close friends with the Chans since their children were young, and remain close today. The family, including son Mark, visited Andrew regularly in prison, and encouraged and supported him throughout his 10-year incarceration. Mark was Andrew's pastor, and visited every year. This support and love is now extended to Feby.
During the conference, Major Shelley spoke about being deeply and intimately connected with God, and passionately developing the gifts he has given us, so that others are drawn to Jesus. "God has specific works for you to do, so you grow in him, and so the Church does not lose its power and effectiveness," she said, encouraging the ladies to go home and take the next step, not just continue on the same path. "We are God's masterpiece, his mobile temples, and he has equipped us to shine his light to this world and be different."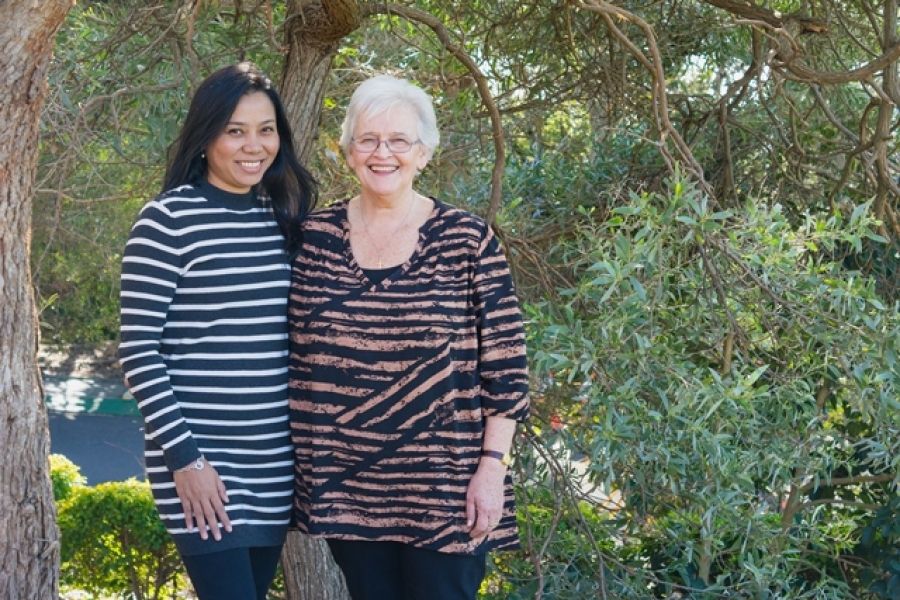 Feby Chan and Major Shelley Soper were guest speakers for the weekend conference. Photo: Lena Pobjie.
Feby shared her powerful testimony and witnessed to God's power and love in her life that is enabling her to forgive, and choose to love, without carrying the heavy burdens of bitterness and hate. Feby shared how God was empowering her to get up every day, worship him, and assuring her of hope, healing and future ministry as she sought to remain close to, and follow, him. "The only story to tell is God's story," she shared with great passion. "Andrew came to Christ, and it's Christ's story we tell. It's all about God." An in-depth interview with Feby will be published in an upcoming issue of Pipeline magazine, and will also be uploaded to this website.
Lieutenant Katie Ryan, Assistant Officer Eastlakes Corps, and her young worship team led powerful, intimate and celebratory worship, opening the way for deep and authentic encounters with God. Lieutenant Nicole Park, officer awaiting appointment, demonstrated worship through art as she painted on stage during two of the main messages, and in the Sunday morning Encounter session. Maria from Hawkesbury Corps gave a heartfelt testimony that resonated with the women, and dramatic scripture readings brought the Word to life and connected the sessions throughout the weekend.
The conference also included three diverse electives – helping your child understand sexuality, intimacy with God, and understanding your role in the mission of The Salvation Army. Free time and a fun, pyjama-clad "Girls 'night-in'" also enabled the ladies to relax, laugh and just enjoy themselves in a safe and caring environment.
Additional SHE weekends will take place in the ACT (26-28 August), Newcastle (2-4 September) and Coffs Harbour (14-16 October). The main messages and resources will also be made available to women in rural and remote regions of NSW. Video content will also be available online at a later date.
For more information, go to shewomen.org.au